On the stripped-down … en duo, Canadians Dawn Tyler Watson and Paul Deslauriers bring a crisp freshness to a dozen familiar songs and share two new ones.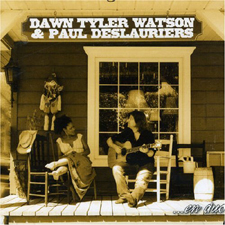 Watson, sometimes called Montreal's "queen of the blues," was honored in the 2006 Canadian Maple Blues Awards as female vocalist of the year. Deslauriers fronts his own, eponymous blues-rock band and also plays with Dawn Tyler Blues Project. This time, as the CD title indicates, it's just the two of them. The disc is a consistently pleasurable listen from a pair who seem to enjoy — and really get into — what they're doing, which ranges from soft ballads to roadhouse blues, mixing folk and pop and old-style R&B, everything moving at its own leisurely pace.
Watson's voice has an earthy, never ethereal, pureness to it. The earthiness keeps it from being pristine and also makes it more interesting; Deslauriers' playing is excellent, and his supporting harmonies and singing on occasional duets fit neatly into the curves of her performances. The songs range from Bruce Cockburn's "Mama Just Wants to Barrelhouse All Night Long" to Steve Earle's "My Old Friend the Blues" to Lennon/McCartney's "Come Together" to Smokey Robinson and the Miracles' "The Tracks of My Tears" to a short, smoky-voiced a cappella "Motherless Child." And while they render Paul Simon's "Homeward Bound" beautifully, they don't really add anything to it.
The duo also does two of Watson's songs. "Boozin'," complete with hum-along "mouth trombone," deals with a barroom encounter between the singer and an honest woman with alcohol on her mind who declares, "I'm a boozin' baby, don't bother with me." "Why" is a much more serious, slower track. Coming out of, but not shackled to, its blues base, . . . en duo's fresh sound on some classic songs is a nice discovery for U.S. audiences who may not be familiar with Watson and Deslauriers' work.-Tom Geddie