There may be no better place for a ma-and-pa restaurant than Magnolia Avenue.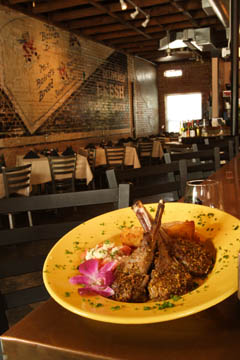 The hip strip in the Hospital District is loaded with independently owned, specialty and ethnic eateries, including the North Texas vegan institution, Spiral Diner, and the relatively new though destined-to-be-epic Italian mecca Nonna Tata. Nearby is now Lili's Bistro, an American grill in the space formerly occupied by the short-lived Servant's Kitchen. Based on a couple of recent lunchtime visits, Lili's is poised to do better than its predecessor. The small, comfy restaurant is already attracting a healthy combination of noontime professional grazers and artistic types of uncertain employment status. The dining area fits the strict definition of "bistro" — it's small, L-shaped, and wraps around the counter and kitchen. The menu, however, is a different story. Even though "bistro" often implies inexpensive, Lili's is not quite. The loose francs rattling around the floorboard of your car may or may not finance lunch or dinner at this subtly swanky haunt.
Then again, Lili's does offer certain consolations for the price, such as seductive Italian focaccia and other breads baked fresh on the premises and served as part of many of the restaurant's sandwiches. The oven-roasted, tomato-rich focaccia accompanied the veggie sammy, a half a sammy, actually, with sprouts, tomato, red onion, cucumber, and a thin, virtually undetectable swath of mayo. The innards were simply cool and fresh, nothing more, but the bread performed an impressive high-wire act of maintaining a lightly crunchy exterior and soft, fluffy inside. Still, Spiral Diner shouldn't worry. Lili's Bistro's veggie 'wich had its moments but couldn't quite overcome "standard." The jalapeño bread, whose prickly personality took center-stage, came with the three-cheese burger: swiss, cheddar, and pepper jack cheese, all of them deli quality, with a half-pound beef patty. Though juicy and hot, the burger didn't come as ordered and lacked the distinction that a prime cut of ground meat might have conferred.
As a side, the waffle fries — potato slices cooked on a hot griddle into a cross-stitched wafer shape — were big and succulent. Another side, the bulgur and berries, was lip-smackingly good. Pitting moist, chewy, cracked-wheat kernels with savory, sweet-and-sour cranberries, the plate achieved the greatness of an odd kind of comfort food. The gorgonzola fries, ordered as an appetizer, turned out to be the star of the meal: a huge plate of those waffle fries covered in warm, steamy crumbles of piquant gorgonzola, aromatic chopped green onions, and cracked black pepper that set off little sparks on the tongue. With dishes like the last two, Lili's is holding its own on Magnolia. But the kitchen might want to take a cue from the fine eateries nearby and play down "fancy" a tad in favor of follow-through.
Lili's Bistro on Magnolia
Gorgonzola fries $8
Veggie sandwich $8.50
Three-cheese burger $8
You can reach Jimmy Fowler at jimmy.fowler@fwweekly.com.