The three swords once belonged to a U.S. Army officer of dragoons, back in the era when swords were serious weapons of war and not just graceful things used to cut cake at weddings and to show off at fancy military drills.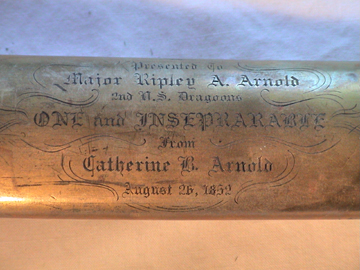 Of the three, the oldest and plainest sparks the imagination the most. Made in 1840, the sword might have seen battle during the war with Mexico. Dragoons fought on foot and from horseback with single-shot pistols and rifles. When there was no more ammunition or time to reload, the sword was the next weapon in line, until repeating pistols and rifles came into common use in the following decades. It's another such sword that hangs at the officer's side in the sepia-tone photo that is the only surviving likeness of Maj. Ripley Arnold and his wife, Catherine. The dragoons who came to this part of the prairie in 1849 to build a fort on the Trinity bluff and protect settlers from Indians left little behind. Let's see, there's a rocking chair, and an old log believed to have been part of the original fort, a bell that hung at one of the city's first hotels, and a uniform and writing table that belonged to General William Jenkins Worth (the city was named after this Mexican War hero, but he died before "Camp Worth" was established).
The items are scattered and not easy to find — the log and the Worth items are at the tiny and overlooked Fire Station No. 1 in downtown Fort Worth, the bell is at the Masonic Temple, and the rocking chair is at the Dallas Historical Society, for chrissakes. Most locals who even know the name "Ripley Arnold" probably associate it not with the man who put the fort in Fort Worth, but with the red brick housing project that stood for decades at the northwest corner of downtown, until it was demolished a few years ago to make way for the RadioShack headquarters complex. "There are no Ripley Arnold artifacts anywhere," said Clara Ruddell, a local historian. "He is the builder and the founder and the commandant of Fort Worth. That is saying a lot." The good news is that the three Arnold swords, two uniforms, the daguerreotype of Arnold, and about 25 other similar images from the era are being offered for sale by an owner who'd like to see the collection come to Fort Worth.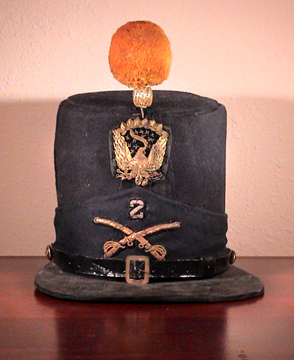 The bad news: The collection has quietly been available for three years, and as yet no one in Fort Worth has stepped forward to make the deal. The owner, Dallas collector Wes Clark, is giving first shot to local benefactors and museums. He's even offered to lend part of the collection to the county if certain conditions are met. But he's getting tired of waiting and perturbed that no one seems all that interested in making the deal happen. He believes he could get much more for the items by selling them separately to other private collectors — and that could be what he ends up doing. True, the price is steep — about $700,000 — and there are the usual concerns with authenticity and provenance. But the stalled negotiations are symptomatic of a larger issue: Does Fort Worth care about its pre-cowboy history? Where are the deep-pocketed benefactors typically relied upon to swing these deals? And, perhaps most notably, where could the collection be displayed? Because, for all the city's pride in its fine art museums, for all its love of and profit from its short-lived cowboy days, the fact is Fort Worth doesn't have one museum that covers all of its colorful past — the fort, Hell's Half Acre, meatpackers, gangsters and bootleggers, Jacksboro Highway, the oil boom, Camp Bowie, the Fort Worth Cats, the Bomber Plant, and more.
Yes, there is the Fort Worth Museum of Science and History. But even its officials admit that the museum has focused too much on children's programs and traveling exhibits, to the detriment of local history — although that may be changing. For now, Clark said the Science and History Museum has shown little interest in his collection. He probably doesn't endear himself to museum officials by referring to them as glorified babysitters running a "day care center." "They would probably put it in a cabinet; it would not be on display because they don't believe in displaying historic artifacts," he said. "I'm probably cutting my own throat by saying this, but it's true." Local historians, who have scant respect for what the museum has done in the past, are appalled that a collection as significant as Clark's has been available for so long without a deal being struck. "If we don't acquire the Ripley Arnold collection, the city will have fumbled the ball," said Richard Selcer, author of Fort Worth: A Texas Original and a history professor at Cedar Valley and Tarrant County colleges.
What few of the historians know is that Clark says he would be willing to permanently lend his $50 million collection of rare Texana artifacts — including the Arnold items — if someone would build a first-class Fort Worth history museum to house them … and, you know, maybe even put his name on the building. The 1895 Room is tucked away near the south entrance of the historic Tarrant County Courthouse. Perhaps people are so intent on emptying their pockets and making it through the metal detector that they don't notice the little museum with a display of Army memorabilia. Visitors typically stumble across it while loitering in the lobby or just before they leave the building. Chris Davidson and Lori Andrews, doing some business at the courthouse recently, were surprised to find the free museum. Army uniforms, weapons, pioneer dresses, photos, and tools from the city's fort era are among the artifacts displayed behind glass, but about 90 percent of them are replicas. The lack of authenticity disappoints visitors.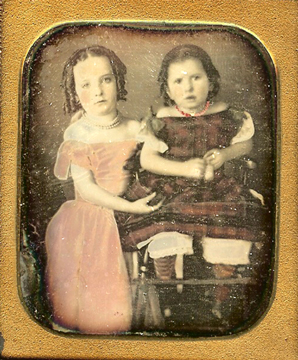 If the display were of genuine uniforms worn by dragoons who built the original fort, "There would be more of a sense of connection," Davidson said, admiring the uniforms and weapons nonetheless. The 35-year-old grocery stocker said he's intrigued by the era and has wondered before why it gets such short shrift in accounts of Fort Worth history. "The city has a lot of stuff from the cowboy days," he said. "People don't really think about what came before that." Andrews thinks locals are "fixated on one era to the exclusion of the others." Well, not everyone. More than 100 people crowded in front of the Exchange Building last month to witness a fall tradition in the Stockyards — the induction of historic figures into the Texas Trail of Fame.
Established 10 years ago, the trail is Fort Worth's version of the Hollywood Boulevard Walk of Fame, although our inductees don't kneel beside bronze markers and display artificially whitened teeth and voluptuously enhanced cleavages for paparazzi. Most of the Stockyards inductees are long dead, including one of this year's honorees, Catherine Bryant Arnold, who could best be described as the first lady of Fort Worth. A year after her husband came here to build and command the Army outpost, she joined him, bringing the couple's five children and what is believed to have been the area's first piano.
---
Local historian Jack "J.R." Edmondson was thrilled at the ceremony. "She was the first civilizing influence in the fort," he said. Major Arnold was inducted in 2002; both their markers are near the Visitor's Center. The period from the fort's creation in 1849 to the start of the Civil War in 1861 is a fascinating part of local history. Fort Worth consisted of a handful of cabins and barracks, without the tall surrounding log palisade familiar to fans of old cowboy-and-Indian movies. Soldiers served as intermediaries between the Indians and settlers and attempted to keep the peace more often than not. The dragoons fought when necessary but spent more time hunting, cutting trees, and building cabins, using rudimentary tools.
Leading them was Arnold, 32 when he arrived here, who is characterized by historians in contradictory terms — a willing warrior and a devoted family man, a fun-loving guy who enjoyed his whiskey, and a disciplined gentleman. He was a Mississippi native who fought in the war with Mexico and took part in the capture of Mexico City in 1847. He and his soldiers shaped the city's character for years to come, many of them settling here and raising children.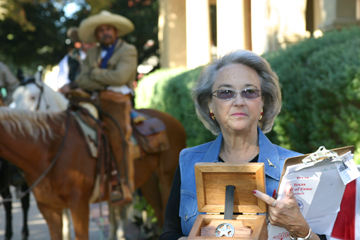 The city's eventual slogan "Where the West Begins" sprang from an imaginary dividing line through the Republic of Texas. An 1843 treaty with Indian tribes split the frontier, with Indians allowed to roam west of the line, settlers supposedly staying to the east. The Army wanted forts placed strategically along the line, with the northernmost encampment near the spot where the West Fork and Clear Fork of the Trinity River connected. The imaginary line dissolved quickly as more settlers arrived and pushed the Indians farther west. Soon the fort was obsolete, and the Army abandoned it in 1853. The town thrived, however, with access to clean water and plentiful timber. And luck was on its side, allowing Fort Worth to cash in on the looming cattle trade. Arnold traveled to Fort Graham in 1851, went on a recruiting tour in 1852, and returned to Fort Graham in 1853, where he was killed in a duel after a dispute. His body was buried at Fort Graham but later disinterred and buried at Pioneers Rest Cemetery in Fort Worth near the graves of two of his daughters.
The Civil War interrupted ranching activities in Texas, drawing away ranch hands and leaving huge herds of cattle to breed, graze, and wander. War's end increased demand for beef, and ranch owners hired cowboys to round up the herds and drive them north to then-distant railheads. Cattle drives thrived for about 20 years but fizzled after barbed wire cut up the landscape, railroads were extended, and it became more economical and efficient to transport beef rather than deliver it on the hoof. Both eras were entrancing, but the cattle drives captured the imagination of future generations. The Stockyards, with its longhorn herd and Old West flavor, traditionally ranks among the state's top tourist attractions. Cowboys became a colorful part of Texas history, symbolizing the state's independent streak, an image further perpetuated by early television producers, who made Bonanza, Gunsmoke, The Rifleman, and countless other Westerns a part of the American psyche.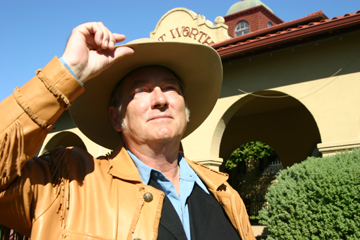 Local historian and former U.S. Marine Willard Thomas enjoys researching the cowboy days, but the fort era is his favorite. Without him, there wouldn't be an 1895 Room Museum. He knows as much about the city's earliest days as just about anybody, and he supplied the artifacts from his own collection. It doesn't surprise him that the Stockyards, Cattle Raisers Museum, Cowgirl Hall of Fame, Fat Stock Show, and all things cowboy get the bulk of attention. "That's a tourist attraction and something the Fort Worth Convention and Visitors Bureau can market to out-of-towners, especially [from] Germany and Japan," he said. "Their attraction to Fort Worth is the cowboy boots and hats. They are not interested in the military history of the city." A time period short on documentation and mementos can be a tough sell to all but the most avid historians. Photography became more common after the Civil War, helping romanticize cowboys and the West and leaving a void in the earlier dragoon days. Little remains of Arnold and his men. "The documentation of that era is not very strong because of the destruction of the Civil War, the courthouse burning down, a variety of different things," said Doug Harman, former president of the Convention and Visitors Bureau and an avid collector of Fort Worth memorabilia.
Whereas the entire Stockyards serves as a living museum — tourists can still step in real cow poop if they're not careful — the fort is long gone and its probable site covered up, most likely by the main county courthouse. Fort Worth folks sometimes laugh at Dallasites for paving over their history, but remove cowboys and longhorns from the equation and Cowtown isn't much better. Getting the city's residents interested in the fort era has been tough, and selling it to tourists is an even longer shot, Thomas said. He should know — he edited and published The Fort in Fort Worth, a 2001 hardcover book by Clay Perkins. One of the reasons Thomas established the 1895 Room was to drum up interest in the book. And while he sells a copy or two each month, he still has boxes of them piled up at home. "There is not that much interest among people in Fort Worth about their own history," he said. "The city is much more interested in the cowboys than the actual people who founded this city. I haven't been able to figure it out."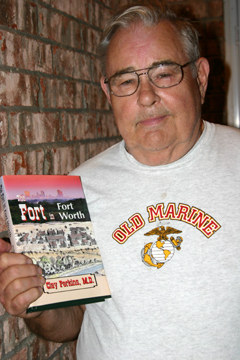 The city's fine arts are secured in gorgeous showplaces of architectural pedigree, including the Kimbell, Modern, Carter, and Sid Richardson museums. Wealthy benefactors established these places to share their collections of paintings and sculpture with the world. At one time, Fort Worth's desire to be sophisticated and urbane like its sister city to the east caused city leaders to downplay its Western heritage. "I can remember a time when Fort Worth was so desperate to emulate Dallas that we removed Molly the longhorn from our city logo and almost acted embarrassed about our cowtown past," Edmondson, the local historian, said. "The irony is that it is that cattle image that seems to draw tourists." Edmondson loves the city's cowboy lore, dresses like John Wayne, and occasionally works as a drover for the Stockyards' daily cattle drives. His favorite historic exhibit is the Stockyards Museum, founded in 1989 by the North Fort Worth Historical Society to tell the story of Fort Worth's meatpacking industry. But it's a shame the early fort days are forgotten, even by natives, he said. Acquiring and displaying the Arnold collection might increase interest, he said. "There is so little out there about how we were a fort," he said. "Our name is the most enduring reminder of that. There's not much else, perhaps because there is nothing there to remind us. We didn't have any major Indian fights here — the 11 men buried in Pioneers Rest Cemetery died of disease, not Indian arrows. There was no big dramatic confrontation that the storytellers could latch onto."
---
Fort Worth history lovers see the Arnold collection as a holy grail, and they tend to grow impatient with the Fort Worth Museum of Science and History, which they complain is loooong on science and short on history. Founded in 1941 as a children's museum, it has continued to cater to the kiddos, and everyone knows they love dinosaurs, faraway galaxies, and interactive programs but tend to yawn at old rocking chairs and other dusty artifacts. Museum officials brag about being the area's only accredited museum devoted to history, yet they've fallen short in many people's eyes. "They are not interested in the history of the city," Thomas said, recalling how he tried to involve the museum in his 1895 Room exhibit with little success. "They're interested in cowboys and Indians, not in soldiers." Crusty historians seldom mince words, but even those who approach the subject on tiptoe acknowledge the shortfalls. Harman, an avid history buff, said the museum's exhibits through the years haven't ignored the city's history, but "there always will be people who say there should be more, and I would agree with them."
As an example, he said, the Fort Worth Star-Telegram turned to the University of Texas at Arlington to archive its photographs, a major historical resource. "There wasn't anybody in Fort Worth who offered to do it," he said. "That's an illustration of that kind of weakness." Currently, the Science and History Museum's history collection boasts more than 43,000 pieces. But only 33 items date between 1849 and 1865, when Fort Worth was being established, and few pieces have direct ties to the fort. The big-ticket item is Gen. Worth's uniform, currently displayed at Fire Station No. 1. In the mid-1970s, two of Fort Worth's most enthusiastic history buffs, Jenkins and Virginia Garrett, donated their staggering collection of 10,000 items from the Texas Revolution and the Mexican War — documents, maps, and books — to UTA as well, sparking the creation of the special collections area that is still popular among researchers and historians.
The Science and History Museum folks hear the talk. What's more, they're listening. For years the museum has planned on expanding, and a Nov. 27 groundbreaking for a new building will serve as a rebirth in both design and content. The popular Omni Theater will continue, but the museum will be rebuilt over the next two years and expanded from 118,000 to 135,000 square feet. Chief operating officer Charlie Walter estimated that past exhibits and programs have focused about 80 percent on science and 20 percent on history. The new facility will seek a 50-50 balance, he said. "We will have a gallery dedicated to Fort Worth history, which we never had before." A Texas history exhibit was featured on the museum's lower level for 30 years before being removed in 1993. In those years, the museum collaborated with other institutions to focus on interactive traveling exhibits such as DinoDig, ExploraZone, and KIDSPACE. After all, attendance and revenue increased when exhibits focused on children and science.
But in the last few years, a strategic planning process to consider a new building revealed that residents, museum trustees, staff, schools, and city leaders preferred more balance. "The community will be very pleased with what we'll have at the new building," Walter said. However, some feel the museum has already failed its first test by fumbling negotiations for the Arnold collection. Clark opened up talks with the museum more than a year ago. An authenticator looked at the items and gave favorable feedback. But the timing wasn't right. The strategic planning and capital campaign for the new building and the demolition of the old one have hogged museum officials' attention. The collector didn't help matters by making a suggestion that might have been judged as treason in some quarters — he tried to get his hands on the Gen. Worth uniform. Clark collects 19th-century Texana items, with a particular focus on the war with Mexico in the 1840s. Worth was a hero in that war, and Clark offered to swap his Arnold collection for the Worth uniform and some cash.
The offer went nowhere. Still, Walter said he remains interested in the Arnold collection and wants to consult another authenticator. "The only reason it hasn't been done is our plate is incredibly full right now," he said. "We wouldn't be looking at [the collection] if we didn't think it had potential." About six months ago, Clark, with Ruddell's help, approached Tarrant County officials with an offer — invest about $35,000 on specialized mannequins and display cases, and they could show the Arnold collection for two years at the courthouse. The offer dangled for months, until Clark again grew impatient. At some point, he said, he might piece out the collection and sell it at private auction. Ruddell is frantically trying to get local museum, city, and county officials to realize that time is slipping away. So far, they haven't felt the same urgency. Tarrant County Administrator G.K. Maenius has seen photos of the Arnold artifacts and discussed them with Ruddell, and he is thrilled by their historical relevance. "It's really impressive," he said. "It's a really nice collection we would like to at least have for a couple of years."
County officials are considering clearing out an office across the hall from the 1895 Room and devoting that space to the Arnold collection. But they also want to seek grants to help cover the costs, a time-consuming process. Ruddell finds herself in the middle, trying to keep the outspoken and enigmatic Clark from saying to hell with Fort Worth and trying to get local folks to see the shrinking timeline. Lately, she's had difficulty getting anyone at the county to respond to her phone calls, she said. The Weekly first learned of the Arnold collection in May and contacted Ruddell for comment. She freaked, fretting that news media coverage might somehow hurt negotiations. She pleaded for the Weekly to hold off on the story for a month or two. Six months later, she's fed up. "We are sitting and waiting, and I'm getting tired of sitting," she said.
Maenius insisted the county is still a player. "We'll be working on that this fiscal year," he said. "We're still very interested. I still see this as a work in progress."
With any rare collection, buyers have multiple concerns: Is it real? Has it been obtained legally? Has it been refurbished or mishandled? Experts can tell whether a sword was manufactured in a certain time period, but proving it was handled or owned by a particular historic figure usually requires written accounts, oral history, or other documentation. Complete certainty can be difficult. Clark has dealt in old military memorabilia for years and stands by the collection's authenticity. Ruddell has staked her reputation on it, and she stands to gain nothing from the sale other than the satisfaction of having the collection returned to Fort Worth. "We've proved the authenticity," she said. "Where do you find the people to fund it and bring this collection back home, and where do you put it?" In general, benefactors are more inclined to donate, or help purchase, artifacts if there's a museum to take on the responsibility of exhibiting and caring for them. Accepting artifacts is like getting a "free" kitten — the subsequent costs are never-ending. Researching, archiving, curating, displaying, storing, and insuring thousands of historical artifacts is a long-term liability.
---
Another factor these days is … hmmm, what's a nice word for greed? We live in a culture with Antiques Roadshow experts slapping eye-popping values on antiques and online auctions providing a worldwide customer base. Find the right old photo, document, or hat at a flea market these days, and you might just hit the lottery jackpot. Museums find themselves competing with private collectors in search of the best stuff. The Jenkins and Virginia Garretts of the world, people who share their life's collections with the public free of charge, are growing rare. Clark is a colorful character but seems to be a straight shooter. His Arnold collection is a tiny part of his overall assortment of Texana that is valued, by his estimate, at $50 million. He's not getting any younger, he said, and would be willing to donate much of his collection, including the Arnold items, if the city would build a museum for it all, one with plenty of parking and first-class curators. The 1895 Room and Fire Station No. 1 museums are small, underfunded, and lack adequate parking, while the Science and History Museum doesn't seem to give a hoot, he said. The city's rich and powerful benefactors are more interested in fine art.
Local historians, for the most part, are passionate but poor. "You need Bass kind of people, Amon Carter kind of people," Selcer said. Clark isn't holding his breath. "Somebody like the Basses ought to stand up and say, 'Let's build a museum,'" he said. "I'm willing to put the collection somewhere, but trying to find somebody to do something is tough. I can't even get $35,000 from Tarrant County."
You can reach Jeff Prince at jeff.prince@fwweekly.com.