Texas Music singer-songwriter Rusty Wier was supposed to play a show this Saturday at Cowtown Sports Bar & Grill — his second there and about his millionth in Fort Worth — but had to beg off.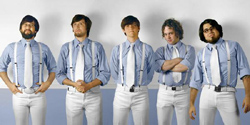 He was recently diagnosed with a serious illness and, according to Cowtown general manager Marshall DeThample, "is too much of a professional to not play his best." But a show will go on. Several musicians who are friends of Wier's agreed to play at the last minute. Proceeds from a $5 cover charge will go toward Wier's medical expenses. "We just wanted to do something to show our appreciation of him," DeThample said. Slated to perform are several local stalwarts, including Terry Rasor, the Michael Klein Band, Todd Mankin, Casey James, Mark Cote, and Alpine's A-Gar. The show starts at 8 p.m. and will be acoustic. DeThample expects all of the players to get on stage at the end of the night for a big ol' jam.
Weir's first show at Cowtown happened just a couple of months ago. DeThample said he booked the Austin artist based mainly on "his name recognition, and a lot of local musicians are friends of his, and he loves Fort Worth." DeThample simply tracked down Weir's phone number and called him. "He was thrilled about playing a place called 'Cowtown,'" DeThample said. "And he loved it." Weir, DeThample said, has no idea about Saturday's benefit show — for now.-Anthony Mariani
Sat at Cowtown Sports Bar & Grill, 7108 Camp Bowie Blvd West, FW. $5 donation. 817-570-7910.