The summer of 1993 was a pivotal time in pop music.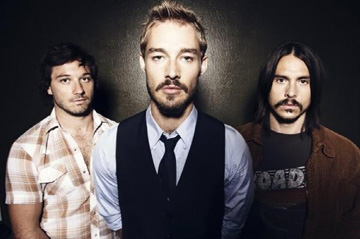 Nirvana was in artistic turmoil, with Kurt Cobain and company learning to hate what they had created while the surge of bands that followed them hewed to their grunge blueprint quasi-religiously, none more than then-teen sensations Silverchair. A three-piece built on the good looks of frontman (frontkid?) Daniel Johns, the Aussies combined start-stop riffage and verse-chorus-verse arrangements to sell zillions of copies of their first two records, Frogstomp and Freakshow.
Both of them, surprisingly, still hold up, but a weird thing happened after Cobain killed himself and Silverchair decamped for the shadows of near-obscurity: The band kept working, re-emerging in the early oughties with a mature disposition and a penchant for psychedelic pop a la the Beatles. In 2002, Johns, along with drummer Ben Gillies and bassist Chris Joannou, blew the doors off their public image with Diorama. With their latest, Young Modern, the guys of Silverchair prove they've outgrown their past for good and have a big, bright future ahead of them.
Asked about the band's slow evolution, Joannou said, "It's just a collective and natural progression, and, really, it's [Johns'] vision, and we believe in it." A stock answer, perhaps, but Silverchair's evolution does indeed seem natural. From the days of subsisting only on dropped-D tunings, the trio now employs complex orchestrations courtesy of composer/arranger Van Dyke Parks (The Beach Boys, U2, Rufus Wainwright). To realize its new musical vision in a live setting, the band has added two contributors, which also helps anchor Johns' fiery fretwork and the stone-cold blistering rhythm section. "The addition of other players really gives the music scope now, plus it gives our older material a real push, kind of makes it new for us again," Joannou said.
Though older, Johns, Gillies, and Joannou haven't lost all of their bite. Young Modern has its share of bulldozer moments, like "Mind Reader," which is more Mudhoney than Black Sabbath but still gives Ozzie his just desserts. Expect a good dose of the gorgeous off-kilter pop that is Silverchair's current fancy, but prepare for some flannel-age rage as well. — Justin Press
Editor's note: The writer is an employee of Nokia Theatre.
3pm Fri w/Modest Mouse, Jimmy Eat World, Coheed & Cambria, Silversun Pickups, The Vanished, Paramore, and The Starting Line as part of How the Edge Stole Christmas at Nokia Theatre at Grand Prairie, 1001 Performance Pl, Grand Prairie. $39.50-49.50. 214-373-8000.