These days, a CD titled American Disaster might sound like a political statement.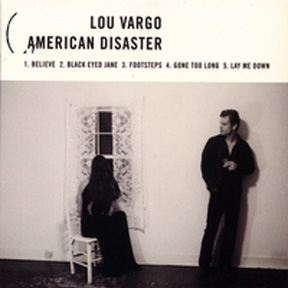 On Lou Vargo's new EP by that name, though, it's a raw personal statement that might be about one man's life or a collage of lives lived, at least in retrospect, with regrets. All five tracks from this former North Texas resident deal, in one way or another, with life on the road and the hopeless efforts to leave problems behind. Vargo's determined, gritty, Middle-American vocals sometimes sound a little forced but work with these serious, mostly acoustic, folk-rock songs.
On "Believe," a couple hits the road, despite her objections, to "search for something out there to believe." On "Black Eyed Jane," a new version of an old Vargo song, a woman lives in quiet desperation while her man repeatedly leaves. On "Gone Too Long," a man wonders if he can ever go home. On "Lay Me Down," he prays to forget what God has forgiven. One song, "Footsteps," takes a romantic turn, promising a woman that if she ever loses her way, she can walk right next to him.
Recorded in Hendersonville, Tenn., with a pedigreed cast that included Stuart Duncan on fiddle and Al Perkins on pedal steel, American Disaster is not a political CD, although it wouldn't be difficult to put that layer of sheen over the subjects Vargo explores. -Tom Geddie
American Disaster
(Self-released)