Malcolm Holcombe sounds like a hillbilly sort of Tom Waits as he delivers keeping-a-used-car-on-the road sort of greasy Appalachian-based folk-blues on his excellent new Gamblin' House.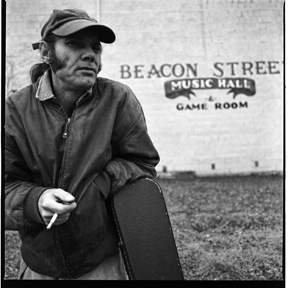 With his kerosene-soaked voice, Holcombe is almost as compelling on CD as he is in performance, whether he's declaring his independence, as on "(I Don't Want To Be Spoonfed, Don't Want To Be Told What I Listen To On) My Ol' Radio," or getting all existential with a track like "Baby Likes a Love Song," in which he proclaims his love for such songs while acknowledging that "we ain't made to live here forever" in a world where silence is a virtue.
In the title song, his character bets on the blues and celebrates his musical winnings. Other characters have forgotten the words to "The Old Rugged Cross," or miss the good women in life, or worry about the "steady and strong" angels who travel the crossroads and back roads. Holcombe doesn't yet have, and, if we're lucky may never have, the urban polish or sophistication that Waits has acquired, though the younger singer-songwriter has the same kind of talent with words. For Gamblin' House, he teamed with famous Nashville producer and Grammy-winner Ray Kennedy, who brought in respected studio musicians (percussion, bass, dobro, fiddle, banjo) to add to Holcombe's acoustic-guitar playing. The mix is crisp and clean, both contrasting and complementing Holcombe's simple, old-soul poetry.-Tom Geddie
Fri w/ Yo! Gadjo at All Good Café, 2934 Main St, Dallas. 214-742-5362.
Gamblin' House
(Echo Mountain Records)