It's hard to imagine a cleaner, more sparkling place than Sesame Grill out on Boat Club Road in Lake Worth, just 50 yards from Jacksboro Highway.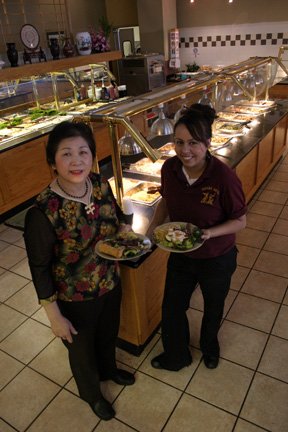 The decent-sized buffet area near the front door gleams with brass and chrome, and there are three large and comfortable rooms (one is glassed-in for smokers) done in a mix of green booths, banquettes, and tables with high-backed chairs, everything accented in lovely pastels. And the staff was wonderfully attentive. That said, I wish the food had been as consistently tasty as the décor and ambiance. The lunch buffet on a recent afternoon was crowded, forcing the staff to regularly replenish the offerings, standard fare done traditionally and solidly, including General Tso's Chicken, beef with broccoli, pork with garlic sauce, and barbecue ribs.
We also ordered from the menu, starting with a vegetarian sesame roll that had a crisp piece of pickled Chinese radish inside among the other veggies. Served with an outta-this-world homemade teriyaki sauce, the appetizer was a definite hit. As was a portion of tofu with vegetables, which had the tofu wonderfully and lightly fried – not greasy at all – in a sea of stir-fried cabbage, crispy slices of Chinese radish, and healthy portions of julienned onions, carrots, and shiitake mushrooms. The dish had a light sweet sauce that let the tofu and veggies do the talking. Also good was a chicken in garlic sauce: tender slices of bird stir-fried just right and served with the same vegetable makeup, plus a good dose of fresh garlic. The sauce was light and had just the right bite.
The big disappointment was the pork lo mein – there was not nearly enough pork, and the seasoning was minimal. Almost as disappointing, simply because it was so average, was the sesame beef. The large portion of battered beef slices served with a sweet sesame sauce was OK – for a buffet – but for an order off the menu, it wouldn't make anyone downtown drive out to Lake Worth for it. Which is sort of how all the food was: good, and occasionally excellent, but not outstanding. With a little work, it could be the latter consistently, and it would be nice if Sesame Grill's exceptional service and décor were met by never-failing high-quality fare.
Sesame Grill
Lunch buffet $7.99
Pork lo mein $6.99
Sesame beef $9.99
Sesame roll $5.99
Tofu w/veggies $7.99