When this CD arrived on my desk, I have to admit I wanted to like the music.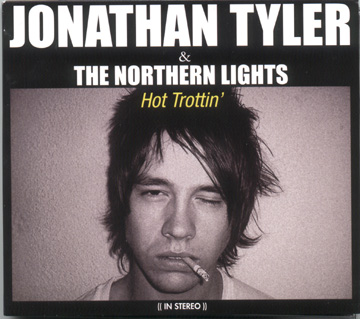 You gotta admire anyone self-deprecating enough to use such a horrible photo on the album cover: a young white punk with early Rod Stewart hair, one eye closed, burnt cigarette drooping, looking as if he'd just been to shock therapy session, with a hangover. Would the music match the image and come across as: A.) rocktastic rebellion by a guy who doesn't give a shit? Or B.) slop-pop by a poser with faux bed-head? The answer was easy as plopping the CD in the boom box – it's A, baby, A. This Dallas kid's got mojo.
Tyler hasn't reinvented the wheel or anything. His lyrics don't tread new ground, and the music traverses the same accessible blues, country, rock territory that's been settled for generations. But an artist has "it" when he can remain completely accessible musically and yet come off as unique and exciting (even to jaded music critics inundated with tons of product). Tyler's raw vocals, soulful presentation, and aforementioned mojo dominate these songs, but all of the Northern Lights are tight (at least, as tight as they dare). Electric guitar work by frontman Tyler and a guy named Kansas is crunchy and unrefined while Nick Jay's organ chops add a welcome cushion. Jordan Cain's percussion work is simple and tough, and somebody blows a mean harmonica. And adding a hired-gun horn section was a masterstroke.
The album's first two hard-charging songs are written from a victim's point of view but they're hardly wimpy. In "Gypsy Woman," Tyler declares his independence from a deceitful woman: "I ain't down for those crazy games and those goddamn gypsy ways." He then segues into "She's From the Other Side," another blues-rock ball-buster that's even more to the point: "She's got the Devil's eyes, she's gonna make you cry." And then the real fun begins. "Sunshine" is a jazzy ballad showing off the band's dynamics and Tyler's wailing vocals. His falsettos are raggedly right, the song ebbs and flows, rises into a steamroller of passion, and ends with Tyler whistling quietly while the organ plays sweetly and the band cools out – a wonderful piece of work. "Time For Love" has a Zeppelin-meets-Counting Crows quality that really gets retro when Tyler sings, "We'll start a revolution," sounding as if he'd torn a page from the old protest song "Something In The Air." Tyler is only 23, but Hot Trottin' reveals an old soul with a healthy respect for the classics (Motown, not Mozart). It's a mix worth checking out. – Jeff Prince
Sat w/Travis Linville at Woody's Tavern, 4744 Bryant Irvin Rd, FW. $10. 817-732-4936.
Hot Trottin'
(Self-released)