I don't know what the White Eagle Deli looked like when it opened in 1979, but right now it has to be the plainest dining room in all of Fort Worth.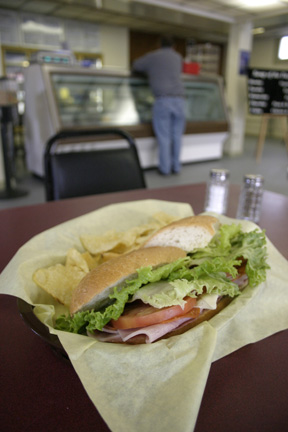 But that doesn't mean it's not cool. The floor is painted an industrial gray, and there's not one ounce of decoration on the off-white walls beneath the low, nondeDELETE ceiling. The room is spacious, with about a dozen plain tables and a single deli counter. The brutal minimalism actually seems intentional. "We like it pretty much the way it is," said Jay Bjorklund, who bought the place last month with Christopher Dalferes and William Powell (owner of Aqua Lounge and Ronin Sushi and Sake).
On a recent visit, three young men behind the counter more than made up for the lack of atmosphere, intentionally or otherwise. They were vivacious and cheerful and ribbed one another constantly in a light, non-offensive way. A good team.
All delis are judged mainly on their sandwiches, and while I can't honestly say White Eagle's 'wiches are earth-shattering, my kids thought otherwise. After my daughter finished a half-pastrami, she announced, "Hey, dad. That was a great sandwich. Whew! Love the place." One of my sons rated White Eagle's Italian sub an eight on a scale of one to 10.
For my taste, two of the three sandwiches I sampled – pastrami on marbled rye and roast beef and provolone on white – didn't have enough meat to make them decadent or enough stylistic flourishes to make them fancy. And, unfortunately, "everything" – as in "You want everything on that?" – turned out to be just lettuce and tomato. The day was saved by a rich, zesty thyme mayo. The other sammy – corned beef with swiss – was top-notch: hot and juicy and given some zing by a hint of red and green peppers.
But I'd have to say my quibbles are minor, considering the friendly vibe, non-pretentious atmosphere, and that my kids loved the food. Would I swing by to blow a five-spot on a reuben or Italian sub? Sure. Why? Because everything was fresh, and the sides were excellent. The macaroni salad, with flavorful chunks of green peppers and tomatoes and fresh parsley, went well with all of the sandwiches. The potato salad was equally good, the homemade chips were outstanding, and the fruit salad was a fabulous mix of fresh kiwi, cantaloupe, watermelon, and strawberries. And the deviled eggs – especially for fans of Dijon mustard – were a steal at half-a-buck a pop.
White Eagle Deli
Deviled egg 50 cents
Italian sub $4.95
Roast beef
w/provolone $4.95