When the gates open to the public on Friday, Eagle Mountain Lake Park will represent many things beyond the obvious beauty of 400 pristine acres covered with wildflowers, cedars, oaks, mesquites, cactus, rocks, walking trails, two stone pavilions, and gorgeous views.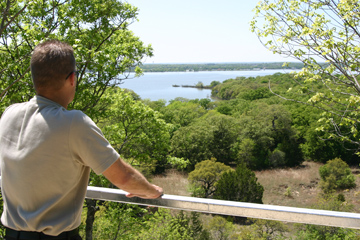 The park also symbolizes the fortitude of environmentalists and the perseverance of politicians who kept the property out of the hands of private developers. "This is the money shot," Tarrant Regional Water District spokesman Chad Lorance said from an observation deck that overlooks the entire park and across the sun-dappled lake in the distance. Newly blossomed trees are everywhere, and they'll soon be joined by a large array of flowers, some wild and some planted years ago by former homesteaders. Already, workers who have been preparing the park have reported seeing bobcats – not to mention a variety of snakes. Other wildlife spotted on the grounds in recent years include deer, armadillos, coyotes, hawks, and hogs.
For a while, it appeared as if this "money shot" of a view was going to look down on little more than rooftops. Private developers were itching to get their hands on the property and build more of the type of high-end houses that typically spring up around waterfronts. The Texas Parks and Wildlife Department bought the land in 1980 with plans for a park but later decided to sell it instead and use the money to buy a bigger chunk of land farther outside the city. The land was appraised at $9.6 million, but private developers were allegedly offering much more.
Fort Worth's State Rep. Charlie Geren was among the first to rail against state plans to sell the land to developers. Tarrant County Commissioner J.D. Johnson was another early proponent of turning the land into a limited-use park, open to families but off-limits to domesticated animals such as dogs or horses that might upset the wildlife or trample down their habitat. "We wanted to have some amenities but also wanted to keep it as natural as possible, the way it's been for the past few decades, pretty much untouched," Lorance said.
For the next three years, Geren, Johnson, and area activists led a movement to raise enough money to buy the land for its appraised value, while the national Trust for Public Land applied pressure on the state parks agency to preserve the acreage. "Fund raising was tough," said Linda Christie, the water district's director of community and government relations. Tarrant County donated $2 million. Corporations such as TXU Power and AT&T gave more than $2 million total. Nonprofit groups such as the Bass Foundation and Amon Carter Foundation kicked in another half-million bucks. The city of Fort Worth came up with a half-million. Chesapeake Energy gave $100,000. A Fort Worth Star-Telegram editorial campaign inspired the newspaper's readers to contribute more than $16,000. Other residents sent in what they could. "A little girl sent in her tooth fairy money," said Dick Fish, president of Save Eagle Mountain Inc., which helped garner public support for the park's purchase.
Still, the amount raised was barely half of the asking price until the Tarrant Regional Water District offered $4.2 million to seal the deal. Water district employees, with help from Tarrant County, will maintain the park, which will be open, without fee, during daylight hours only. Hiking trails will be off-limits to motorized vehicles, hunters, and litterbugs, and a game warden will be stationed there. Many residents are relieved to see the land saved, but probably none are as happy as Winnie Jo Martin Fisher, who lived on the property in the 1940s. Back then, the land was owned by Kay Kimbell, a businessman and philanthropist whose millions eventually created the Kimbell Art Museum. Kimbell raised cattle there and used the site, about a half-mile from the Fort Worth Boat Club, as a weekend retreat for his family. He bought a house in town and had it moved to the site in the 1930s. "It was a big white house, with a red roof and white porches all around," Fisher said.
A windmill, water tank, barn, and other out buildings were built, and Kimbell decided to landscape and establish gardens around the house. "Mr. Kimbell loved flowers and fruits," Fisher said. Her parents Collin and Edith Martin took over caretaking duties, and Fisher recalled the family moving to the house in 1939 when she was five. "My mother and dad loved that place so much," she said. "They were in their 20s, and it was just a nice big new house to move into. They planted the yard with flowers and had gardens with vegetables. It was the first home they had after they moved away from my grandparents' house."
Fisher attended first grade at the nearby one-room Dido Elementary. Looking back, it was an idyllic, rural existence. "We used to pick Texas bluebells, go swimming and fishing in the lake, and hike all around it," she said. "Daddy used to kill lots of rattlesnakes and copperheads out there. It was full of wildlife, and I bet it really is now that nobody's been living out there for 30 years." The Kimbells' weekend visits were an eye-opener to the young girl – the rich Fort Worth family would often arrive in a black limousine driven by a chauffeur. Once World War II began, the tranquil life in the country ended. Fisher's father went to work at a defense plant, and the family moved back to the city. She was relieved that the water district saved the windmill, barn, and a couple of other structures from those early years. (The house she lived in eventually collapsed with age and has since burned down.) "It was important to make this land available to the public," Lorance said. "It's so unique and such a wonderful place to visit."
-Former intern Nandini Balial helped report this story.
Weekly Brings Home SPJ Honors
The Dallas Cowboys' end run in Arlington, a whistleblower's tale, and the "Shaky Foundation" of Fort Worth's housing department provided fodder for three Fort Worth Weekly stories honored by the Society of Professional Journalists last weekend.
The Weekly took two firsts and a second place on April 11 in the First Amendment Awards, a Texas-Oklahoma competition sponsored by SPJ's Fort Worth professional chapter. The awards focus on print and broadcast journalism that promotes open government, public records, and providing a voice for the downtrodden.
Staff writer Jeff Prince's story "Sneak Play," revealing how the Cowboys organization skirted open government in order to turn 17 acres of a creekside wildlife preserve into a parking lot, won top honors in the "Reporting on Open Government" category.
And Weekly freelance writer Pablo Lastra, a graduate student at the University of North Texas, took first place in the student category for his story on how a whistleblower struggled and sacrificed in order to reveal questionable tactics and virtual bribery in the hospital supply business. The out-of-state journalism teacher who judged the category called Lastra's story, "Putting the Bite on Hospitals," the "best piece of student investigative work I've ever encountered."
Staffer Betty Brink and former Weekly intern Jesseca Bagherpour won second place in the "Defending the Disadvantaged" category for a story on the failure of Fort Worth's housing department to live up to promises and provide decent new and repaired houses in the city's poor neighborhoods.
The Associated Press, daily newspapers including the Fort Worth Star-Telegram and The Dallas Morning News, and the alternative newsweekly Houston Press, each took one first, plus second- and third-place awards for most. In the broadcast segment of the contest, KPRC-TV in Houston took two firsts. – Gayle Reaves