Give theatergoers a knotty plot to unravel, new ideas to understand, complex issues to mull over, and chances are they'll enjoy the mental work involved.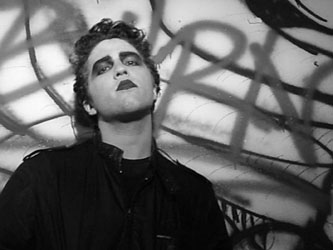 But with The Boxer and the Blonde, The Butterfly Connection's latest production, the problem is that viewers end up doing a lot of that work for very little payoff. During the first third of the show, that uncertainty and abundance seemed like a virtue, a mystery to be solved. But the production soon began to unravel on its own technical terms, in a combination of uneven performances, an apparent lack of discerning stage direction, and several audio glitches that made it difficult to hear what the videotaped actors were saying during their set pieces. Area playwright Rob Bosquez and director Adam J. Dietrich expended almost two hours trying to find the right blend of digital-video screens, original music, and a shaky ensemble performance from some two dozen major and minor players.
All that misfiring is unfortunate, when you consider the cumulative "pow!" that must've fueled The Boxer and the Blonde in the minds of its creators. The show packs too many predictable sci-fi/horror themes about burdensome humanity and its potential for redemption. By the time two stricken characters march toward the light – literally, in the Rose Marine Theater, the actors surge toward open auditorium doors in the pursuit of lobby light – we're already ahead of them.
The Connection tried hard to create a saga. The main collaborators in the show about human vs. vampire prizefighters in a post-apocalyptic world are director Dietrich and head cinematographer Jason Hernandez – the actors onstage interact with two large video screens featuring Hernandez' pre-taped action footage. The premise, though ridiculous, is not quite original. The whole crew struggles to find a stage equivalent to Quentin Tarantino and Robert Rodriguez' trio of From Dusk Till Dawn movies: blood-soaked grindhouse flicks that are campy and disturbing and feature vampire cowboys, vampire bank robbers, and vampire cops who spout smart-ass dialogue along with the gore.
Those tales aren't that inspiring to begin with, but they seem to offer the general themes taken up by The Boxer and the Blonde. The plot goes thusly: More than 200 years in the future, a boxer, Gonzo (David DaSilva), wants to break free from his corrupted sport before his beloved Babe (Ceyli Delgadillo) runs away to become the latest blonde actress in a Hollywood dominated by snuff porn.
Grizzled manager Sonnyboy (Seth Johnston), though, wants Gonzo to stay in the sport until he earns the ultimate championship title by beating the cockney-accented bloodsucker Johnny "The Vampire Spliff" (Michael Kreitzinger), who was a 1980s goth-rock star before he was bitten. His manager, Burgundy Rose (Emily White), is also of the blood-sucking undead and harbors a not-so-secret yearning for the challenger. And the whole thing gets even more unnecessarily tangled from there.
Though The Boxer and the Blonde occasionally erupts with wit, inspiration, and more than a little ambition, it's hard to recommend this show to anyone except die-hard theater mavens, folks who appreciate that The Butterfly Connection considers every performance a fresh creation that also is a work in progress, another journey along an unpaved road toward creative maturity. Those undeterred playgoers will find small but genuine moments to savor.
However, if director Adam Dietrich does manage to coax unsuspecting theatrical newbies into the Rose Marine – normally, an admirable goal that has become an official outreach program for Butterfly -then I fear those newcomers will condemn this semi-professional goulash of bloody, noirish drama and non sequitur comedy. Competition for the hard-earned entertainment dollar is brutal out there, even – perhaps especially – in the Fort Worth arts scene. For all of its admirably profane attitude and electronic media-saturated dimensions, The Boxer and the Blonde is nowhere close to being in shape for that fight.- Jimmy Fowler
The Boxer and the Blonde
Thru Sun at Rose Marine Theatre, 1440 N Main St, FW. $15. 817-333-4028.