Pastiche seems to be the thing with our theater troupes, at least for this week.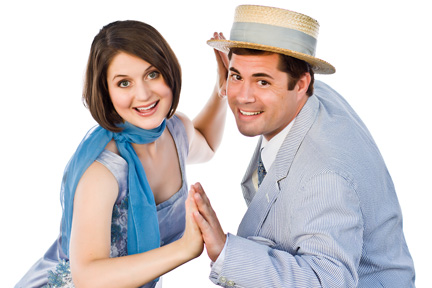 While Dallas Summer Musicals is staging a faux 1920s musical with The Drowsy Chaperone, Theatre Arlington chimes in with a much older faux 1920s piece in Sandy Wilson's The Boy Friend. Written in the 1950s, the British show sends up the brittle farcical conventions, sophistication, and dated slang of Roaring Twenties' stage musicals, while providing some enjoyable lightweight songs that have allowed the show to keep its place on the stage through the decades.
If your taste runs less in the direction of West End musicals and more toward pulp fiction (or Pulp Fiction), you'll probably want to see The Boxer and the Blonde, the latest show put on by The Butterfly Connection and a multimedia satire that evokes mobsters, femmes fatales, and crooked boxing matches. Look for outsize personas among the show's boxer characters and filmed sequences that'll capture the bouts in inimitable detail. This show is running for only two weekends at Rose Marine Theater, so you'd better hurry if you want to catch this.
The Boy Friend runs Jun 13-Jul 13 at Theatre Arlington, 305 W Main St, Arlington. Tickets are $20. Call 817-275-7661.
The Boxer and the Blonde runs Jun 13-22 at Rose Marine Theater, 1440 N Main St, FW. Tickets are $15. Call 817-333-4028.