Southern Gothic indie-rockers Dove Hunter have their sights set on the sky.
By JIMMY FOWLER
After almost a year of buzz, the indie-rock quintet Dove Hunter released its debut album earlier this summer. With its ominous, seductive, lo-fi Southern Gothic twang and apocalyptic lyrics, The Southern Unknown pretty much solidifies the band's reputation as a great live show – and the album also is allowing the band to move forward. Multi-instrumentalist and vocalist Chad DeAtley, 36, sounds a little bit relieved.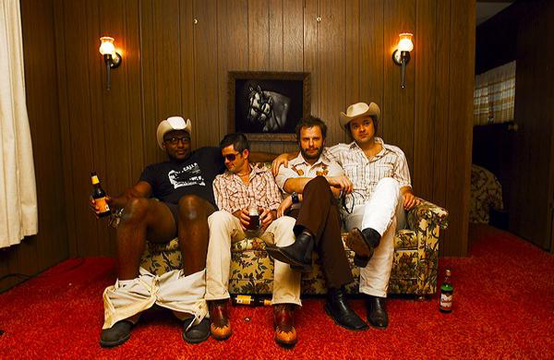 "We were able to put those songs out and put an end to them," he said, noting that the recording process for Southern Unknown (produced by Grammy-winning engineer Stuart Sikes) took much longer than anyone anticipated. When DeAtley says, "Put an end to those songs," he doesn't mean that the tunes have been banished to some back-catalog Siberia – Dove Hunter has been playing together for only a couple of years, and there isn't a bottomless well of singer-guitarist Jayson Wortham's original songs to draw from. Instead, given Dove Hunter's signature penchant for onstage improvisation, DeAtley said, "People might not recognize the songs from the album now that we've been playing them live."
The saga of Dove Hunter is still being written, but the members' synergistic enthusiasm and creative restlessness were born from many years playing in other bands of wildly different styles. Even before they met, DeAtley and Wortham's musical sensibilities were headed in the same direction.
Wortham, 36, was born in Nacogdoches and grew up in Forney, just east of Dallas."I spent a lot of my time listening to really bad metal music," he said. "I didn't have new friends who moved to Forney from the big city to teach me about cool music."
DeAtley calls the little South Texas town of Alice his birthplace, although his family moved around a lot, remaining for an extended period in Chicago. He too started on a diet of early '80s metal, graduating from there to the classic-rock sounds of Zeppelin and the Stones and finally to punk. The pair's serendipitous musical tastes continued in a love for the early '90s Dallas band the Buck Pets. At that point, Wortham was already living and playing in Dallas, and DeAtley, who had first seen the Pets open for Jane's Addiction in Illinois, had just relocated to North Texas.
Fast forward to 2005. After playing a lot of shows with a lot of not-ready-for-prime-time bands, DeAtley joined one of North Texas' most loved bands, the now dearly departed Doosu, and Wortham fronted Mandarin, a band not as popular as Doosu (not many are) but still formidable. The two men met backstage one night at a Dallas club where their groups shared a bill.
Wortham had written a number of songs that were not suited for Mandarin's spacey, ambient sound. He had recorded them with just himself and a guitar. He hoped he could find a like-minded musician or two to collaborate with. "I knew that I wanted the CD to be called The Southern Unknown, and I knew – or I thought at the time – that I wanted it to have a 'dub bluegrassy' kind of vibe," Wortham said. "The bluegrass part went out the window."
The reggae element remained, thanks to DeAtley's laid-back, loping bass line and drummer Quincy Holloway's tripped-out rhythms – Holloway also played in one of North Texas' most vaunted acts, dub maestros Sub Oslo.
DeAtley and Wortham were soon joined by two other local heavy-hitters: Josh Daugherty (banjo, pedal steel) and Billy Surface (guitar, vocals, and anything else). They jelled so well personally and musically that The Southern Unknown "side project" soon became one of the most intensely anticipated CDs of the past year.
Although DeAtley makes it clear that Dove Hunter doesn't shy away from the spotlight, he does draw a distinction between "buzz" and "hype." "From a band's point of view," he said, "buzz is always a good thing, because it gets people curious about listening to your music. And we think we have the content to keep them interested."
On the other hand, "hype" is when "an audience hears over and over again, 'You've got to hear this band play,' and nobody's quite sure why, except that they're supposed to feel that way. Then people are, like, 'I don't want anything to do with this band.' I understand that feeling."
Wortham said he's been writing new songs that the group has been rehearsing and occasionally testing onstage. For his part, DeAtley has one simple but clear goal for the band's immediate future. "If you ask me where we want to be in the next 12 to 18 months, I say, 'Making a full-time living with our music,' " he said. "If this becomes a full-time job, our happiness will magically turn Dove Hunter into the greatest fucking band ever."
Dove Hunter
3pm Sun as part of Dia De Los Toadies w/The Toadies, Lions, The Backsliders, and The Tejas Brothers at Possum Kingdom Lake, FW. $25. 940-549-1873.