"Asian with a twist" is how Blue Mint describes its cuisine. Considering that Thai fare involves a mix of foods from all of the countries surrounding Thailand, "with a twist" is right. On the menu at this relatively new family-owned restaurant in Mansfield, traditional Thai dishes mingle with Chinese options (Chinese noodle and wonton soups), Japanese choices (yakisoba), and even a Burmese coconut soup called khao soi.


There was a relatively large crowd at Blue Mint during a recent Sunday lunch. Perhaps it's because, in Mansfield, a lot of restaurants are dark on Sundays. Regardless, inside was an odd mix of church ladies, families that would have looked at home at one of the many chain restaurants Mansfield now sports, and some Asian boys with faux-hawks.
But a few dozen locals can't be wrong, right?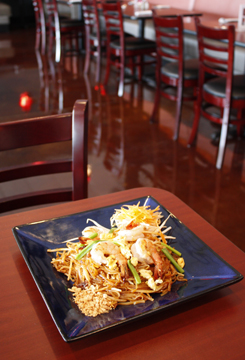 A bowl of spicy, sweet, velvety tom kha started the meal right. Someone evidently forgot to give the kitchen staff the memo about the recession: Along with the standard ingredients of mushroom, coconut milk, lemongrass, and the earthy kha root came a generous serving of five huge, plump, perfectly cooked shrimp.
Don't go to Blue Mint looking for spring rolls in rice wrapper. You're getting them fried. But if you're looking for fried fare, a better choice is the tofu appetizer: six large, crispy tofu triangles that made a wonderful vehicle for Blue Mint's spicy chili peanut sauce.
For the daring palate, the yum woon sen salad should prove a tasty challenge: a generous serving of more plump shrimp plus ground pork and onion, all mixed in a spicy sauce on a platter of lettuce.
Spice lovers, go for the green curry. Blue Mint's comes not with the standard eggplant but with crunchy bamboo shoots and green peas, and it's done right: The cooks clearly have mastered the Thai art of balancing the kick of the chili paste with the soothing gentility of the coconut milk.
Though not nearly as impressive as the other two dishes, the pad Thai was good. Sweet and sour complemented each other in a not-too-spicy version of hearty rice noodles, fish sauce, tamarind, and scrambled egg. The dish might be an effective way to ease a newbie into Thai cuisine.
End the meal with the kao niou, a sweet, sticky delicacy from Northern Thailand. (The item is seasonal, however. You'll have to hurry to catch it.) The menu also offers the traditional fried bananas and the not-so-traditional ice cream.
Thai culture places enormous importance on the rituals of eating. The presentation, hospitality, and atmosphere are almost as important as the food. At Blue Mint, the décor is a combination of shiny red and mahogany with black, along with pictures of the herbs and flowers that feature prominently in the cuisine. The food was plated beautifully, and the service was spot-on.
Blue Mint Thai & Asian Restaurant, 1211 E Debbie Ln, Mansfield. 817-453-1999. Mon-Sat 11am-10pm, Sun 11am-9pm. All major credit cards accepted.
Blue Mint Thai & Asian Restaurant:
Fried tofu appetizer………………………… $4.95
Tom kha………………………………………… $3.95
Yum Woon Sen salad………………………. $7.95
Pad Thai………………………………………… $8.95
Green curry w/rice…………………………. $9.95
Sticky rice w/mango………………………. $4.95