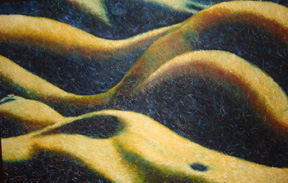 Cinema has gripped arty-farty Fort Worth. Coinciding with the second annual Lone Star International Film Festival are several art exhibits informed by moving pictures.


At Artspace 111, paintings based on pictorial documentation of the assassination of John F. Kennedy and the Zapruder film are part of painter Leslie Lanzotti's Faces and the JFK Paintings, a show that also features several generous, blanched, nostrils-centric portraits. As part of the exhibit, author Robert Groden, the technical advisor to filmmaker Oliver Stone's alternate-historical JFK, will speak at the gallery at 7:30 p.m. Saturday.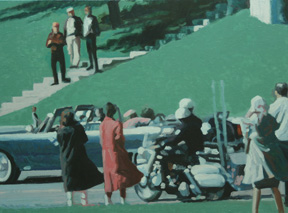 At the Amon Carter Museum is The Plains of Sweet Regret, a series of videos by Mary Lucier, who was one of several artists commissioned by the North Dakota Museum of Art in 2000 to respond to the population shifts in the northern plains that are still forcing residents to "re-imagine their lives," according to museum.
At the Modern Art Museum of Fort Worth, the pics and vids that comprise an exhibit that opened in September, Hubbard/Birchler: No Room to Answer, will stay up until early 2009. At the center of the show is "Grand Paris Texas," a video commissioned by the Modern and headed for the museum's permanent collection.
Lastly, the Kimbell Art Museum gets in on the action, hosting two screenings of an LSIFF entry, Visual Acoustics: The Modernism of Julius Shulman, a documentary by Eric Bricker that traces the career of the titular 97-year-old architecture photographer and champion of Modernism.
Whether plotted or accidental, the synergy stands to benefit both the festival and local visual-art community. For the most part, movies and video art have only the use of camerawork in common, though many artists on both sides of the aisle seemingly live to shatter the distinction. Basically, the folks lining up to watch some of the festival's more accessible offerings probably won't be the same people piling into the Amon Carter for Lucier's show. However, if you're in the mood for moving pictures but reluctant to brave the megaplexes, you're totally in luck.
For more information on the festival, visit www.lsiff.com.