In most live theater productions, "audience participation" is limited to measured reactions from the house, including the requisite applause after musical numbers and during the curtain call. A spirited standing ovation is about as rowdy as things get.


At a Jubilee Theatre holiday musical, however, the fourth wall is definitely more porous. The cast and musical director Joe Rogers' live band try to create a vaudevillian atmosphere where raucous laughter, handclaps and singalongs, and outbursts of audience commentary aren't just welcome, they're encouraged. The actors may directly tease the ticketbuyers into such exchanges. Jubilee artistic director Ed Smith is fond of using jazz metaphors for his theatrical approach. Let's just say if the performance is cooking on all burners, then a musical like Uncle Duz Christmas becomes like an improvisational harmony between actor an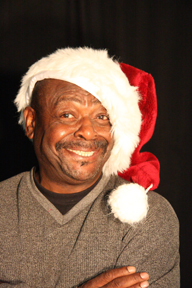 d audience.
And when this chemistry goes missing, the absence is glaring. During much of Jubilee's first Saturday matinee of Uncle Duz Christmas, you could feel the 14 cast members trying to coax a livelier response from the audience. Conspiring against them may have been the racial and age makeup of the crowd. A majority of seats were filled with Anglo men and women of retirement age and included members from a local Methodist church group. They were
certainly appreciative – they smiled, nodded, and applauded – but it was clear that for many, an afternoon at the theater was not regarded as an interactive event. For all of the abundance of comic and vocal talent on display, this Uncle felt hobbled.
You couldn't entirely blame audience reticence. Conceived by Rogers and directed by Tyrone King, Uncle Duz Christmas represents a transition for Jubilee Theatre – it's the company's first original musical not directed by late founder Rudy Eastman. Program notes indicate that the show's creators felt some anxiety about the passing of a tradition into new hands. In fact, King conjures a spicy rapport among his players. Minus the expected audience enthusiasm, however, Rogers' book proved too loose and lethargic to generate much spark on its own.
And lead actor-singer Robert Rouse was not at the top of his game. Uncle uses the spare framework of Dickens' A Christmas Carol to free-associate comedic scenarios about generational conflicts, racial tensions, in-law battles, and the ability of families to inspire and infuriate. Rouse plays Uncle, the Scrooge-y figure who shares some character traits with, of all people, Archie Bunker, a scornful, set-in-his-ways patriarch who's happy to voice all manner of misanthropic opinions. For this Christmas celebration, Uncle is surrounded by his peacemaking daughter Joanna (Sheran Goodspeed Keyton) and his two sons, hip-hop-loving Jay (Aaron Petite) and gay Marcus (Malcom Beaty). Jay has brought his clingy gangsta moll Ta Quana (Simone Gundy, hilarious and perched on nosebleed heels), while Marcus has summoned the courage to bring his Latino boyfriend Whitman (Abel Baldazo, Jr.). Whitman looks pale enough to Uncle to earn the unflattering nickname "White Man." Meanwhile, Uncle's chief foil is sister-in-law Aunt Lindy (the sublime Michelle Rene), a hot-air machine with a penchant for telling long stories about her hat collection and trading "You're so old and ugly that … " insults with her brother-in-law.
Other actors play extended family members, but in the tradition of Eastman's musicals, Uncle Duz Christmas doesn't care much about plot. It's a revue in which songs and skits are connected by memorable onstage personalities. The show would scatter like a roomful of cats if the performances weren't so sharply etched, and director King makes sure his actors establish a forceful character presence with their first few lines. Musical director Rogers' mixture of Christmas favorites and clever original tunes undergirds the best scenes. "Sweet Potato Pie" grants key players some highly polished folly as they hungrily serenade the dessert. "Santa's Back in Town," sung by Rouse, acknowledges the country's economic woes with the revelations that Santa had to downsize the elf labor force and resort to FedEx as an economical method for worldwide toy delivery.
Speaking of Rouse, the program refers to him as the "Dean of Jubilee Players," and rightly so. Besides his long association with Eastman and the company, Rouse has a spiky, hipster-ish charm with a playfully nasal R&B delivery that invites whole shows to be written for him. The long pauses before he delivers a devastating one-liner – his eyes deadpan but glinting with mischief – hold audiences hostage with anticipation. But at the Saturday matinee I attended, Rouse seemed distracted. His singing was sometimes off-key during the first act. He rallied early in the second act with a scorching version of "Merry Christmas, Baby," but up to that point his momentum was fitful. You wondered if he was disengaged by the friendly but rather staid reception that Uncle Duz Christmas was encountering. It's a little odd to criticize audiences for not responding the way the actors wished they would. Ticketbuyers pay to be entertained on their own terms. Still, at upcoming performances where crowds are primed for the classic Jubilee musical experience, Uncle, we hope, will take the chair he deserves: the one at the head of the table.
Uncle Duz Christmas
Thru Dec 21 (no Nov 27 performance) at Jubilee Theatre, 506 Main St, FW. $16-25. 817-338-4411.