By Laurie Barker James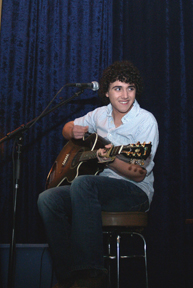 Guitarist-singer-songwriter Johnny Cooper isn't even old enough to drink legally but has probably listened to more records than folks three times his age. The Wichita Falls wunderkind's bread and butter is Texas Music, though his live shows – and lots of his original tunes – include influences as myriad as mid-'70s Stevie Wonder, dub-rocking Sublime, rockabilly-era Johnny Cash, and Outlaw Country. At a recent acoustic show at the Overtime Bar and Grill in Burleson, he and bass player Cody Shaw tended to … wander a little. Whatever he was doing – call it Motown, Stax, or semi-rap – it was surprising, considering both the source and the site.
Cooper put out his first record, the 10-track Ignition, a couple of years ago – when he was 17. The best track is probably "Devil Woman," a you-done-me-wrong statement fueled by Cooper's Southern-fried wah-wah guitar and a rattlesnake-shake beat. The band is now at work on an album to be released next spring, which will bring the grand total of Cooper albums to three – his catalog also includes a live album, recorded when he was barely in high school.
With his curly black locks and smooth face, Cooper looks more like one of Donatello's cherubs than a Texas country-bluesman. You might wonder, What in the hell does this boy know – I mean, really know – about devil women, tequila girls, and prison? Well, Cooper has been playing professionally since he was 15, including in a ZZ Top cover band with a bunch of older dudes. Now that he's played probably 500-plus live shows, he can just let his music do the talking for him. He'll be joined by his backing trio this weekend.
Fri at The Horseman Club, 4750 Bryant Irvin Rd, FW. $12. 817-361-6161