Automorrow takes its contrarian rock 'n' roll nature only so far. The young trio's smart, quasi-punk songs often reflect "an individual's take on the struggle against society," according to green-haired singer and guitarist Ben Napier. But don't be misled. He, guitarist/synth player Michael Eli DuFault, and drummer Adam "Fat" Reeves are dead serious about their small business of a band. Each of them has spent more than a decade in the biz. They all understand the pitfalls and are hell-bent on battling them one by one. The ultimate goal is to become financially solvent. If the tattoo on Napier's forearm, "I WILL," is any indication, they really mean it.


All three of them have been in different bands before. Automorrow, though, seems to have the most promise. "This is the best," said Reeves, meaning both the band and its debut recording, Diver, a self-released five-song EP that features eco-friendly packaging and DuFault's graphic design skills.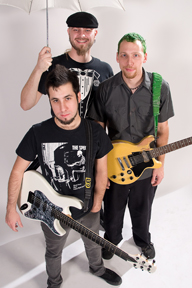 Lifelong friends, Napier and Reeves have been collaborating since their teen years in Mansfield. Their most recent project, a screamo outfit called Israfel, had Automorrow drummer Reeves as the guitar-playing, singing frontman and Automorrow frontman Napier on bass. After Israfel's dissolution in 2005, Napier met DuFault at Sound Vision studios, where the pair had co-produced the now-defunct Dilletante's last CD. DuFault, a musician since childhood, had just unraveled his band Sensored. Working late hours in a creative environment like the studio led to inevitable jam sessions. Napier and DuFault recruited Reeves, whose natural habitat was the drumkit, and by September, 2005, Automorrow was official.
The songs are group compositions, with every member – including, on the disc, Jacob Mouser – contributing ideas. Which probably explains the band's uncategorizable sound: a blend of New Wave, hip-hop, hard rock, and reggae. "We didn't want to sound like anyone else," Napier said.
DuFault added, "We were concerned with being typecast."
Mouser left to go live in Austin, and even though the band auditioned several replacements, his riffs are being carried on in live settings via pre-recorded tracks.
Performing live, actually, should be one of Automorrow's strong suits, considering that two members – Reeves and Napier – both work in live production, Reeves for the Dallas cover band Emerald City and, up until recently, Napier as a sound engineer at Firewater in Dallas. "Our standards are high," Reeves said. "We see actual professionals, so we know [perfection] is possible."
As part of Automorrow's commitment to the scene, Napier, an RTVF major from Texas Christian University, recently created www.rockthebasement.com, where videotaped performances by local bands are available for download. There's footage of surging local bands Jefferson Colby, Balance Problems, and the Alex Atchley Experience. Napier sees video as an important selling tool. "You see the raw energy," he said, "And you put it in the hands of people looking for good live music." Automorrow's episode of Rock the Basement will be out in March, followed in April by a mini-documentary to be partially filmed at upcoming Automorrow shows.
The business of rock is important to Napier and company. DuFault, who has a degree in graphic design from Tarrant County College, designs all of the band's visual material and acts as the band's accountant, Napier handles the booking, and Napier and Reeves go heavy on networking. They use the "three-foot rule," according to Napier. "Anyone standing within three feet hears about the band," he said. "It's the only way to create a following at this stage."
Automorrow
Sat w/Third Man on the Match, 1,000 Miles from Home, and Sam McNeil at Ridglea Theater, 3625 Camp Bowie, FW. $7. 817-738-2921.