As he prepares to shoot his second feature film, writer-director Tom Huckabee is drawing inspiration from two very different sources: legendary auteur Francis Ford Coppola and environmental installation artist Christo, the guy who with his artist wife, Jeanne-Claude, once wrapped New York's Central Park in orange fabric.


"I read somewhere that Coppola said he'd never started shooting a film with the funding in place," Huckabee said. Similarly, "Christo considers all the bureaucratic problem-solving he has to do – fund-raising, city permits – to be part of the artistic process."
In fact, Huckabee is financing the upcoming road-trip dramedy Carried Away himself, although he has only enough cash to get the film into the can. Post-production funds will no doubt fall into the artistic-problem-solving department.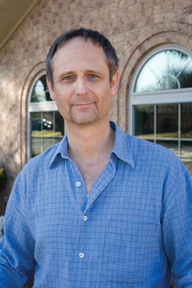 The former artistic director of the Lone Star International Film Festival and L.A. industry insider has had this script in the drawer at least since lead actor Gabriel Horn "was in short pants." Huckabee's first feature project was co-directing 1983's Taking Tiger Mountain, starring a then-19-year-old native Fort Worthian Bill Paxton. That one was based on a William Burroughs short story about radical feminists in a post-nuclear holocaust world who give the main character a sex change and train him to kill the ringleader of a white slavery operation. For real.
Carried Away definitely treads more sober territory. The story concerns a young California man (Horn) who snatches his beloved grandmother from a geriatric care facility in Fort Worth. The woman suffers from stroke-related dementia and believes she's being held in a state prison. The pair is pursued by the young man's father and brothers. The movie addresses, among other topics, the way American society often dumps its elderly and infirm in so-called "Medicare mills" and forgets about them. Shooting begins in early February around Tarrant County. After about three weeks, it will relocate to Blythe, Calif.
Huckabee doesn't want to name any cast members other than Horn until the ink hits their contracts. He met his young lead after attending a 2008 Lone Star International Film Festival screening of the Cleburne-shot vampire comedy Nightcrawlers, in which Horn also starred. Huckabee went to dinner with some of the cast and crew "and was impressed by all of them, as artists and as people," he said. The director gave Horn a copy of the Carried Away script, and the young actor came aboard along with various crewmembers from Nightcrawlers. Fort Worth filmmaker James Johnston is on deck to serve as producer. Pre-production has gone relatively smoothly thus far.
During Huckabee's years in the film industry, scripts rarely made it to that stage. "It was so discouraging watching stories get caught for years in the development trap," he said. "Maybe one script out of 500 made it to production.
"Right now," he continued, "we're in place to shoot a super-low budget but very professional movie with a full cast and crew. We're using the same kind of high-resolution digital camera that Steven Soderbergh used to shoot Che," the fictionalized retelling of the life of famed freedom fighter Che Guevara. Huckabee doesn't regret that Carried Away is being made outside of the Hollywood loop he used to inhabit. With this script, he "didn't want the film business to interfere with the making of the movie."
God Save the Queen … Please
The Dallas Opera delivered a curiously bland version of Donizetti's seldom-seen Roberto Devereux last weekend in Music Hall at Fair Park, and while nothing was terribly wrong with the performance, if you closed your eyes to the visual gaffes that peppered the show, there wasn't much excitement, either
The wood-railed, three-tiered set recreating London's old Globe Theater was recycled from last season's Maria Stuarda and was handsome. But the performance area offered little seating, and the singers ended up sitting and/or kneeling on or slithering across the floor most of the time. A huge, severely tailored blue bed placed center stage looked straight from Ethan Allen, and the costumes were a bizarre mix of ideas. (Let's not even get into the large glass cases with human figures inside pushed around the stage by industrious stagehands on their hands and knees for the finale.)
Offering no familiar music or memorable arias, save for maybe "God Save Our Gracious King" – the composer had woven the tune into the opera's overture after the fact – the piece, to its credit, is known for some super-charged dramatic scenes. Here, though, they were mostly low-key, almost Verdian in mood and weight. The vocally sturdy cast came across as that of a TV soap opera, tracing the love lives of the rich and famous.
No one seemed inclined to break out of a formal mold. Tenor Stephen Costello, who made his operatic debut with the Fort Worth Opera three years ago as a robust, engaging Rudolfo in La Bohème, sang Devereux, the probable lover of Elizabeth I. His approach, though, was surprisingly one-dimensional. His love scene and prison scene were pretty much the same. And soprano Hasmik Papian, making her local debut as the strong-willed queen, was equally restrained. Flashes of temper only occasionally rippled the surface of her singing. She never took on the mantle of an absolute, furious monarch determined to bend everyone to her will. (In my mind I still see Beverly Sills blazing her way through the opera years ago like Bette Davis in Elizabeth and Essex and bringing down the house.)
Mezzo soprano Elizabeth Batton was an affecting Duchess of Nottingham, Devereux's real love interest, and baritone David Kempster drew a few sparks as her irate husband. Everything is in place for a satisfying run: good singers, healthy chorus, and fine orchestra. Now if only someone would light a fire under the cast. – Leonard Eureka