Can you name the current executive chef at Reata Restaurant, probably the most well known purveyor of cowboy cuisine in Sundance Square? It's not co-founder Grady Spears, whose tenure ended in 2000. Tim Love? Never was an executive chef, and he left shortly after the big tornado took out Reata's first home, in the building now known as The Tower. Brian Olenjack? Also never an executive chef, and his own place, Olenjack's Grille, has been up and running for years.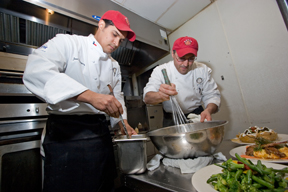 No, the "star" at Reata is, well, five stars: Juan Jaramillo, Juan Rodriguez, Travis Purdin, Fred Hamilton, and Andrew Derden, with the chefs Juan in de facto leadership roles.
"Emphasis on one chef means that when that chef leaves, some of the customers go with him," said Russell Kirkpatrick, Reata's assistant general manager. Having five chefs means less emphasis on one person, he continued, and more emphasis on the food.
And the food is fairly legendary around here. Fort Worth Weekly staff writers have bestowed numerous Best Of awards on Reata over the years, including best restaurant in 2000. The Weekly review of the post-tornado location raved about the restaurant's "heavenly" ranch and Tex-Mex cuisine. Reata also consistently scores with Weekly readers/diners, who voted the place best restaurant in 2007.
Having just one chef also would have meant a lot of work for one person, considering that Reata isn't just a restaurant. The almost 13-year-old institution also is a million-dollar-a-year catering enterprise. During the annual Fort Worth Stock Show and Rodeo, Reata opens two temporary restaurants on the Stock Show grounds at the Will Rogers Memorial Center. Chef Purdin supervises the haute-cowboy cuisine at the membership-only Reata Backstage, while Rodriguez grills a scaled-back version of the menu at Reata at the Rodeo.
Rodriguez, who was the Weekly readers' pick for Best Chef last year, came to Reata two years ago from Love's Lonesome Dove in the Stockyards, where he was sous chef. Rodriguez also had followed Love to New York City to help open another Lonesome Dove — but it closed abruptly, leaving Rodriguez temporarily stranded in Brooklyn. Rodriguez graduated from culinary school in Dallas but, like Jaramillo, got into the restaurant biz through the back door, starting out, half of his young life ago, as a busboy at a Steak and Ale.
Jaramillo, a native of Mexico who moved to the United States at age 15, entered the restaurant biz as a dishwasher in a Chicago restaurant. With apprenticeships but no formal training, he became an executive chef at Reata about five years ago, after working alongside Spears and Love.
The two Juans have put their respective signatures all over Reata's menu. Jaramillo added the buffalo burger and — "because a lot of people are on a diet" — special salads. He's also responsible for Reata's chocolate bread pudding tamale. Wrapped in a cornhusk and smothered in dulce de leche sauce, the dessert's gooey custard innards are made with day-old pecan biscuits, much in the same way that bread pudding is made with day-old bread. Rodriguez gets credit for the braised lamb shank and the outrageously delicious chipotle brownie.
Despite the number of chefs who have paraded through Reata's kitchen, Jaramillo says that the turnover rate there isn't that high, and a lot of the cooks started as dishwashers. He should know — he's worked at Reata practically since it opened.
"It's rare that line cooks leave," he said. "We've got a good team, and it takes a whole team to run this place."
Plus, he said, "Five heads are better than one."