**ONLINE EXCLUSIVE**
It isn't every day that you see and hear a near perfect ensemble in a Rossini opera, especially one of the comedies. Something vocal or visual inevitably falls short. The vocal demands, up one side of a scale and down the other with four notes to the beat at warp speed, are fiendishly difficult to sing, and the comedic staging easily slips into everyday slapstick if the performers are careless.

The Fort Worth Opera overcame all of the obstacles. Its version of Rossini's La Cenerentola inaugurated the company's third annual festival in Bass Performance Hall last week. Along with a strong Carmen the night before, FWO's La Cenerentola helped make for a memorable opening weekend.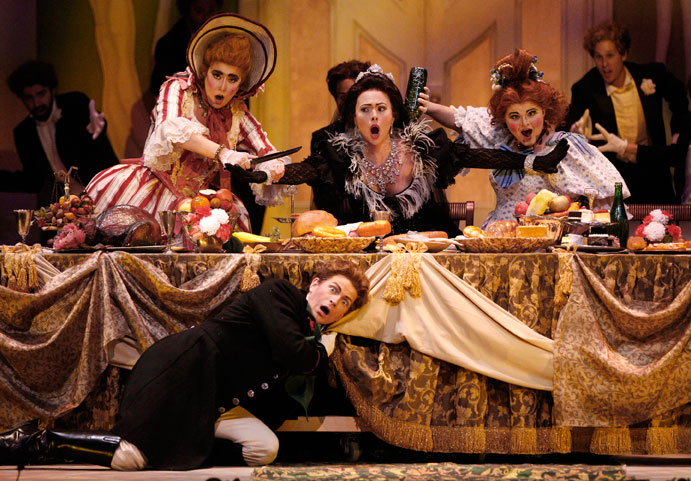 Mezzo-soprano Isabel Leonard led the brilliant young cast in the title role of Cenerentola, or Cinderella, Rossini's loosely based version of the popular children's story. Lovely of face, figure, and voice, Leonard combined formidable vocal technique with dramatic sensitivity and gave us a gentle, innocent look at the hapless servant who still has enough pluck to stand up to her tyrannical sisters. She tossed off the opera's showpiece aria, "Non più mesta," with remarkable agility, every note squarely in place. Her voice will darken and fill out with age, and you can already see a major career in the offing.
There's no fairy godmother or wicked stepmother on hand. Instead, a greedy buffoon of a father rules the roost: an impoverished nobleman bent on marrying off his daughters to get out of hock, sung here in the best opera buffa style by Rod Nelman.
The stepsisters were ably performed by Brandi Icard and Alissa Anderson, and tenor Michele Angelini was a persuasive Prince, negotiating his tricky vocal lines with fluid ease. Andrew Garland, a pleasant sounding baritone with a comic flair, sang Dandini, an amiable valet sent out to impersonate the prince and test the sincerity of prospective brides. The prince's tutor, Alidoro, the voice of honor and virtue in a sea of egoic froth, was commandingly sung by Derrick Parker.
Longtime New York City Opera and Metropolitan Opera conductor Scott Bergerson led the Fort Worth Symphony and the singers in a lively account of the score. I have nitpicked David Gately's stage direction in the past, but here there was nothing but gold: a steady stream of inventive gesture and comic stage business that kept the show going at top speed. The visual impact of Jean-Pierre Ponnelle's gorgeous costumes, created for the San Francisco Opera, and Erhard Rom's elegant set pieces completed the picture. When the curtain came down the sell-out crowd was standing and cheering as if it had heard a rock concert.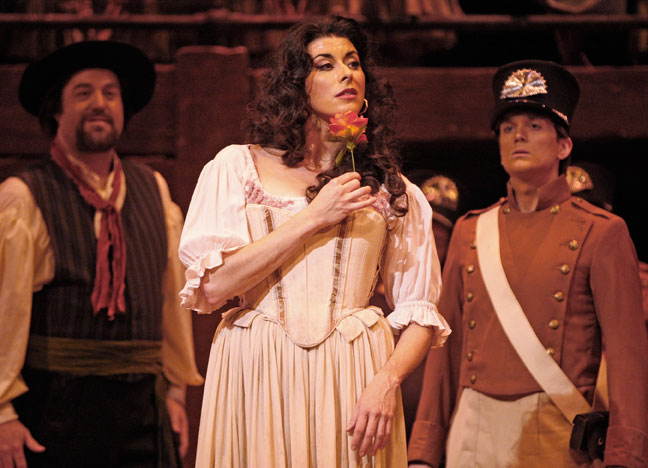 At the other end of the operatic spectrum is Bizet's Carmen, a stark, unflinching look at working-class life in 19th-century Spain, at least in the eyes of stage director John de los Santos. Gone was the polite fiction of Carmen as a good girl playing bad that we got years ago or of her as a selfish voluptuary who carries things too far in her love life. Rather, the brilliant mezzo-soprano Beth Clayton gave us a three-dimensional, brooding creature, a sensuous, cynical, Gypsy beauty hammered by life and expecting nothing from it, taking what she wanted when she wanted it regardless of the consequences, with a curiously detached view, as if nothing really mattered. She wasn't fearful when reading her future in the cards and finding death.She seemed to welcome it. Clayton's Carmen even gave her jilted lover, Don José, the dagger to stab her with, and taunted him until he did so in a savage multi-thrust attack, ruthlessly kicking her body after she had died.
An almost film noir atmosphere hung over the production, a sense of impending doom. Even the goings-on in the gypsy hideout that sometimes have a light-hearted camaraderie, had a dark, decadent feel. Carmen, dancing with the bullfighter Escamillo, ended up arched backward over his arm as he splashed liquor down her bosom and lapped it off her chest.
Roger Honeywell was a heroic sounding Don José, with a bright, clarion top to his voice, and Morgan Smith, a strapping Escamillo, has a strong, vibrant baritone, although the bottom of his range tended to disappear. Vocally, the only disappointment was soprano Sandra Lopez, singing the innocent Micaëla. Her voice had a tendency to spread when she turned up the volume, which gave her singing an unpleasant edge. The audience didn't seem to mind and gave her a hearty ovation. In fact, the sold-out house loved the whole evening, hollering itself hoarse at the end, with a particularly strong shout for conductor Joe Illick and the Fort Worth Symphony.
Fort Worth Opera Festival
Carmen runs thru May 8, and La Cenerentola thru May 9, both at Bass Performance Hall, 555 Commerce St, FW. 817-212-4325.