Butterfly Connection crosses over into a dimension of virtuosity.
Last Saturday night in an office storefront on East Lancaster Avenue, the scene was like something from one of those 17th-century French salons. Artists and artistic types, sipping beer and bottled water, mingled and chatted. Actors mixed with young-ish, hip patrons waiting for the restroom. The co-directors for the evening's theatrical performances — Jamie Kinser and Shawn Gann — adjusted lights and checked sound systems amid the socializing. The whole thing had a casual but deliberate air about it.
This was the lead-up to The Butterfly Connection's double-bill of adapted teleplays from Rod Serling's peerless The Twilight Zone TV series. The experience was definitely not traditional theater as most people define it. The vibe was very much DIY: The audience sat in small, hastily arranged rows of big plastic lawn chairs. During the show, the actors shared space with the ticketbuyers,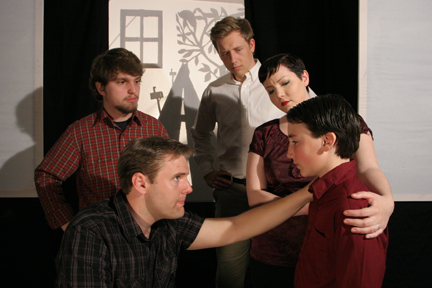 moving around them and all but inviting them to directly participate in the scripted action.
The first act was Serling's own classic "The Monsters Are Due on Maple Street," a compact morality tale of how quickly suspicion can curdle to paranoia and then explode into mob violence. The theme song piped through the speakers as the actors cheekily recreated the visuals of the opening credits with clever props: a spinning door, a winking disembodied eyeball, a clock face, a painting split apart. Then the cast assembled in front of a pair of tall, sheer black curtains; behind those were shadow and stick puppets backlit to perform the story's "special effects." The friendly neighbors of Maple Street in Anywhere, U.S.A., gather outside after a mysterious booming sound overhead extinguishes all of the electricity. A comic-book-loving boy (Alex Esquivel) begins to talk of an alien invasion, and suddenly everyone is suspected of being collaborators with the invaders, including the guy who operates the ham radio in his basement and the dude who still has one lightbulb working in his house.
Director Kinser manages to convey a terse realism in the neighbors' rapidly disintegrating relationships. The close confines of the Lancaster space nicely emphasized the sense of rats fighting in a cage. The shadow puppetry — blurry figures walking down a road, a tree swaying in an eerie wind beside a dark house — offered Edward Gorey-esque contrast to the documentary-style edginess of the performances.
Montgomery Pittman's "Two" from Twilight Zone's third season was next, and it gave director Gann a chance for a more poetic look at human interactions via masks, stylized movement, and limited dialogue. The only survivors in a lonely post-apocalyptic town seem to be Woman (Stephanie Darrah in a hood and featureless mask) and Man (Joe Aholt, also in hood and mask). As classical music surges, they work their ways through the steps of mutual survival — confrontation, curiosity, cooperation — while images of exploding bombs, burning bodies, and, as last nostalgic glances at high civilization, grand opera houses were projected on the black curtains in the background. Darrah and Aholt's expert, expressive mime work pulled it all together, but there was enough thematic overlap between "Maple Street" and "Two" that the latter feels a little redundant.
Anyone who compares recent Butterfly Connection shows at the Rose Marine Theatre with this staging will sense that artistic director Adam Dietrich loves problem solving. He's clearly aware of the daunting limits at Lancaster, but he turns them to his advantage and creates live theater as "environmental installation." The collaborative may have left behind spatial flexibility and a more comfortable setting at the Rose, but at the Lancaster venue they have found improved focus, timing, and a bristling sense of immediacy. – Jimmy Fowler

The 'Gnome is on Fire
Firehouse Art Studios and Gallery, whose closing we told you about a couple of weeks ago, won't be closed for long. The on-again off-again nonprofit arts organization Metrognome Collective is taking over the historically significant space in Meadowbrook. The move is being led by Ben Rogers, one of Metrognome's leaders and a force in the local music scene — along with local booking agency Roman Seasonal, Rogers is mostly responsible for the number and quality of local and touring indie-rock bands that have been performing at Southside venues like The Chat Room Pub on Magnolia Avenue, 1919 Hemphill, and the Exploding House. "We're trying to raise money to get in there by April," Rogers said. "There's not much money left that we've got to raise [from private donors]," he said.
The move could have been done a little sooner, but Rogers and company "want to open with a bang, with performance and visual artists."
The collective's leaders have been looking for another building since getting kicked out of their previous space a couple of years ago. First choice was somewhere on the South Side, a neighborhood that's exceedingly hospitable to underground artists and musicians and independent retailers. "But the real estate is so expensive there," Rogers said.
About three weeks ago, Firehouse director Lori Thomson, after closing her operation to pursue an art degree, contacted former Metrognome co-president James Watkins and asked him if he was interested in the space co-owned by Charles and Gay Perry, who took over the building about six years ago.
Watkins immediately contacted Rogers, who immediately got in touch with Perry. "The Firehouse is an important part of the Meadowbrook community," Rogers said.
Gay Perry agrees. The corner where the old firehouse sits is "integral to the neighborhood," she said. "I'm not into art myself, and I wasn't familiar with the Metrognome. But I've loved the building, and I want it to be something positive for the East Side. … Rogers seems to be of the same mindset. … I'm excited about what might go on there."
Rogers appears to share Perry's vision. "We want to educate artists and teach them how to further progress, using art as a career rather than a hobby." Fort Worth, he said, "has a rich community of artists. There are a lot of artists in Fort Worth who get skimmed over who are constantly challenging their medium, themselves, and viewers."
Unlike the Firehouse, the Metrognome won't sublet the available studio space. However, a darkroom will be installed, and the yoga and meditation classes started by the Firehouse will continue. In addition to maintaining existing programs that fit with the Metrognome's mission to further North Texas' cultural and social intelligence, the collective will put on a lot of "one-off events," including music performances and outdoor theater. Rogers isn't worried that the Firehouse building's distance from downtown Fort Worth will hamper interest. Plus, he said, "If the immediate community doesn't support you, you're not going to succeed." – Anthony Mariani