The strange and varied career of local radio personality Richard Hunter, a.k.a. Big Dick Hunter, a.k.a. BDH, will soon take another turn. On April 1, the one-time Fort Worth mayoral candidate and bassist for '90s rockabilly act Killbilly will be sharing his dulcet baritone with a national audience. Last fall, Hunter signed a deal with Rick Dees Entertainment to syndicate his show. (Rick Dees hosts the Weekly Top 40 Show and owns and operates a radio programming company, but you may remember him as the voice behind the song "Disco Duck.")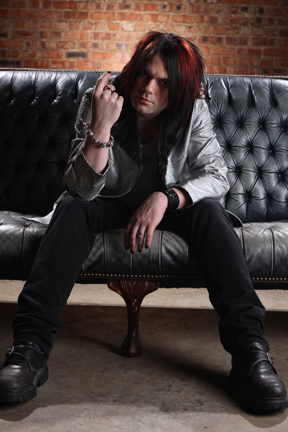 Hunter's show, Big Dick's Wild-Ass Circus, got its start in 2002 on Sports Radio KTCK/1310-AM The Ticket and in 2006 moved to KLLI/105.3-FM 105 Live. Now his show is being re-branded as The Richard Hunter Show to reach a broader audience. But, according to Hunter, he's not abandoning his wild-ass roots.
"As far as Wild-Ass Circus, Big Dick, and BDH, and all of that, it will still be there," he said. For people who refer to the new show by the old names, he said, "It will become like a fraternal thing, like an old-school familiarity if someone uses the terminology."
Hunter signed the deal with Dees last fall, and he and Dees' group intended for 105.3 to be the show's flagship station. But a little over a month after signing the agreement with Dees and CBS, the Dees group's parent company, the station changed to an all-sports format, leaving Hunter without a radio home. After a several-month search, he and Dees Entertainment found a new home at KXYZ/1360-AM BizRadio.
The format of the show will be the same: politics. Hunter is trying to appeal to what he calls the Daily Show generation and folks who just found their political consciousness during the last presidential campaign but are bored with the type of AM talk shows that their parents used to listen to.
"It's presented in a conscientious way so as not to seem like your dad or stuffy AM talk radio or NPR," he said.
Hunter said that he realized that politics was his calling while working for The Ticket. While President Bush was announcing the U.S. invasion of Iraq, Hunter was participating in an on-air round table with his fellow hosts at Coyote Ugly Saloon.
"There were girls clogging on the bar to 'Devil Went Down to Georgia' as President Bush is making the announcement that we are invading Iraq," he said. "We were live on the air, and I was openly questioning the existence of weapons of mass destruction at the time. And I was being chastised by my co-workers like I was insane.
"I kind of realized that night that politics is the ultimate sport with real-life consequences," he continued. "It's the ultimate trash-talking topic. Think about how much more exciting a Cowboys-Eagles game would be if the loser got their 401K wiped out."
The Richard Hunter Show can be heard locally on 1360-AM every weekday from 4 to 6 p.m.
Ballet For the Ages
For Metropolitan Classical Ballet's spring repertory program last week in Bass Performance Hall, MCB co-artistic director Paul Mejia was in charge, presenting revivals of two of his works for violin and piano. His choreog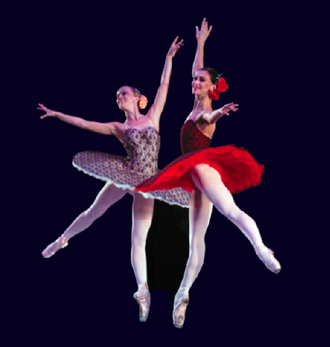 raphic settings of the Brahms "D-Minor Sonata" and eight Sarasate Spanish Dances were more focused this time around and more solidly danced.
A subtle rivalry between two ballerinas, danced here by Olga Pavlova and Marina Goshko, unfolds during the Brahms piece, and whether Pavlova's enchanting lyricism or Goshko's fiery athleticism wins is up to the audience. The ballet's lone male, Andre Prikhodko, studiously avoids favorites. The Dances, which use the whole company, featured guest ballerina Olga Voloboueva, seen here last summer in Paquita, who added style and sparkle to the evening. Mejia's attempt to meld the eight dances into one ballet by omitting bows after each piece didn't seem to please the large crowd. It wanted to cheer each section as it ended.
Pianist Gleb Ivanov and violinist Eric Grossman were sympathetic accompanists, although Grossman had intonation problems when called upon to rise into the harmonic stratosphere.
Sandwiched between these traditional ballets was a horse of a different color. Guest choreographer and dancer Anatoly Emelianov was covered in silver body paint from top to bottom for his new piece, The Time, a setting of the murky middle section of Arvo Pärt's Minimalist concerto for two violins, string orchestra, and prepared piano (one tuned to the composer's fancy and strummed like a harp, heard here on tape).
From a dark mist in front of a painted forest, Emelianov slowly emerged to mingle with six women, members of his harem, calling to mind the wizard Rothbart from Swan Lake and his captive swans. There was a curious detachment in his possessiveness. Like a miser who gets satisfaction from hoarding gold, not doing anything with it, Emelianov touched the women only once, taking each ballerina's hand in a brief series of supported turns, and when a pretty young thing came along (danced by Kelsey Thomas), he zeroed in to win her. She succumbed and became just another casual acquisition. Before the curtain came down, Emelianov slithered away to his upstage lair, waiting for more victims. The piece would have floundered if not for the dancer's remarkable intensity. Emelianov dramatically carried the ballet, creating a dark, timeless universe surrounded by music that endlessly repeats its simple melodic fragments. It's this kind of original work, and the first-rate dancers, that makes MCB special  and whets the appetite for more to come. – Leonard Eureka
Contact Kultur at kultur@fwweekly.com.