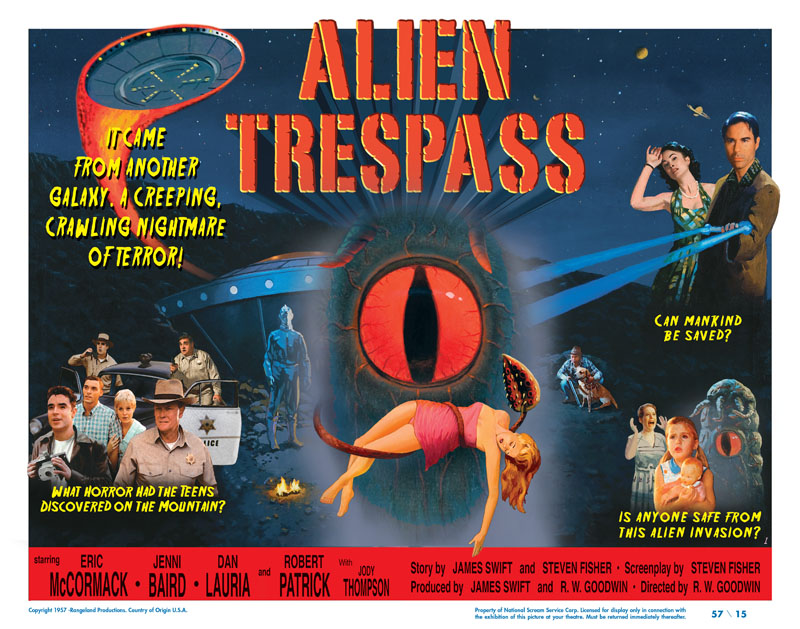 Alien Trespass (PG) R.W. Goodwin's spoof of 1950s sci-fi flicks stars Eric McCormack as a space alien who crash-lands on Earth and must team up with a small-town waitress (Jenni Baird) to hunt down the creature on his ship before it destroys the planet. Also with Robert Patrick, Jody Thompson, Dan Lauria, Aaron Brooks, Sarah Smyth, and Andrew Dunbar. (Opens Friday in Dallas)
The Edge of Love (NR) Keira Knightley and Sienna Miller star in this biographical film as two women who simultaneously became romantically involved with the Welsh poet Dylan Thomas (Matthew Rhys). Also with Cillian Murphy, Richard Clifford, Camilla Rutherford, Alastair Mackenzie, and Lisa Stansfield. (Opens Friday in Dallas)
Fast & Furious (PG-13) Original cast members Vin Diesel, Paul Walker, Michelle Rodriguez, and Jordana Brewster reunite for this fourth film in the auto-racing movie series. Also with John Ortiz, Laz Alonso, Gal Gadot, Jack Conley, Liza Lapira, Sung Kang, and Shea Whigham. (Opens Friday)
The Great Buck Howard (PG) Sean McGinly's dramedy stars Colin Hanks as a law-school dropout who takes a job as a personal assistant to a washed-up celebrity magician (John Malkovich). Also with Emily Blunt, Steve Zahn, Adam Scott, Griffin Dunne, Tom Arnold, Ricky Jay, Debra Monk, Casey Wilson, Regis Philbin, Kelly Ripa, Martha Stewart, Conan O'Brien, Jon Stewart, and Tom Hanks. (Opens Friday in Dallas)
Sin Nombre (R) Cary Fukunaga's drama stars Paulina Gaitán as a Honduran teen making the treacherous journey through Mexico so she can reunite with her father in the U.S. Also with Edgar Flores, Kristian Ferrer, Marco Antonio Aguirre, and Tenoch Huerta. (Opens Friday in Dallas)
12 (PG-13) Nikita Mikhalkov co-stars in his own remake of Sidney Lumet's 12 Angry Men as one of 12 Russian jurors who gather to decide the fate of a Chechen murder defendant. Also with Sergei Makovetsky, Sergei Garmash, Yuri Stoyanov, Alexei Petrenko, Sergei Gazarov, Mikhail Efremov, Alexey Gorbunov, Valentin Gaft, Roman Madianov, Viktor Verzhbitsky, Sergei Artsybashev, Alexander Adabashian, and Apti Magamaev. (Opens Friday in Dallas)
Now Playing
Duplicity (PG-13) The most purely entertaining movie so far this year stars Julia Roberts and Clive Owen as former spies who've crossed over to the private sector so they can run a complicated scheme to steal millions from the warring pharmaceutical companies that they work for. Writer-director Tony Gilroy (Michael Clayton) cuts loose with this caper flick that springs some head-spinning smaller cons within the big con, and his sense of fun infects his lead actors. It's refreshing to see Owen in a playful mood, and the role of a con artist adds a dangerous new dimension to Roberts' trademark charm. This isn't a great movie, but it's a brain-tickling diversion for grown-ups. Also with Paul Giamatti, Tom Wilkinson, Denis O'Hare, Kathleen Chalfant, Oleg Stefan, Khan Baykal, Wayne Duvall, Ulrich Thomsen, Carrie Preston, and Tom McCarthy.
Friday the 13th (R) The supreme bit of stupidity comes late in this reboot of the series, when a pampered rich boy (Travis Van Winkle) is running through the woods and drops the gun he's carrying in the water. As he searches for the firearm, he wonders, "Where the fuck are you, gun?" Sadly, nobody else in this movie is much more intelligent as they deal with Jason (Derek Mears), the hockey-masked killer who also proves here to be an expert archer and axe-thrower – talented fellow! He's still boring, the women get naked, and everybody behaves like they've never seen a slasher flick before. Where the fuck are you, creativity? Also with Jared Padalecki, Danielle Panabaker, Amanda Righetti, Aaron Yoo, Jonathan Sadowski, Arlen Escarpeta, Ben Feldman, Ryan Hansen, and Willa Ford.
He's Just Not That Into You (PG-13) Greg Behrendt and Liz Tuccillo's best-selling self-help book becomes this occasionally insightful but mostly overlong and repetitive ensemble comedy about people misreading each other's romantic intentions, including an aspiring singer (Scarlett Johansson), a bar owner (Justin Long), an office worker (Ginnifer Goodwin), and a real estate agent (Kevin Connolly). There's a nicely played plotline with a long-term couple (Ben Affleck and Jennifer Aniston) who haven't gotten married yet, but the characters are too indistinct and the pairings are too random to make this stick. These people live in what must be the only all-white enclave in Baltimore, in houses that look so nice that they upstage the actors and the material. That's a bad sign. Also with Drew Barrymore, Jennifer Connelly, Bradley Cooper, Busy Philipps, Wilson Cruz, Leonardo Nam, Kris Kristofferson, and an uncredited Luis Guzmán.
I Love You, Man (R) This thoroughly charming knockoff of a Judd Apatow comedy is a more persuasive movie about male friendship than Superbad. Paul Rudd plays a real estate salesman who has no close male friends until he meets a fun-loving private investor (Jason Segel) who teaches him to cut loose. The characters are a bit thin, but the two leads have effortless chemistry together, with Segel in surprisingly self-assured form and Rudd pulling off the difficult task of being funny while portraying a character who's not funny. (His attempt at a cool catchphrase: "Totes magotes.") Watch for Jon Favreau and Jaime Pressly, who steal some laughs as a married couple who are continually resolving their fights through sexual bartering. Also with Rashida Jones, Andy Samberg, Sarah Burns, Mather Zickel, Thomas Lennon, Joe Lo Truglio, Jay Chandrasekhar, Carla Gallo, Liz Cackowski, J.K. Simmons, and Jane Curtin.
The International (R) Now's an ideal time for a movie with bankers as villains, and this conspiracy thriller fills the bill. It's about an Interpol agent (Clive Owen) and a Manhattan assistant D.A. (Naomi Watts) who crisscross Europe trying to bring down a Luxembourg-based bank that's putting hits out on people. German director Tom Tykwer (Run Lola Run) takes to popcorn entertainment pretty well – the film looks good, Watts and Owen are an inspired pairing, and there's an unlikely but highly enjoyable shootout in New York's Guggenheim Museum. Though the movie doesn't enlighten us on the workings of high finance, it manages to convey a sense of helplessness at the way banks have governments and businesses in a bind, which makes it seem very timely. Also with Armin Mueller-Stahl, Ulrich Thomsen, Brían F. O'Byrne, James Rebhorn, Jay Villiers, Luca Giorgio Barbareschi, and Ben Whishaw.
Knowing (PG-13) A movie that falls apart more spectacularly than The Happening. Nicolas Cage plays a widowed astronomer whose young son (Chandler Canterbury) receives a kid's drawing that's been buried in a time capsule for 50 years. Cage finds that the numbers in the drawing correctly predicted every global disaster since 1959. Director Alex Proyas builds suspense rather deftly in the first half of the film, but the thing gets sunk by an incredibly silly climax that plays out like the Left Behind series with space aliens instead of God. The last half hour rots with sentimentality, and Marco Beltrami's score is truly awful from beginning to end. The supporting cast, which is almost entirely Australian, includes Rose Byrne, Lara Robinson, Nadia Townsend, D.G. Maloney, Alan Hopgood, and Ben Mendelsohn.
Monsters vs. Aliens (PG) An animated movie with about as much depth as a Saturday morning cartoon, though it does look quite a bit better. The heroine of the piece is Susan (voiced by Reese Witherspoon), a woman who's turned into a 50-foot giantess after being hit by a meteor and who teams up with the U.S. government's captive "monsters" to defend the Earth against an alien overlord (voiced by Rainn Wilson) who tries to take over the planet. Most of the movie evaporates as soon as the closing credits roll, but it is enjoyable while it's unspooling, and Seth Rogen steals the biggest laughs as a clueless, all-devouring gelatinous blob named Bob. All in all, this is more fun than Knowing. Additional voices by Will Arnett, Hugh Laurie, Kiefer Sutherland, Stephen Colbert, Paul Rudd, Jeffrey Tambor, Julie White, Amy Poehler, John Krasinski, and Renée Zellweger.
The Reader (R) A movie you recommend to your friends if you want them to think you're deep. Kate Winslet plays a streetcar conductor in 1960s Germany who has an affair with a 15-year-old boy (German newcomer David Kross), only for him to discover years later that she was a Nazi concentration camp guard. The film's based on a novelette by Bernhard Schlink that elegantly poses some knotty questions about the Holocaust, but director Stephen Daldry (The Hours) turns it into a story of a boy who spends his adult life paying for a few months of hot sex by turning into a man who can't love anyone because of his crushing guilt. There's so little dramatic urgency or catharsis here that even Winslet getting naked in several scenes can't arouse any interest. Also with Ralph Fiennes, Jeanette Hain, Susanne Lothar, Karoline Herfurth, Alexandra Maria Lara, and Lena Olin.
Slumdog Millionaire (R) The most exhilarating movie of 2008, Danny Boyle's adaptation of Vikas Swarup's novel stars Dev Patel as an 18-year-old Mumbai tea server who tells his life story to the cops just as he's about to win the top prize on India's version of Who Wants to Be a Millionaire? The rioting colors and tasty grooves on the soundtrack contribute to the headlong rush of the film, and Boyle does just as well slowing down the film's momentum for the slow-building game-show sequences. The filmmakers don't shrink from the ugly backdrop of poverty and all its attendant vices, which earns them the right to tell their story of incredible luck. The dance number that ends the movie is only fitting, since the rest of the film will make you feel like dancing yourself. Also with Anil Kapoor, Freida Pinto, Madhur Mittal, Ankur Vikal, Tanay Chheda, Ashutosh Lobo Gajiwala, Azharuddin Mohammed Ismail, Rubiana Ali, and Irrfan Khan.
Taken (PG-13) Liam Neeson stars in this French-flavored revenge flick that starts out well but goes all rancid in the second half. He plays a retired American secret agent who's forced to call on his old skills when his teenage daughter (Maggie Grace) is kidnapped in Paris by Albanian mobsters hoping to sell her into sex slavery. French director Pierre Morel (District B13) contributes a couple of good chase sequences early on, but the picture indulges in turgid family melodrama and shameless race-baiting (with its Slavic and Arab bad guys), and the hero does some truly reprehensible stuff in the latter stages that we're supposed to forgive. Pas de chance. Also with Olivier Rabourdin, Leland Orser, Xander Berkeley, Jon Gries, David Warshofsky, Gérard Watkins, Arben Bajraktaraj, Katie Cassidy, Holly Valance, and Famke Janssen.
12 Rounds (PG-13) This fast-moving thriller would feel impersonal even if the lead actor were more expressive than former WWE wrestler John Cena. He plays a New Orleans cop who's forced to complete a set of challenges set by an international arms smuggler (Aidan Gillen) who has broken out of prison and kidnapped the cop's girlfriend (Ashley Scott). The bad guy's impossible brilliance means that every piece of this plot fits way too neatly, and you can see every death and every explosion coming from a mile away. The script makes use of tension between the local cops and the feds, and director Renny Harlin keeps things moving, but there's no spark of invention and no delight in this exercise. Also with Steve Harris, Brian White, Gonzalo Menendez, Taylor Cole, Kyle Clements, and Peter Navy Tuiasosopo.
Watchmen (R) Alan Moore and Davd Gibbons' comic series broke all kinds of new ground when it came out in 1985, but after so many other superhero sagas have plumbed the same territory, the long-awaited film version has little new to say. Taking place in an alternate version of 1985, the story concerns the efforts of retired superheroes to find out who's targeting them after one of their own (Jeffrey Dean Morgan) is murdered. Director Zack Snyder makes every shot pregnant with meaning, imitates the look of 1970s paranoid thrillers, and delivers a great set piece for the opening credits. However, the story's momentum frequently stops dead, and though Snyder's a first-rate visual stylist, he can't deal with the intense emotions in Moore's material. Accomplished as this is, it feels less like a great movie and more like a marble monument. Also with Jackie Earle Haley, Billy Crudup, Malin Akerman, Patrick Wilson, Matthew Goode, Matt Frewer, and Carla Gugino.
The Wrestler (R) Powerfully sad. Mickey Rourke is magnificent as a washed-up former pro wrestler who has lost himself pursuing his youthful glory, and the part brings out an anguished, tormented side of him. Darren Aronofsky (Requiem for a Dream) directs with a new unvarnished realism as he shows us the wrestler's life in rich detail: the athleticism it takes to execute the moves, the tacky venues, the sparsely attended autograph signings. The script makes no excuses for its protagonist's self-destructive lifestyle, but Rourke underplays so cannily that you can't disengage from the character's attempts to break free of his emotional desolation even as he contemplates returning to wrestling despite suffering a heart attack. The tragic tale of a performer who lives only for applause will leave you out of breath. Also with Marisa Tomei, Mark Margolis, Judah Friedlander, Ernest Miller, Dylan Summers, and Evan Rachel Wood.