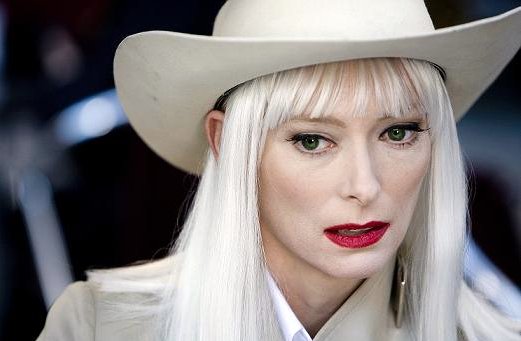 OPENING:The Limits of Control (R) Jim Jarmusch's latest film stars Isaach de Bankolé as a criminal who delivers mysterious suitcases to various destinations around the world. Also with Tilda Swinton, John Hurt, Gael García Bernal, Paz de la Huerta, Hiam Abbass, Youki Kudoh, Jean-François Stévenin, and Bill Murray. (Opens Friday in Dallas)
Next Day Air (R) Donald Faison stars in this comedy as an inept deliveryman who triggers a chain of criminal events after he accidentally delivers a box of cocaine to the wrong apartment. Also with Mike Epps, Mos Def, Wood Harris, Lauren London, Omari Hardwick, Darius McCrary, Yasmin Deliz, and Debbie Allen. (Opens Friday)
Skills Like This (NR) Spencer Berger writes and stars in this comedy as a Denver playwright who becomes a bank robber. Also with Brian D. Phelan, Gabriel Tigerman, Kerry Knuppe, Jennifer Batter, and Ned Bellamy. (Opens Friday in Dallas)
Tyson (R) James Toback's documentary portrait of disgraced former boxing champion Mike Tyson. (Opens Friday in Dallas)
Valentino: The Last Emperor (NR) Not to be confused with Bernardo Bertolucci's The Last Emperor, this is Matt Tyrnauer's documentary portrait of the Italian fashion designer. Also with Giorgio Armani, Donatella Versace, Diane von Fürstenburg, Anna Wintour, Tom Ford, Karl Lagerfeld, André Leon Talley, Claudia Schiffer, and Gwyneth Paltrow. (Opens Friday in Dallas)
NOW PLAYING:
Adventureland (R) This warm and winning coming-of-age flick stars Jesse Eisenberg as a 1987 college grad forced to take a summer job at a run-down amusement park, where he falls desperately for a troubled co-worker (Kristen Stewart). Sold as a comedy, this is really a romance, with Eisenberg neatly capturing the vibe of a kid who's smooth but not smooth enough, and Stewart showing sexiness, fear, and self-loathing like we've never seen from her before. Mottola shows great attention to period detail (especially with the soundtrack) but also brings out notes of melancholy and pain in this story, particularly with the climactic scene. A movie that can be treasured for years to come. Also with Ryan Reynolds, Martin Starr, Wendie Malick, Jack Gilpin, Margarita Levieva, Matt Bush, Josh Pais, Mary Birdsong, Bill Hader, and Kristen Wiig.
Battle for Terra (PG) This creatively barren 3-D animated feature is about an alien world that's invaded by Earthlings seeking a new planet to avoid extinction. The main characters are a young female native (voiced by Evan Rachel Wood) and a human pilot (voiced by Luke Wilson) who work together to avert war. The Terrians are like the American Indians in a revisionist 1990s Western film: peaceful, mystical folk living in harmony with nature. No wonder they're so dull. The animators don't have the imagination to render this alien world memorable, and the action sequences have been done better in lots of other sci-fi movies. Even if the new Star Trek weren't in theaters, there'd still be no reason to see this. Additional voices by Brian Cox, David Cross, Chris Evans, Amanda Peet, Dennis Quaid, Danny Glover, Rosanna Arquette, Ron Perlman, Danny Trejo, and Mark Hamill.
Crank: High Voltage (R) Jason Statham's character returns from the dead for this sequel as a man whose human heart is removed against his will to be transplanted into a crime lord. Kept alive by an artificial heart, he must electrocute himself once every hour or die … again. The writing-directing team of Neveldine + Taylor (as they sometimes bill themselves) goes completely over the top here, aiming for more humor than action. Too bad their sense of humor amounts to rampant racial and sexual stereotypes, a stripper having her breast implants leak out after she's shot, and the hero sodomizing a fat guy with a rifle barrel. Where the first movie was just silly, this one is downright repellent. Also with Amy Smart, Clifton Collins Jr., Bai Ling, Corey Haim, Efren Ramirez, Dwight Yoakam, and David Carradine.
Earth (G) Alastair Fothergill and Mike Linfield's occasionally spectacular but mostly fuzzy documentary loosely follows some African elephants, humpback whales, and polar bears to tell the story of life on our planet in times of global warming. The film boasts a few intriguing facts and some awe-inspiring shots like the mass migrations of caribou and the group of demoiselle cranes buffeted by winds as they try to scale the Himalayas. There's not much educational value here, though, and the cutesy narration spoken by James Earl Jones is almost enough to send you screaming from the theater. Let's hope there's a little more meat on the next Disney-funded nature doc.
Fast & Furious (PG-13) Really, are moviegoers this nostalgic for 2001? The four original lead actors return for this fourth film in the series, in which street racer Dom (Vin Diesel) and FBI agent Brian (Paul Walker) are forced to work together after the murder of Dom's girlfriend, Letty (Michelle Rodriguez), which leads back to a shadowy Mexican drug smuggler who hires ace drivers to deliver his stuff across the border. The actors phone in their performances, perhaps knowing that they're playing second fiddle to the cars. Director Justin Lin coordinates a nice opening sequence with Dom, Letty, and some cohorts stealing containers of gasoline off the back of a tanker truck. The rest of the car chases are incoherent, and the smuggling plot defies all logic. Also with Jordana Brewster, John Ortiz, Laz Alonso, Gal Gadot, Jack Conley, Liza Lapira, Shea Whigham, and Sung Kang.
Fighting (PG-13) The least original movie title of 2009 belongs to this unoriginal piece about a combative New York street kid (Channing Tatum) who's recruited by a two-bit agent (Terrence Howard) to engage in organized underground fights for money. Director/co-writer Dito Montiel layers enough grit to make this look like a New York movie from the 1970s, but his approach is betrayed by the Hollywood formulas in his script. Two decent fight scenes and Howard's entertaining hustler's patter can't make up for Tatum's nonacting and the deeply uninteresting romantic plot between his character and a cocktail waitress (Zulay Henao). Also with Luis Guzmán, Michael Rivera, Flaco Navaja, Peter Tambakis, Roger Guenveur Smith, Anthony DeSando, Altagracia Guzmán, and Brian White.
Ghosts of Girlfriends Past (PG-13) Matthew McConaughey stars in this pretty bad comedy as a skirt-chaser who's visited by three ghosts to show him the error of his ways on the eve of his brother's wedding. The movie's inspired by A Christmas Carol, though Charles Dickens never pandered to his female readers by pretending that Ebenezer Scrooge could transform into the man of their dreams. The filmmakers pull no punches setting up the main character as a real bastard, but McConaughey's performance is too similar to what he does in other movies. Worse, the film tells you that inside even the most cynical player, there's a bruised romantic who needs to be told that it's OK to feel. Selling a fantasy like that takes more finesse than this movie has. Also with Jennifer Garner, Breckin Meyer, Lacey Chabert, Robert Forster, Anne Archer, Daniel Sunjata, Emma Stone, Noureen DeWulf, and Michael Douglas.
Hannah Montana: The Movie (G) A dark and twisted journey into the soul of evil … wait, no, it's the big-screen version of the TV show starring Miley Cyrus as a pop star living a double life as a "normal" teen, only to find her fame eclipsing everything else. The whole conception of Hannah Montana was always a bit bizarre, and it isn't cleared up here despite the movie's hand-wringing over whether "Miley" should keep up the "Hannah" façade. The slapstick is fairly uninspired. So are the songs, with the exception of the half-memorable climactic number, "Butterfly Fly Away," and the gruesome "Hoedown Throwdown." The movie's still terrific if you're lucky enough to be an 11-year-old girl or unlucky enough to have the mind of one. Also with Billy Ray Cyrus, Emily Osment, Vanessa Williams, Lucas Till, Margo Martindale, Jason Earles, Mitchel Musso, Moises Arias, Melora Hardin, Barry Bostwick, and Taylor Swift.
I Love You, Man (R) This thoroughly charming knockoff of a Judd Apatow comedy is a more persuasive movie about male friendship than Superbad. Paul Rudd plays a real estate salesman who has no close male friends until he meets a fun-loving private investor (Jason Segel) who teaches him to cut loose. The characters are a bit thin, but the two leads have effortless chemistry together, with Segel in surprisingly self-assured form and Rudd pulling off the difficult task of being funny while portraying a character who's not funny. (His attempt at a cool catchphrase: "Totes magotes.") Watch for Jon Favreau and Jaime Pressly, who steal some laughs as a married couple who are continually resolving their fights through sexual bartering. Also with Rashida Jones, Andy Samberg, Sarah Burns, Mather Zickel, Thomas Lennon, Joe Lo Truglio, Jay Chandrasekhar, Carla Gallo, Liz Cackowski, J.K. Simmons, and Jane Curtin.
Knowing (PG-13) A movie that falls apart more spectacularly than The Happening. Nicolas Cage plays a widowed astronomer whose young son (Chandler Canterbury) receives a kid's drawing that's been buried in a time capsule for 50 years. Cage finds that the numbers in the drawing correctly predicted every global disaster since 1959. Director Alex Proyas builds suspense rather deftly in the first half of the film, but the thing gets sunk by an incredibly silly climax that plays out like the Left Behind series with space aliens instead of God. The last half hour rots with sentimentality, and Marco Beltrami's score is truly awful from beginning to end. The supporting cast, which is almost entirely Australian, includes Rose Byrne, Lara Robinson, Nadia Townsend, D.G. Maloney, Alan Hopgood, and Ben Mendelsohn.
Monsters vs. Aliens (PG) An animated movie with about as much depth as a Saturday morning cartoon, though it does look quite a bit better. The heroine of the piece is Susan (voiced by Reese Witherspoon), a woman who's turned into a 50-foot giantess after being hit by a meteor and who teams up with the U.S. government's captive "monsters" to defend the Earth against an alien overlord (voiced by Rainn Wilson) who tries to take over the planet. Most of the movie evaporates as soon as the closing credits roll, but it is enjoyable while it's unspooling, and Seth Rogen steals the biggest laughs as a clueless, all-devouring gelatinous blob named Bob. All in all, this is more fun than Knowing. Additional voices by Will Arnett, Hugh Laurie, Kiefer Sutherland, Stephen Colbert, Paul Rudd, Jeffrey Tambor, Julie White, Amy Poehler, John Krasinski, and Renée Zellweger.
Observe and Report (R) The scariest movie so far this year. Seth Rogen teams with writer-director Jody Hill (The Foot Fist Way) to create the character of Ronnie, a bipolar shopping mall security chief with a hero complex and no heroic qualities. Rogen junks his teddy-bear persona to portray a guy who's dangerously disengaged from reality, and though he deploys just enough charm to generate pathos for the maladjusted Ronnie, he also locates a core of serenity at the heart of this self-appointed savior that makes the character terrifying, especially during his quasi-religious monologue near the end. The laughs on offer here are all of the nervous variety, and they make this a descent into the depths of madness that's funnier than it has any right to be. Also with Anna Faris, Ray Liotta, Michael Peña, Celia Weston, John and Matt Yuan, Collette Wolfe, Randy Gambill, Aziz Ansari, Patton Oswalt, and Danny McBride.
Obsessed (PG-13) A movie designed to pander both to African-American men's fears of being entrapped by sexually predatory white women and to African-American women's fears of losing their men to same. If only the rest of the movie had been designed as carefully, it might have been interesting. Idris Elba stars as a prosperous, happily married fund manager whose domestic life and career are wrecked when his firm's new office temp (Ali Larter) starts stalking him. Purely as a thriller, this leaden film fails to generate enough pace or energy to engage our attention. Its retrograde sexual politics make it akin to gender-war artifacts like Fatal Attraction or Disclosure, but with a racial twist. I don't think this is progress. Also with Beyoncé Knowles, Jerry O'Connell, Bonnie Perlman, Bruce McGill, Scout Taylor-Compton, and Christine Lahti.
Private Eye (NR) Park Dae-min's Korean thriller set in 1910 about a medical student (Ryoo Deok-hwan) and a private detective (Hwang Jeong-min) whose investigation into a murder leads to corrupt politicians. Also with Oh Dal-su, Eum Ji-woon, and Yoon Je-moon.
Race to Witch Mountain (PG) This big, noisy remake of the 1975 Disney movie Escape to Witch Mountain stars Dwayne "The Rock" Johnson as a Las Vegas cabdriver whose young sibling passengers (Alexander Ludwig and AnnaSophia Robb) turn out to be aliens looking to return to their spaceship so they can forestall an invasion of Earth by their fellow aliens. The Rock's comic technique still needs refining, and the last scene is way too syrupy by half. Still, director Andy Fickman handles the action well enough to make this into watchable, if instantly forgettable, entertainment. Side note: The kid actors from the 1975 movie, Kim Richards and Ike Eisenmann (the latter for some reason billed here as Iake Eisinmann), appear here as a waitress and a sheriff. Also with Carla Gugino, Ciarán Hinds, Tom Everett Scott, Chris Marquette, and Garry Marshall.
17 Again (PG-13) Unexpectedly funny genre picture stars Matthew Perry as a self-loathing 37-year-old named Mike who relives his high-school years after being magically transformed into his 17-year-old self (Zac Efron). A bit fuzzy on Mike's mid-life crisis, the film nevertheless has a number of terrific lines, Leslie Mann investing all sorts of conviction in the role of Mike's wife, and a scene-stealing turn by Thomas Lennon as Mike's tech-geek best friend who poses as his dad and flirts awkwardly with the hot high-school principal (Melora Hardin). Efron's pretty funny, too – his early career is starting to look like John Travolta's in his 1970s glory. Watch for the early scene in which Efron and Lennon duel with lightsabers. Also with Michelle Trachtenberg, Allison Miller, Sterling Knight, Brian Doyle-Murray, Jim Gaffigan, Collette Wolfe, and Hunter Parrish.
Sin Nombre (R) This story about illegal Central American immigrants making the train ride through Mexico to the United States is an ethnographic treasure trove; too bad it's so inert as a piece of drama. Paulina Gaitán plays a 14-year-old Honduran girl who crosses paths with a Mexican gangster (Edgar Flores) who's on the run from his own gang while on the train ride through Chiapas. The stop-and-start rhythms of life on the rails are keenly observed, and writer-director Cary Joji Fukunaga stumbles into some powerful moments. He doesn't seem to realize, though, what a hackneyed and formulaic story he's constructed here. The film tries to make a social statement, but it only collapses under the weight of its research. Also with Kristyan Ferrer, Gerardo Taracena, Guillermo Villegas, Tenoch Huerta, and Diana García.
The Soloist (PG-13) Based on Steven Lopez' best-selling memoir, this drama stars Robert Downey Jr. as a Los Angeles Times columnist who befriends a mentally ill classical cellist (Jamie Foxx) reduced to living on the street. Director Joe Wright (Atonement) does a nice job with the atmosphere of L.A., and the two leads are excellent, especially Downey. However, Wright's direction too often veers into sentimental excess, and he fails utterly when he tries to capture the homeless man's madness through experimental cinema techniques. It all adds up to a wildly uneven movie whose bad patches and flights of soaring inspiration come equally thick and fast. Also with Catherine Keener, Nelsan Ellis, Tom Hollander, Stephen Root, Rachael Harris, Jena Malone, and Lisa Gay Hamilton.
State of Play (PG-13) Flawed but savvy thriller stars Russell Crowe as a schlubby newspaper reporter who's forced to investigate a congressman and longtime friend (Ben Affleck) after the murder of a Capitol Hill staffer leads to a Blackwater-like private security contractor. This two-hour film is based on a six-hour BBC TV miniseries, and the compression shortchanges characters like the congressman's wife (Robin Wright Penn) and a blogger (Rachel McAdams) who helps report the story. Still, the film boasts some wondrous individual performances (including Helen Mirren as the paper's editor and Jason Bateman as a two-bit publicist), includes some tart asides on the decline of the newspaper industry, covers a great deal of ground efficiently, and delivers enough thrills to make it go down smoothly. Also with Jeff Daniels, Harry Lennix, David Harbour, Michael Berresse, Maria Thayer, Wendy Makkena, Katy Mixon, and Viola Davis.
Sunshine Cleaning (R) Brilliant performances by the two lead actresses raise this movie above the ranks of other derivative indie feel-good stories. Amy Adams and Emily Blunt play sisters who go into the business of cleaning up crime scenes after the police are finished with them. The film could have included more details about this odd job, but the delicate comedy of Adams and Blunt reacting to the grossness of their new work is funny, as is the brisk way they go about their grim tasks. The script too neatly ties all of the character developments together, yet it's given human dimensions by Blunt (delicious as an American slacker) and Adams as a single mom plagued by self-doubts who finds new purpose in life. Also with Alan Arkin, Steve Zahn, Clifton Collins Jr., Jason Spevack, Eric Christian Olsen, and Mary Lynn Rajskub.
X-Men Origins: Wolverine (PG-13) What happens when you take the most badass mutant superhero out of the X-Men soap opera and give him his own feature? A rather tepid movie, unfortunately. The film follows Logan (Hugh Jackman) from sickly boy in the Canadian north in the early 1800s until the 1980s, when he joins a mutant special forces team headed by Col. Stryker (Danny Huston), accompanied by his increasingly vicious half-brother, Victor Creed, a.k.a. Sabretooth (Liev Schreiber). The two leads are perfect for their roles, but neither actor really gets the chance to cut loose. Despite a few decent action scenes, the story plods along without a sense of urgency. Focusing on Logan's work with Stryker instead of his enmity with Sabretooth turns out to be a big mistake. Beloved characters like Gambit (Taylor Kitsch) and Deadpool (Ryan Reynolds) are trotted out and then not given the treatment they deserve. Too many extraneous characters and shoddy special effects don't help either. An unfortunate misfire. Also with Lynn Collins, will.i.am, Kevin Durand, and Dominic Monaghan. – Cole Williams
DALLAS EXCLUSIVES:
Lymelife (R) Derick Martini's drama stars Rory Culkin as a 15-year-old boy growing up on Long Island in 1979 watching his parents' marriage fall apart. Also with Alec Baldwin, Emma Roberts, Jill Hennessy, Cynthia Nixon, Kieran Culkin, and Timothy Hutton.
Sugar (R) This drama by the writing-directing team of Anna Boden and Ryan Fleck (Half Nelson) is about a Dominican baseball pitcher (Algenis Perez Soto) trying to adjust to life in rural Iowa while playing in the minor leagues. Also with Rayniel Ruffino, Andre Holland, Ann Whitney, Richard Bull, Ellary Porterfield, Jaime Tirelli, Karl Bury, and José Rijo.