I'm rather enjoying Michael Caine's late career. In this decade, he's done excellent work providing levity in dark films like Children of Men and the last two Batman movies. However, this 76-year-old actor has also delivered superb performances as men confronting their own mortality in The Quiet American and The Statement.


His work in the scruffy British drama Is Anybody There? may be some of his best, perhaps because the character he plays is so much like himself.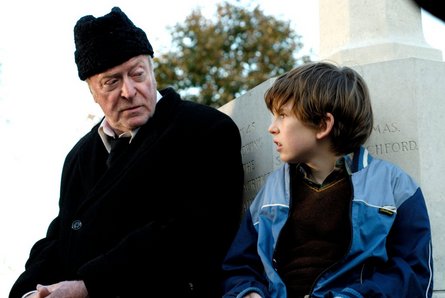 The film is set in 1987 in the countryside in Yorkshire, England. The main character is Edward (Bill Milner), a 10-year-old boy who's too young to comprehend the financial difficulties that have forced his parents (Anne-Marie Duff and David Morrissey) to turn their house into a nursing home for the elderly. All Edward knows is that he doesn't have his bedroom anymore, and he's pissed when he doesn't get it back after the man living in his room dies. The vacated room is assigned to newly arrived Clarence Parkinson (Caine), a once-famous stage magician who billed himself as The Amazing Clarence. The old man doesn't like life in a nursing home any more than Edward does, and soon he's teaching magic tricks to the boy, who's obsessed with the occult and the afterlife to the point that he pulls an outrageous stunt to empty the house so he can search for ghosts. (He gets the idea from watching one of Arthur C. Clarke's TV specials.)
Milner was one of the leads in last year's Son of Rambow, to which this film bears some striking similarities. That movie tried for both comedy and pathos and got the balance way wrong. This one gets it mostly right, thanks to director John Crowley, an Irishman who's developing into an astonishingly versatile filmmaking talent in the British industry. (His films include last year's hyper-intense ex-convict drama Boy A and the anarchic 2003 Irish dark farce Intermission.) Occasionally Crowley and screenwriter Peter Harness overstep – we really didn't need to see the dance teacher with an artificial leg (Rosemary Harris) play old records and cry while cradling her dancing shoes. Mostly, however, this movie is sharp and insightful when treating Clarence's old-age regrets and Edward's morbid curiosity and imagination. Edward's overworked parents are well drawn, too, and the scene in which the boy deals a sledgehammer blow to their creaking marriage somehow comes off despite its fundamental implausibility.
The best thing here is the banter between Caine and Milner – the advantage of pairing a child actor with an old lion is that the kid has no knowledge of the oldster's accomplishments and so is less likely to be intimidated than a young adult would be. Milner certainly shows no fear, letting loose in the scenes in which Edward tears into Clarence, and he prods Caine into acting up a storm, conveying Clarence's pride in his performing talent (seen in a hilarious magic show thrown for Edward's birthday) and his fear and rage in the face of his own advancing mental decline. Caine plays this part like it's Shakespeare's King Lear and turns what could have been a routine film into something unexpectedly potent.