I've been eyeballing Eddie V's Prime Seafood with suspicion since the upscale eatery's mid-January opening. I don't care how glitzy and glamorous it is or how hard it is to get a reservation. The place is part of Eddie V's Restaurants Inc., a California-Arizona-Texas chain that includes the slightly less fancy Wildfish Seafood Grille and Roaring Fork Wood Fired Cooking. And unlike Bonnell's or Lambert's — named after their owner/chefs — there is no owner named Eddie V. Just two guys named Guy and Larry. (At least Larry's a Texan.)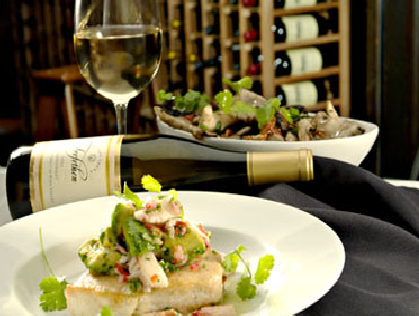 When I arrived a bit too early for my reservation, I took a seat in the dimly lit bar, where a server softened me up immediately by parrying my "What's good here?" with the raspberry-pepper martini. In the bar, during the daily happy hour (4-7 p.m.), most appetizers are discounted by about $3, and the drinks are $2 off regular price. In addition to killing time with a martini, I sampled the killer Pacific ahi tartare, seasoned with spicy oil and mixed with sweet mango. Everything was awesomely fresh and plate-scrapingly tasty.
At our appointed time, my guest and I were led by the hostess to our seat. A server walked beside us, carrying my half-finished martini on a silver tray. Somewhere near the giant ice floe housing the sushi station, shrimp, and an acre of fresh crab claws, I had an epiphany. Eddie V's prices are so expensive not only because the food is fresh but also because half of Fort Worth's most competent, attractive servers work here. If each table has a small army of servers to attend to it and the restaurant seats about 300 people, then … the math is staggering.
And that's when I gave in. Sure, the menu is loaded with stuff on the endangered fishies list – general manager Rich Sabatowski patiently explained that, contrary to popular opinion, Chilean sea bass is not really endangered and that Eddie V's uses only a particular kind of sea bass that's allegedly OK to eat. But the menu also makes you hungry just reading it. (Though all items are a la carte, you can get half orders "in case you can't make up your mind," Sabatowski said.)
I started with the wedge salad, because no amount of fancy could make me like the beets in the Fuji-apple-and-golden-beet salad. The house-made buttermilk blue cheese dressing was insanely good and came accompanied by a generous portion of Maytag blue cheese and tomatoes.
The menu features eight kinds of beef, but good beef abounds in Fort Worth. What you can't always find is New England crab or Dover sole. Or lightly pan-fried gulf snapper with fresh Jonah crab. The dish was perfection in a puddle of lemon-chive butter sauce.
The evening special wa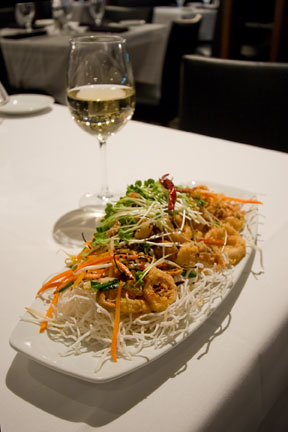 s halibut, in season (in Alaska), in a light peppery sauce. The fish was cooked plainly and flawlessly — it tasted like the sea, which is always a good sign — and it was served on beautiful, barely warm purple heirloom tomatoes. I didn't care for the sauce, though. It was too peppery and not as dazzling as the other items.
The perfectly al dente asparagus was accompanied by a hollandaise that somehow managed to be creamy and light at the same time. The half-order of decadent truffle-covered macaroni and cheese was more than enough for two and was as good as everyone says it is. Even something as simple as French fries becomes world-class cuisine at Eddie V's. They were coated in a splash of truffle oil, which apparently causes a major reaction in the pleasure centers of food reviewers' brains.
Our server brought the dessert menu before we'd even finished dinner. It was somewhat off-putting, but, as we were informed, some of the desserts take 20 minutes or more to prepare. The bananas Foster cake did not disappoint. The server lit a silver sauceboat full of 151-proof rum and cascaded the blue flame down onto the warm cake and caramelized bananas in a spectacular presentation that left me wanting to clap my hands and say, "Again! Again!" In comparison, the chocolate mousse cake was not as fantastic. The pyramid of rich, delicious dark chocolate mousse with crunchy chocolate accents and whipped cream tasted splendid enough. It just hadn't been set on fire.
The dining room was only about a quarter full, which got me to thinking: Chef Jon Bonnell says that everybody wants to try a new place — once. Longevity is the key. Does Fort Worth need or want a national chain like Eddie V's? When Del Frisco's Double Eagle Steak House opened a location here by the convention center downtown, in the1990s, the neighborhood wasn't as desirable a location as it is now — people welcomed the addition. But downtown — and Fort Worth in general — is now loaded with great non-chain places to eat. Still, Eddie V's has something in common with Del Frisco's: Both restaurants can anchor the development around them. In 10 years, maybe Eddie V's, like Del Frisco's, will seem local. In any case, we have to give credit where credit is due: Eddie V's is a magnificent dining experience.
Eddie V's Prime Seafood
3120 West 7th St, FW. 817-336-8000. 4-11pm Mon-Thu, 4pm-12am Fri, 4pm-1am Sat, 4pm-10pm Sun.
All major credit cards accepted