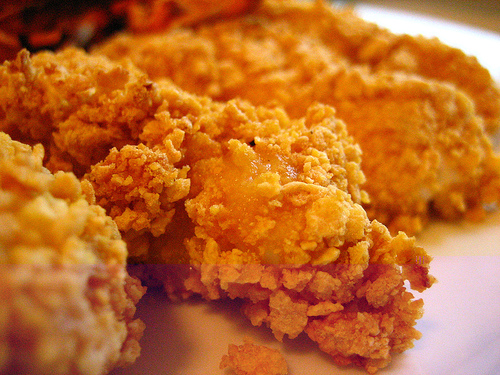 1. Latin super-chicken. Guatemala-based Pollo Campero (2830 S.H. 121 at Glade Rd., Euless) is sort of like KFC, except that this chicken is fresh-cooked and delicious: lightly spiced, crispy skin holding in the juices so that every bite is a blast of flavor and texture. Side choices include sweet plantains, yuca fries, and black beans. Kind of weird to get non-mediocre, non-assembly-line food at an international fast-food chain – Pollo Campero even has a location in Shanghai (388 Nanjing Xi Lu) – but Chow, Baby just acted like an American at Burger King and ate itself stupid (16-piece bucket with three family sides, $29.99).


2. Say "bar burger" 10 times real fast. As Chow, Baby's eat-local ethics allow unlimited imbibing of Tito's Handmade Vodka – it's made in Austin and thus sort of counts as local – its culinary requirements at J.R. Bentley's Pub (406 W. Abram St., Arlington) were minimal: solid food, now. Chow, Baby would have to be much more than slightly tipsy to go for an $8.95 ribeye, but the Duke's burger ($6.65) certainly hit the spot, lining the tummy with a juicy half-pound of chargrilled beef topped with Swiss and garlic-sautéed fresh mushrooms. With extra-gooey cheese fries ($3.75), this would've been a meal to giggle and drool over even if Chow, Baby had been sober.
3. Requesón means "cottage cheese"! The menu at Papi Rico's bright orange taqueria (901 N. Sylvania Ave.) takes up half a wall: tacos, tostadas, caldos, burritos, quesadillas, tortas, tamales, huaraches, and menudo (on weekends), with detailed descriptions in both Spanish and English. Great for la vocabulary; tough for decision-making. Chow, Baby closed its eyes and pointed: Tortas. Repeat, to pick one of the 29 kinds of tortas: ooh, tampiqueña ($5.75) – a big soft roll piled with sausage, pineapple, Oaxaca cheese, pork, beans, and other sweet/savory/juicy stuffings that Chow, Baby now knows the Spanish words for, though it wouldn't mind having a lot more practice.
4. Unpack your adjectives. Having beaten "silky,"  "inventive," "adorable," and "stylish" into the ground last year, Chow, Baby had to take a few months off from sushi-dining to learn some new adjectives. Here they are: clever (nacho cups filled with spicy tuna and crab, $6); explosive (dynamite roll with scallops and crispy crab, $12.95); ingenious (white tuna sashimi with jalapeño slices, $12); and vivid (house special roll of salmon pink, crab yellow, and avocado green dotted with aqua wasabi-cream sauce, $11.95). Chow, Baby learned these at Sushi Axiom (4625 Donnelly Ave.), which does have a soothing wall-o-water and a glowy bar but doesn't have too-loud techno-lite music: heartfelt thanks for that.
5. Jury of one is still out. Chow, Baby is deadlocked on the Latin menu additions at Cabo Grandé (115 W. 2nd St.). At the Sunday brunch buffet ($16.95, which you can make up on the roast beef carving station alone), the Cuban-style ropa vieja at the taco bar was where's-the-mandatory-garlic bland, but Chow, Baby very much enjoyed the caldo gallego, a thick bean soup flavored with ham, chorizo, and peppers à la northern Spain. At a dinner visit, fall-apart-tender Brazilian short ribs ($18.95) in a mushroom-wine sauce were quite tasty, but the Barcelona osso buco ($15.95) was a dried-out, near-flavorless affront to Chow, Baby's favorite city in the world. Two votes for, two against; you're up, Argentine steak churrasco ($28.95).
Contact Chow, Baby at chowbaby@fwweekly.com.