The Amon Carter Museum welcomes the Harmon and Harriet Kelley Collection of African-American Art: Works on Paper, a touring show of one of the country's finest such collections. The show is named after a couple from San Antonio who visited an exhibit of African-American artists at the local museum in the 1980s and were so stunned that they made themselves among the first notable collectors of African-American art.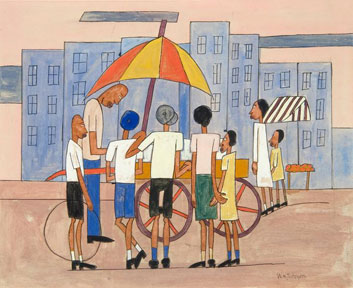 The show encompasses the 19th century to the present day, so some of its works are examples of artistic movements, like William Henry Johnson's Jitterbugs III, a vibrant 1942 work in the Cubist style, or Sam Middleton's untitled abstract gouache from 1961. Others reflect America's changing society and racial history, such as Jacob Lawrence's Two Rebels, a 1963 lithograph depicting members of an underground resistance movement. Still others pay homage to African-American heroes, like Charles White's portrait of Frederick Douglass or Elizabeth Catlett's tribute to Malcolm X. Many others are simply striking on their own terms, like William E. Smith's haunting linoleum-cut portraits of a man on payday or another man standing by a lamppost. John Thomas Biggers' nightmarish At Risk shows a child's floating head surrounded by menacing, creeping creatures. On the other hand, Eldzier Cortor's Art Deco-influenced Dance Composition #35 shows three ethereal dancers in what might be a poster advertising a musical extravaganza of days gone by. All these treasures will be on display at Amon Carter through the summer. Perhaps more art collectors will be inspired.
Harmon and Harriet Kelley Collection of African-American Art: Works on Paper runs Jun 6-Aug 23 at Amon Carter Museum, 3501 Camp Bowie Blvd, FW. Admission is free. Call 817-738-1933.