Guitarist Nels Cline makes music in a mind-boggling variety of contexts: from relatively mainstream artsy roots-rock with Wilco, to experimental skronk-skree in variously sized groups with all manner of folks, to a sort of rock-informed (but not "fusion") jazz with his own group, the all-instrumental Nels Cline Singers. He's covered Willie Nelson's Red Headed Stranger with singer Carla Bozulich and Coltrane's Interstellar Space with percussionist Greg Bendian. On Coward, though, Cline goes it alone, accompanied only by his overdubbed self, inspired by the multi-tracked 1970s excursions of ECM Records chamber-jazz artists like John Abercrombie, Ralph Towner, and Pat Metheny.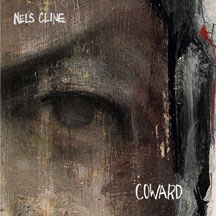 A deceptively peaceful droning intro ("Epiphyllum"), created by recording layers of looped guitar feedback, gives way to the spacious spirituality and rolling acoustic textures of "Prayer Wheel." Cline's impressive chops are matched by his admirable restraint — he generally goes for mood and color rather than flashy displays. The title and sound of the idiosyncratically rockin' "Thurston County" evoke both Cline's sometime-partner in noise duets, Sonic Youth's Thurston Moore, and the county in Washington state whence Nirvana hailed. "The Androgyne" has an opaque, impressionistic melody reminiscent of the handiwork of pianist-composer Andrew Hill, whose music Cline explored on 2006's New Monastery.
The album's tour de force, the 18-minute "Rod Poole's Gradual Ascent To Heaven," is a suite that uses shimmering layers of instruments in exotic-sounding microtonal tunings in a gentle outpouring of grief for Cline's friend and collaborator, the guitarist Rod Poole, who was murdered in 2007. Also noteworthy is the six-part "Onan (Suite)," the title of which could be a reference to Cline's "playing with himself" or perhaps a comment on the widely held perception that guitarists are "wankers." Cline's musical mind is saturated with the last 40 years of rock, jazz, and experimental music, and it shows in "Onan." In the suite's various movements, you'll hear snatches of Ennio Morricone, surf, Pink Floyd, garage-psychedelia, industrial noise, break beats and Bollywood, all swimming together in a stew reminiscent of John Zorn at his most eclectic.
Coincidentally, Cline's twin brother, drummer-percussionist-composer Alex Cline, released his latest Cryptogramophone CD, Continuation, simultaneously with Coward. Besides playing with Fort Worth native Julius Hemphill's trio and in Quartet Music (with his brother on guitar and Cryptogramophone honcho Jeff Gauthier on violin), Alex has performed solo, led his own groups, collaborated with a multitude of artists, and worked on soundtracks and with dance and theater troupes around Los Angeles.
Dedicated to his mother (who died one day before her 92nd birthday in 2007) and daughter, Alex's new disc teams him with estimable pianist Myra Melford and a string trio (Gauthier, cellist Peggy Lee, and bassist Scott Walton) whose members can improvise in addition to playing his charts. It's an album of lovely introspection — as befits a meditation on loss and gratitude — that veers between stark minimalism and lush romanticism in a single tune (as it does on the 18-minute "SubMerge").
The unit comes closest to swinging in the traditional sense on the track "On the Bones of the Homegoing Thunder," dedicated to the activist monk Thomas Merton. In the opening section, the violin plays a slow, flowing line over a galloping rhythm section. Then the strings alternate playing somber melodies and skirling harmonic sounds over gongs, bells, and drums. At the piece's end, the walking bass serves as a strangely sinister counterpoint to the piano's ethereal tinkling. It's good music to contemplate and philosophize to on a clear but cold winter morning.