Like most single working mothers, Sheran Goodspeed Keyton feels lucky if she can grab five minutes of "me" time on any given day. Unlike her hardworking peers, though, the Fort Worth native happens to be one of the best and most in-demand singers and actors in North Texas. She's had featured roles in movies like The Longshots and on the TV shows Breaking Bad and Prison Break. However, live applause at club gigs, special events, and theatrical performances is what keeps her batteries charged, and she's heading into her final five performances as Mahalia Jackson in Ed Smith and Joe Rogers' The Gospel Queen at Jubilee Theatre, the company where she rose to fame working with late artistic director Rudy Eastman.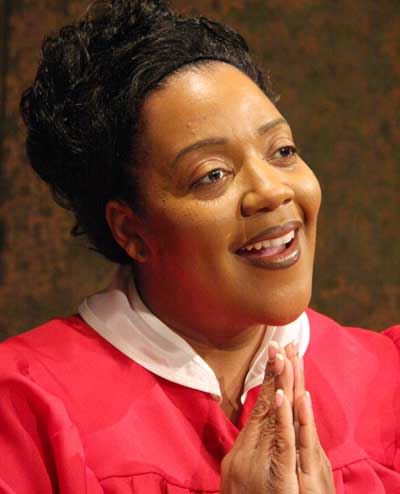 The Gospel Queen is set at Jackson's 1950 Carnegie Hall concert — the first ever by a gospel artist — and features songs closely associated with her, including "Precious Lord" and "How I Got Over," arranged for piano accompaniment by Rogers. Back in 2004 for Jubilee, Keyton performed a similar in-character revue with songs from a very different legend, Bessie Smith. The new show brought Keyton unexpected trouble.
"The Bessie show had more music, more talking, more performances, and more intensity all around," Keyton said. "But my sinus troubles have been horrible this year. I've had to work hard to keep from losing my voice. Mahalia had warmer, rounder, more operatic tones, and she knew how to extend one note for the right effect. That means keeping my voice strictly functional offstage: talking less, talking quieter, not yelling at kids, that kind of thing."
Blues pioneer Smith was a huge influence on gospel groundbreaker Jackson, as was Gertrude "Ma Rainey" Pridgett, whom Keyton also played, in a Butterfly Connection production of Ma Rainey's Black Bottom. Keyton doesn't see the sinner-versus-saint dichotomy that most people do when separating raw blues from devotional music.
"Mahalia had a lot of Bessie's little stylistic touches and intonations," she said, "so I can borrow some from the earlier show. They also shared humble beginnings and less-than-perfect childhoods. I think a lot of the passion you hear from them is grounded in that."
Keyton herself began singing gospel music as a child, both solo and with touring groups. But it's important to her that nonreligious audiences take away something from The Gospel Queen, because she believes optimism, faith in some kind of higher power, and courage in hard times are universal human needs. As for how she stays in the moment onstage as Mahalia Jackson — even when her troublesome sinuses feel closer to her than God — she reveals a little trick from the gospel trade.
"A lot of old-time Christians shudder when you use the word 'entertainment' to talk about gospel," she said. "They'll say, 'Mahalia is ministry, not a show.' But if you're going to make it work, you've got to keep a balance. You've got to stay connected with what God wants and what an audience needs." – Jimmy Fowler
An MCB Trifecta
Metropolitan Classical Ballet touched on three major dance styles during its season-closing program last weekend at Bass Performance Hall, giving a solid account of each: the grand 19th-century Russian classical tradition in excerpts from Paquita, the in-your-face Soviet approach in Paganini, and American Modernism as explored by co-artistic director Paul Mejia in his abs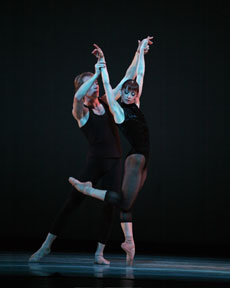 tract setting of several Webern pieces.
Olga Pavlova and Yevgeni Anfinogenov danced Webern Pieces, a work that featured a wry sense of humor along with angular movements inspired by the music's plunks, squawks, and squeaks, played here by violinist Eric Grossman, cellist Eugene Osadchy, and pianist Gleb Ivanov. Pavlova began by standing bolt upright in first position (heels together, toes turned outward) on an empty stage illuminated only by a pinpoint spotlight overhead. As her upper body moved in a Charlie Chaplin-like pantomime sequence, her partner, seated upstage, drew up his legs into his arms and rested his forehead on his knees. As her solo went on for some time, he toppled over sideways, as if he had fallen asleep while waiting for his entrance.
The ballet, which contains some of Mejia's most inventive choreography, fully exploited Pavlova's remarkable extension and the wonderful chemistry between her and Anfinogenov. The piece won an extended ovation. You only wish Mejia had found a more interesting score on which to lavish his abundant gifts.
Co-artistic director Alexander Vetrov staged the two other ballets, both distinctly Russian, with his usual eye for detail and unerring sense of style. With a limited budget (somewhere around $1 million for the entire season), he still managed to suggest the opulence of Imperial Russia. The set decoration for Paquita included three enormous chandeliers and two huge torchères that earned a round of applause when the curtain went up. Guest ballerina Marianna Ryzhkina, a Bolshoi Ballet principal, danced the pas de deux with company regular Andrey Prikhodko and stopped the show with an explosive 32 fouette sequence. Prikhodko showed new maturity in his solo dancing, and the two worked comfortably together. The ballet also featured solos by company principal Marina Goshko and soloists Sarah Marr, Jacqueline Jensen, Lea Essmyer, Ekaterina Ostroven, Liliya Aronova, and Maiko Abe, who performed a rapid, diagonal series of grand jettes (leaps with airborne splits) that prompted the person next to me to exclaim, "Wow, she really flies!"
Shea Johnson took on the title role of Paganini, a role that Vetrov danced in his days with the Bolshoi Ballet in Moscow and has passed on to the young American. Johnson seemed at home in the flamboyant style and had no problems with the technical challenges. There were moving moments, such as the part in which the famous violinist was soothed by his muse, danced by Goshko. There also were fireworks galore as the melodrama unfolded and the musician fought with his personal demons.
The ballet is set to Rachmaninoff's popular "Rhapsody on a Theme by Paganini" for piano and orchestra and was robustly played by Ivanov in the pit with the MCB Orchestra conducted by Ron Spigelman. Tony Tucci's dramatic lighting was a key element in the ballet's success, as was the well-rehearsed corps. The performance earned the loudest ovation of the evening. What a joy this company is and what an important adjunct to the local performing arts scene. – Leonard Eureka
Contact Kultur at kultur@fwweekly.com.