OPENING: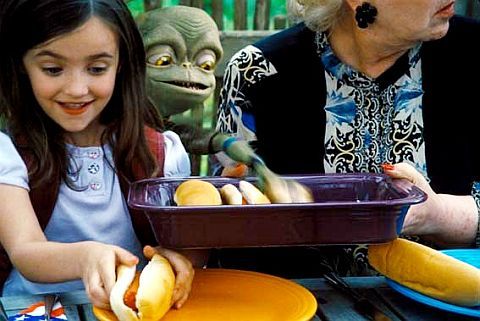 Aliens in the Attic (PG) Ashley Boettcher, Carter Jenkins, Austin Butler, and Henri and Regan Young star in this comedy as cousins spending the summer together whose house is invaded by aliens who want to destroy the world. Also with Ashley Tisdale, Kevin Nealon, Gillian Vigman, Doris Roberts, Robert Hoffman, Andy Richter, and Tim Meadows. (Opens Friday)
The Collector (R) Josh Stewart stars in this horror flick as a thief who tries to rob a country house, only to be surrounded by booby traps set by a serial killer. Also with Madeline Zima, Andrea Roth, Daniella Alonso, Robert Wisdom, Michael Reilly Burke, and Gregory Alan Williams. (Opens Friday)
Funny People (R) Judd Apatow's dramedy stars Adam Sandler as a terminally ill comedian who hires a struggling stand-up comic (Seth Rogen) to write material for him. Also with Leslie Mann, Jonah Hill, Jason Schwartzman, Eric Bana, Ken Jeong, RZA, Aziz Ansari, Dave Attell, Andy Dick, Norm MacDonald, and Sarah Silverman. (Opens Friday)
In the Loop (NR) The movie version of the British TV show The Thick of It, Armando Iannucci's political satire stars Peter Capaldi and Tom Hollander as a sharp-tongued British prime minister and his hapless aide as they travel to America on a diplomatic mission. Also with James Gandolfini, Gina McKee, Mimi Kennedy, Anna Chlumsky, David Rasche, Chris Addison, Enzo Cilenti, and Steve Coogan. (Opens Friday in Dallas)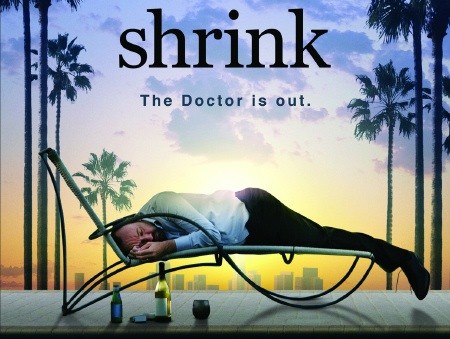 Shrink (R) Kevin Spacey stars in this dramedy as a Hollywood psychotherapist who becomes engulfed in his own personal crisis. Also with Mark Webber, Keke Palmer, Saffron Burrows, Pell James, Laura Ramsey, Dallas Roberts, and Robert Loggia. (Opens Friday in Dallas)
Street Dreams (R) Paul Rodriguez Jr. stars in this independent film about a skateboarder from the Midwest who travels to Florida to prove his skills in a contest. Also with Rob Dyrdek, Ryan Dunn, Compton Ass Terry, Ryan Sheckler, C.C. Sheffield, Jordan Valley, and Yancey Arias. (Opens Friday at AMC Grapevine Mills)
NOW PLAYING:
Away We Go (R) Sam Mendes' best film yet bears no resemblance to American Beauty or Revolutionary Road. This scruffy indie comedy stars John Krasinski and Maya Rudolph as a couple preparing to have their first child and free to choose a new city to relocate to. The episodic script by Dave Eggers and Vendela Vida begins with a couple of sitcom-broad chapters (including an off-target interlude with Maggie Gyllenhaal as a smothering New Age mom), but it hits stride with Chris Messina and Melanie Lynskey's wrenching depiction of a couple unable to have children. Rudolph is revelatory in a quiet, resilient role, and she provides the most moving moment at the very end. It's only half a great film, but that's better than a whole mediocre one. Also with Allison Janney, Jim Gaffigan, Catherine O'Hara, Jeff Daniels, Carmen Ejogo, Josh Hamilton, and Paul Schneider.
Brüno (R) For a movie that features Sacha Baron Cohen waving his penis in the viewer's face, this is unexpectedly thought-provoking. The English comic's latest piece of performance art involves his impersonation of a flamboyantly gay Austrian fashionista and celebrity wannabe. Baron Cohen baits some eminently deserving gay-bashers, but he also turns his ridicule on liberal types, too, seemingly bent on testing how far their tolerance of Brüno's idiocy will stretch. The character doesn't have Borat's guileless sweetness, which only makes his stunts more daring, especially when he travels to the Middle East and meets with a Palestinian terrorist leader. Baron Cohen is a clown willing to go further than most others in search of a laugh, and he finds a few huge ones here. Also with Gustaf Hammarsten.
Chéri (R) The title and the poster featuring a coquettishly grinning Michelle Pfeiffer may fool you into thinking this is a piece of fluff, but this period piece based on Colette's novels leaves you with the taste of death in your mouth. Pfeiffer stars as a semi-retired Parisian courtesan in the early 1900s who unexpectedly falls in love with a rival's much-younger son (Rupert Friend). Stephen Frears' direction, as usual, proceeds at a remorseless pace without sacrificing the movie's intelligence and sensitivity toward its characters' emotions. The scenery and costumes are breathtakingly beautiful, but the movie's real power comes from a noticeably older Pfeiffer and her steely, unself-pitying tragic performance as a woman prevented by society from being with the man she loves and confronting her own mortality. Also with Kathy Bates, Felicity Jones, Harriet Walter, Toby Kebbell, Anita Pallenberg, and Iben Hjejle.
G-Force (PG) Slightly more watchable than the surprisingly similar Transformers sequel, mainly because it's shorter. A genetic engineer (Zach Galifianakis) and his team of talking guinea pigs trained to act as spies (voiced by Sam Rockwell, Tracy Morgan, Penélope Cruz, and Nicolas Cage) try to stop a billionaire industrialist (Bill Nighy) from taking over the world. First-time director Hoyt Yeatman has a pretty good hand with the action sequences and special effects but never finds the right balance between the thriller elements and the silly comedy. The movie is played too straight, and it grinds to a complete halt about two-thirds of the way in. I'll take the hamster from Bolt over any of these guinea pigs. Also with Will Arnett, Kelli Garner, and Loudon Wainwright III. Additional voices by Jon Favreau and Steve Buscemi.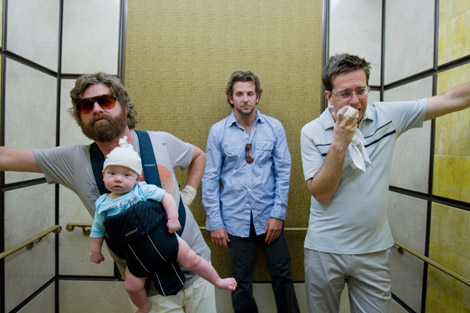 The Hangover (R) It has some hazy spots, but it's also funny enough to make your head hurt. Bradley Cooper, Zach Galifianakis, and Ed Helms play three friends who accompany a groom-to-be (Justin Bartha) on a bachelor's fling in Las Vegas. The prologue takes entirely too long, but the laughs eventually kick in when the friends awake with no memory of the night before and the groom MIA. Director Todd Phillips (Old School) returns to R-rated territory and retains his sense of comic timing, injecting bursts of violence and surrealism that keep us from getting too comfortable. The cast is a tad off, but the laughs scored by random jokes (like the song about the tiger and Mike Tyson's cameo as himself) make up for it. Also with Heather Graham, Ken Jeong, Rachael Harris, Mike Epps, Rob Riggle, Cleo King, Bryan Callen, Matt Walsh, and Jeffrey Tambor.
Harry Potter and the Half-Blood Prince (PG) A significant improvement on its predecessor, the sixth Potter movie re-establishes the atmosphere of Hogwarts as a shadowy place full of nooks and crannies that let people eavesdrop on others' conversations. The movie's air of paranoia goes well with its espionage plot involving the boy wizard (Daniel Radcliffe) cozying up to the new professor (Jim Broadbent) in an attempt to discover the secret to defeating Voldemort. Director David Yates gives breadth to the romantic subplots, but he's even better when he's conjuring up scary set pieces like the one in a sea cave. Any movie that works equally well as spy thriller, love story, and horror flick is pretty remarkable. Also with Emma Watson, Rupert Grint, Michael Gambon, Alan Rickman, Bonnie Wright, Jessie Cave, Tom Felton, Evanna Lynch, Robbie Coltrane, Maggie Smith, Julie Walters, Mark Williams, David Thewlis, Natalia Tena, Freddie Stroma, Warwick Davis, and Hero Fiennes-Tiffin.
Ice Age: Dawn of the Dinosaurs (PG) The third installment of the animated saga has the gang finding a secret cavern under the ice where dinosaurs still roam. Basically, it's the same plot as Land of the Lost. Too much of the film is taken up with Manny the mammoth (voiced by Ray Romano) becoming a father and his pals (voiced by Denis Leary and John Leguizamo) feeling left out of the family loop. There's better stuff when the group meets a crazed survivalist weasel (voiced by Simon Pegg) who guides them through this unfamiliar world, but even this character – and a weird version of "Alone Again Naturally" rewritten from the point of view of an acorn – can't lift this visually and comedically uninspired film from its doldrums. Additional voices by Queen Latifah, Seann William Scott, Josh Peck, Jane Lynch, Clea Lewis, Bill Hader, and Kristen Wiig.
Moon (R) Neat little science-fiction yarn stars Sam Rockwell as an industrial worker on the moon who's been alone for three years and is starting to experience hallucinations just before his return to earth, including a clone of himself. There's not quite enough plot or substance here to sustain the movie for its 90-minute running time. Rockwell, though, is excellent playing two different versions of the same character, and writer-director Duncan Jones (the son of David Bowie) filmmaking debut is impressive. The worker's only companionship is a robot with a yellow smiley face (voiced by Kevin Spacey) that changes expression along with the mood. The robot is both sinister and funny; this is a tremendous performance by an inanimate object. Also with Dominique McElligott, Benedict Wong, and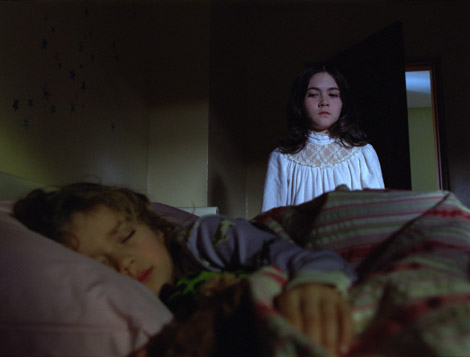 Kaya Scodelario.
Orphan (PG-13) After Kate (Vera Farminga) miscarries, she and husband John (Peter Sarsgaard) decide to adopt Esther (Isabelle Fuhrman). At first the young girl gets along well with the couple's deaf daughter Maxine (Aryana Engineer) but clashes with older son Daniel (Jimmy Bennett). But then "accidents" start happening around Esther, and soon it's dun dun dun-dun! time. Despite some cheap jump-scares and somewhat predictable plot, this is a solid entry in the "evil children" horror subgenre, with a good build-up, devious mind games, just the right amount of gore, and an appropriately evil kid. It's no Bad Seed, but bad, it ain't. — Cole Williams
The Proposal (PG-13) Sandra Bullock stars in this romantic comedy as a high-powered Canadian-born book editor who avoids deportation from the United States by blackmailing her put-upon personal assistant (Ryan Reynolds) into agreeing to a sham marriage. The film gets off to a good start, with Bullock relishing the chance to play a cold person forced to pretend to be warm and sweet, and Reynolds getting some rewarding stuff about his difficult relationship with his family. Still, after the couple visits his relatives in Alaska, the slapstick grows labored and the heroine's romantic dilemma doesn't provide enough suspense. Despite the two leads' best efforts, the film dies about halfway through. Also with Craig T. Nelson, Mary Steenburgen, Denis O'Hare, Malin Akerman, Oscar Nuñez, and Aasif Mandvi.
Public Enemies (R) Michael Mann's strangely uninvolving history piece focuses on the manhunt for bank robber John Dillinger (Johnny Depp) led by FBI agent Melvin Purvis (Christian Bale). The film's romance between Dillinger and Billie Frechette (Marion Cotillard) is emotionally distant. While the Purvis half of the film has more potential, the tragedy of a lawman who catches the bad guy and loses his soul is never searing. There are some cool action sequences, the best of which is a nighttime FBI sting that turns into an ambush outside a bar in the woods. The film is eminently well turned and watchable, but it never reaches the operatic pitch it's aiming for. Also with Stephen Graham, Spencer Garrett, Giovanni Ribisi, John Ortiz, Rory Cochrane, Peter Gerety, Madison Dierks, Bill Camp, David Wenham, Stephen Dorff, Domenick Lombardozzi, Branka Katic, Lili Taylor, Billy Crudup, Channing Tatum, and Leelee Sobieski.
Star Trek (PG-13) The funniest sci-fi blockbuster in recent memory, this relaunch of the fabled franchise tells the backstory of Kirk (Chris Pine) and Spock (Zachary Quinto) as they make their way through Starfleet Academy and earn their stripes fighting a rogue Romulan warrior (Eric Bana). The antic, high-energy Pine and the deadpan Quinto make an effective hot-and-cold comedy team, and the supporting cast contributes mightily to the laughs, especially Simon Pegg as Scotty. The film includes tons of in-jokes for the fanbase, but non-fans will find plenty to enjoy as well, not least the extended action sequence when Kirk and Sulu (John Cho) parachute onto a Romulan drilling platform and tangle with the guards. For a big-ticket event movie, this film's lightness is refreshing. Also with Zoë Saldana, Karl Urban, Anton Yelchin, Bruce Greenwood, Clifton Collins Jr., Ben Cross, Chris Hemsworth, Jennifer Morrison, Rachel Nichols, Tyler Perry, Winona Ryder, and Leonard Nimoy.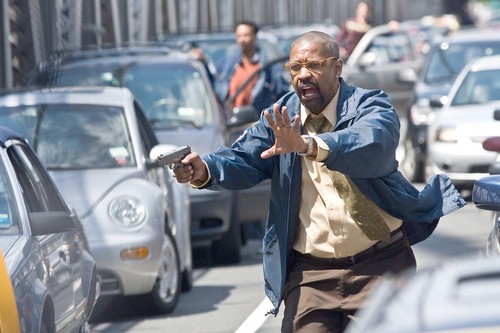 The Taking of Pelham 1 2 3 (R) Tony Scott's remake of Joseph Sargent's 1974 thriller stars Denzel Washington as a New York City transit cop who tangles with an armed former Wall Street wizard (a miscast John Travolta) who takes a train full of hostages and holds them for ransom. Director Tony Scott manages to bring some emotional heft to this slick thriller, which features long, tense pauses in its real-time setup. Scott's frequent leading man Washington invests the role with gravity and restraint. Watch for the melee triggered by a rat. Also with James Gandolfini, John Turturro, Luis Guzmán, Michael Rispoli, John Benjamin Hickey, Victor Gojcaj, Gbenga Akinnagbe, and Aunjanue Ellis.
Transformers: Revenge of the Fallen (PG-13) Michael Bay directs this sequel like a 15-year-old boy fumbling with a bra strap. The film actually doesn't start out too badly, with Shia LaBeouf holding the center of a mysterious plot that revolves around more evil robots arriving on Earth. After one good action sequence early on, however, the plot stops dead, and the sequences become more incoherent. It's a watchable summer blockbuster, but it could have been so much better. Also with Megan Fox, Josh Duhamel, Tyrese Gibson, John Turturro, Kevin Dunn, Julie White, Spencer Garrett, and Rainn Wilson. Voices by Peter Cullen, Hugo Weaving, Frank Welker, Charles Adler, Tony Todd, Grey DeLisle, and Michael York.
The Ugly Truth (R) Some movie titles are self-fulfilling. Katherine Heigl stars in this depressing comedy as a local TV producer who's forced to work with an insulting, misogynistic self-styled relationship guru (Gerard Butler, channeling both Dr. Phil and Jim Cramer) after he's given a daytime show at her station. The filmmakers can't make anything about the TV host ring true, not his antics, not his advice, not his popularity, and certainly not Butler's shaky American accent. That's bad enough, but the farce gets hopelessly twisted when the lonely and sexually frigid producer seeks his advice while dating a cute neighbor (Eric Winter). The gender politics here are capable of offending women and men, and the movie isn't funny enough to make it worth sitting through. Also with John Michael Higgins, Cheryl Hines, Bree Turner, Nick Searcy, Bonnie Somerville, and Nate Corddry.
Up (PG) The latest Pixar animated film features an absurd yet somehow logical plot about a 78-year-old retired balloon vendor (voiced by Ed Asner) who attaches enough balloons to his house to sail away to South America, accompanied by an 8-year-old kid (voiced by Jordan Nagai) who's marooned on his porch. The best part of the film is a deeply moving wordless montage early on, depicting the early married life of its elderly hero. The rest of the movie is a Pixar adventure that's more lightweight than usual, though no less enjoyable for that. The warmth and simplicity at the heart of this fable are enough to win you over. The film doesn't even need 3-D to work. Additional voices by Christopher Plummer, Bob Peterson, Delroy Lindo, Jerome Ranft, and John Ratzenberger.