OPENING: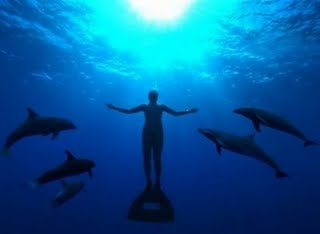 The Cove (PG-13) Louie Psihoyos' documentary about animal-rights activist Ric O'Barry and his attempts to film a dolphin slaughter off the coast of Japan. (Opens Friday in Dallas)
G.I. Joe: The Rise of Cobra (PG-13) Dennis Quaid and Channing Tatum headline this action thriller, based on the line of toys, about a secret U.S. military unit battling an international terrorist organization. Also with Sienna Miller, Rachel Nichols, Joseph Gordon-Levitt, Marlon Wayans, Christopher Eccleston, Ray Park, Saïd Taghmaoui, Arnold Vosloo, Lee Byung-hun, Adewale Akinnuoye-Agbaje, Karolina Kurkova, and Jonathan Pryce. (Opens Friday)
Paper Heart (PG-13) Nicholas Jasenovec's film combines documentary footage of comedian Charlyne Yi asking couples about their relationships with staged dramatic footage of Yi and her real-life boyfriend, Michael Cera. Also with Seth Rogen, Demetri Martin, Paul Rust, and Martin Starr. (Opens Friday in Dallas)
A Perfect Getaway (R) David Twohy's thriller stars Milla Jovovich, Timothy Olyphant, Kiele Sanchez, and Steve Zahn as two couples whose Hawaiian getaway is interrupted by murderous psychopaths. Also with Marley Shelton, Anthony Ruivivar, and Chris Hemsworth. (Opens Friday)
Tetro (NR) Francis Ford Coppola's drama stars Alden Ehrenreich as a young man who travels to Buenos Aires to visit his older brother (Vincent Gallo) and uncovers the secret of their family's dysfunction. Also with Maribel Verdú, Klaus Maria Brandauer, Rodrigo de la Serna, Leticia Brédice, and Carmen Maura. (Opens Friday in Dallas)
NOW PLAYING:
Aliens in the Attic (PG) This comedy fires off a few good jokes about family dysfunction before those damned aliens show up. Carter Jenkins stars as a teen spending July 4th with his kid sister (Ashley Boettcher) and cousins (Austin Butler and Henri and Regan Young) when their house is invaded by four aliens serving as an advance team for an invasion fleet that'll take over the world. The kids have to battle the aliens without attracting the notice of their parents. The filmmakers' one inventive touch is making an action heroine out of 78-year-old Doris Roberts as the kids' grandmother. Other than that, the filmmaking is bland, and the kid actors are charmless. Also with Ashley Tisdale, Kevin Nealon, Gillian Vigman, Robert Hoffman, Andy Richter, and Tim Meadows.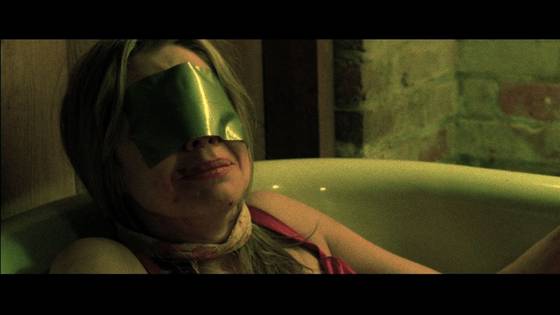 The Collector (R) Safecracker Arkin (Josh Stewart) breaks into a house only to find it's already been invaded by the titular serial killer (Juan Fernández), who has kidnapped the family and booby-trapped the house. Now Arkin must either escape or try to save the family. Despite an interesting setup, the movie becomes standard horror fare, with characters being stalked and killed. Stewart is great as the likable thief, and there are some inventive kills. But the Collector himself has little personality, the movie's not very scary, and it's almost completely undone by horrible, overdone music and sound cues. A movie only a hardcore horror fan would love. Also with Karley Scott Kollins. — Cole Williams
(500) Days of Summer (PG-13) The smartest, most original romantic comedy in the last five years stars Joseph Gordon-Levitt and Zooey Deschanel as co-workers who spend 16 months doing a dance in which he tries to pair them up and she keeps pulling away. The spiky Gordon-Levitt and the deadpan Deschanel are a terrific match, as she brings out a lightness and playfulness that we haven't seen from him in adult roles. First-time movie director Marc Webb injects the movie with all sorts of nonrealistic storytelling devices that bring out the angst and tension in the relationship and also make for jokes that frequently score – the dance number that erupts during the guy's triumphant walk to work is the most deliriously joyful thing in any movie this year. The comedy's distancing techniques help it peer deeply into the human heart. Also with Geoffrey Arend, Chloe Moretz, Matthew Gray Gubler, Clark Gregg, Patricia Belcher, Rachel Boston, and Minka Kelly.
Funny People (R) There's enough material in Judd Apatow's dramedy to make two good movies, but it adds up to one muddled, overlong, fascinating, deeply flawed dramedy. Adam Sandler stars as a superstar comedian who hires a struggling stand-up comic (Seth Rogen) to write jokes for him. The first half features the comedy star dropping the bombshell that he's terminally ill, while the second half sees him miraculously cured and trying to restart his life by pursuing his now-married ex-girlfriend (Leslie Mann, tremendous as always). The movie is great about the cutthroat professional competitiveness of comics, and Sandler is magnificent as a rotten person who's fearful and raging at the prospect of dying alone. However, the shift in tone between halves is too abrupt, and the very last scene is a huge mistake. The film's a mess, but it's often funny and never boring. Also with Jonah Hill, Jason Schwartzman, Eric Bana, Aubrey Plaza, Ken Jeong, RZA, and Aziz Ansari.
G-Force (PG) Slightly more watchable than the surprisingly similar Transformers sequel, mainly because it's shorter. A genetic engineer (Zach Galifianakis) and his team of talking guinea pigs trained to act as spies (voiced by Sam Rockwell, Tracy Morgan, Penélope Cruz, and Nicolas Cage) try to stop a billionaire industrialist (Bill Nighy) from taking over the world. First-time director Hoyt Yeatman has a pretty good hand with the action sequences and special-effects, but never finds the right balance between the thriller elements and the silly comedy. The movie is played too straight, and it grinds to a complete halt about two-thirds of the way in. I'll take the hamster from Bolt over any of these guinea pigs. Also with Will Arnett, Kelli Garner, and Loudon Wainwright III. Additional voices by Jon Favreau and Steve Buscemi.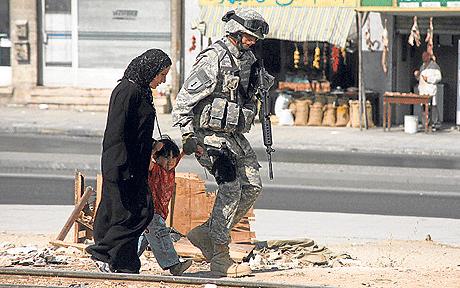 The Hurt Locker (R) Kathryn Bigelow's austere, nerve-jangling thriller is set in the thick of the Iraq war, but it's not about Iraq or even war in general so much as it is a character study of a U.S. Army bomb technician (Jeremy Renner) who likes the thrill of his job a bit too much. The occasional ridiculousness of Bigelow's earlier thrillers is absent from this muscular, stripped-down film, and the director gives individual character to each of the film's many action sequences. Renner fully inhabits his fundamentally unknowable character, evoking his mix of unflappable bravado and detail-orientation that makes him good at what he does. You walk out not knowing what makes the guy tick but feeling like you've gotten as much of an answer as you'll ever get. Also with Anthony Mackie, Brian Geraghty, David Morse, Christian Camargo, Guy Pearce, Ralph Fiennes, and Evangeline Lilly.
Moon (R) Neat little science-fiction yarn stars Sam Rockwell as an industrial worker on the moon who's been alone for three years and is starting to experience hallucinations just before his return to earth, including a clone of himself. There's not quite enough plot or substance here to sustain the movie for its 90-minute running time. Rockwell, though, is excellent playing two different versions of the same character, and writer-director Duncan Jones (the son of David Bowie) filmmaking debut is impressive. The worker's only companionship is a robot with a yellow smiley face (voiced by Kevin Spacey) that changes expression along with the mood. The robot is both sinister and funny; this is a tremendous performance by an inanimate object. Also with Dominique McElligott, Benedict Wong, and Kaya Scodelario.
Orphan (PG-13) After Kate (Vera Farminga) miscarries, she and husband John (Peter Sarsgaard) decide to adopt Esther (Isabelle Fuhrman). At first the young girl gets along well with the couple's deaf daughter Maxine (Aryana Engineer) but clashes with older son Daniel (Jimmy Bennett). But then "accidents" start happening around Esther, and soon it's dun dun dun-dun! time. Despites some cheap jump-scares and somewhat predictable plot, this is a solid entry in the "evil children" horror subgenre, with a good build-up, devious mind games, just the right amount of gore, and an appropriately evil kid. It's no Bad Seed, but bad, it ain't. — Cole Williams