Austin native Julie Powell went to New York in her early 20s to pursue an acting career, but in 2002 she found herself at 29 having accomplished none of her professional goals and living off her husband and a series of temp jobs. She reacted unusually to her thirdlife crisis by spending the year before her 30th birthday making every recipe in Julia Child's Mastering the Art of French Cooking and writing a funny, profanity-laced blog about her experiences.


Nora Ephron has now made this into the movie Julie & Julia, which juxtaposes Powell's culinary venture with the biography of Julia Child herself, specifically those post-World War II years when she lived in Paris with her diplomat husband and, out of boredom, decided to turn her love of French cuisine into an occupation.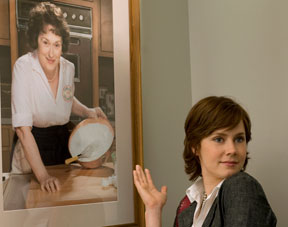 In many ways, Ephron is the perfect choice to film this story, being a real-life foodie and a writer who's proved equally capable in Old Media and cyberspace. She's not a great filmmaker, but she certainly had to break down more than a few barriers in her time to get to be a financially successful Hollywood director. So there's a good deal of weight behind Ephron's tribute to two unconventional women – one from the generation preceding hers, and one from the one that came after – whose pioneering spirit led them to boldly explore untested routes toward fulfilling careers. This is a great story, but by itself it wouldn't be enough to redeem a bad movie, much in the way a great sauce won't redeem a bad piece of meat. On the other hand, a great sauce will make an ordinary piece of meat seem like a gift from the gods, and something similar happens here.
Meryl Streep portrays Julia Child and Amy Adams plays Julie Powell. You might expect a movie with these two actresses to employ Streep as the center of dramatic gravitas and Adams as comic relief. This film in fact does the opposite, with good results. Decked out in a fetching pixie haircut and a baggy casual wardrobe that makes her look smaller, Adams stops your breath with a monologue early on about Julie's memories of her mom making Julia Child's boeuf bourguignon. That wondrous lyrical moment comes in the context of a low-key, grounded performance; you'd have a hard time recognizing her as the same actress who starred in Enchanted.
In her half of the story, Streep (whose presence is literally augmented by special effects that make the medium-tall actress appear to be Child's 6'2″ height) delivers large amounts of molasses-cured ham, though it's hard to imagine how else one could play an outsized personality like Julia Child. The important thing is that Streep's sweeping grande dame turn always seems like it belongs to the character and not the performer. With the gigantic exception of Mamma Mia!, I have to say I'm enjoying this over-the-top comic phase of Streep's career, which would have been unthinkable back in the 1980s.
The film also manages to distinguish its two supportive husbands from each other, with a dapper, starchy Stanley Tucci as Paul Child and a slouchy, laid-back Chris Messina as Eric Powell. The major bust-up between Eric and Julie is the one piece of the film that doesn't work. Despite the dexterity of the actors, it feels forced. There's also never any sense of Julie's relationship with her readers.
However, there is the food, which for many moviegoers is as much of an attraction as the stars. Ephron isn't a top-level visual stylist, so her movie lacks the tactility of a truly great food film like Ang Lee's Eat Drink Man Woman or (hey, look at that!) Tucci and Campbell Scott's Big Night. The glossy presentation here by cinematographer Stephen Goldblatt is a little too much like what you'd find on the Food Network, although to be fair, the makers of those older movies didn't have to differentiate their stuff from what the cable TV channel now serves up every day. Since we're busy being fair, the end product does look good, from Julie's bruschetta to a fleeting shot of a raspberry Bavarian cream to the duck en croûte that serves as the climax of the film. This is the sort of movie that'll make you want to hit a nearby restaurant.
Then again, it may want to make you go home and pick up a knife and carving board. Ephron pays as much attention to the process of cooking as she does to the end product – we're shown Julie boning a duck according to Julia's video instructions and Julia coming home from a bad day at cooking school and working out the right technique for slicing onions. (That last one gives rise to a very funny scene.) All this emphasis on labor makes the movie more than food porn. There's a primal satisfaction that you get from holding something in your hand, knowing that it didn't exist before you brought it into being, and saying to yourself, "I made this." It's a feeling that both cooks and writers know, and it's what Julie & Julia conveys most deeply.