Back in 1996, friends and fellow theater rats Steve McGaw, Les Hofheinz, and Elizabeth Morrison didn't know what to expect when they performed their first showcase of scenes, monologues, and readings at the old Seventh Street Café. Calling the event SceneShop, they conceived it as a compromise to maintain day jobs, personal lives, and sanity while still creating new stage works. As any local artist who's not a paid staffer at a theater organization will tell you, the responsibilities of studying, rehearsing, and performing a full-length script while trying to pay the rent can be back-breaking.


On the other hand, a project of short pieces like SceneShop seemed eminently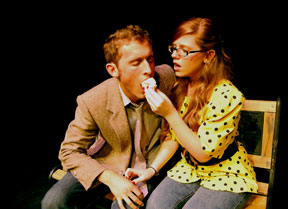 do-able, if a bit of a curiosity at the time. How would audiences react to two hours of different stories, characters, themes, and moods condensed into brief segments of acting?
"On opening night, we did an 8 and a 10 [o'clock performance]," recalled McGaw, 50, now SceneShop's artistic director. "We were terrified, because we didn't know how much publicity Seventh Street had done for the show. It was just the three of us doing eight different scenes. We performed it in the dining room while the audience ate. By the end of the 8 o'clock show, we knew it was a success."
SceneShop and its participants have since evolved in various ways. Hofheinz and Morrison switched from helping run it to being regular contributors and performers. Local artists like Natalie Gaupp, Grayson Harper, Bob Francis, and Christopher Bradley, a Texas Christian University grad and alumnus of the UCLA screenwriting program, have lent their talents as part of what has become an unofficial ensemble. McGaw himself has become a nationally produced playwright — his Landscape with Stick Figures, a 2001 play about a high school shooting, started as a shorter piece at SceneShop. The showcase has appeared in a variety of spaces, sometimes twice a year, including Fort Worth Country Day School, Stage West, the Modern Art Museum of Fort Worth, University of Texas at Arlington, and SceneShop's current informal home at Arts Fifth Avenue. For the past five years they've been invited to perform at WaterTower Theatre's annual Out of the Loop Festival in Addison.
Throughout the ensemble's 13-year history, the challenge of mounting single scenes and fragments with minimal staging has remained the same. McGaw, who's worked with SceneShop as writer, director, and actor, stated it this way: "The trick is to take a short piece and give it an arc, so the audience has the sense of arriving somewhere by the time it ends. We resist being called a 'sketch troupe' but not out of snobbery." Instead, McGaw, who has worked as an improv coach for years, likens a typical SceneShop evening to watching a live band perform. The set list may be diverse, but each song has a distinct beginning, middle, and end.
Like many of its past showcases, the 2009 edition at Arts Fifth Avenue has a theme that came together more or less by accident. The title of the evening is You Gotta Laugh, and it features four works about life's unexpectedly comedic situations. Brian Farish's Dry Gulch Zeal is a memory monologue about the writer's rather bizarre experiences as a child at a Christian-themed summer camp in Oklahoma. Rey Dabalsa's Urges explores a couple's well-intentioned attempt to put their relationship through the rigors of a 12-step recovery program. B&B, co-written by McGaw and Nicholas Irion, features a father and son sharing a confessional conversation that has unexpected consequences.
The entire second half of You Gotta Laugh is taken up with McGaw's Baitshop Confidential, a multi-character "comic mystery" set at a Lake Texoma business run by a cantankerous woman played by Peggy Bott Kirby. McGaw drew from his own memories of fishing with his father and the people they'd meet at the lake. "I don't make fun of small-town people, but there's often a certain mind-set," he said. The piece is ultimately about people "who're very happy where they are and those who have to make peace with it."
With an eye toward both variety and longevity, SceneShop is spawning a baby showcase of its own. Technical director, playwright, and actor Irion, a senior in the UTA theater program, will oversee the first Lost Beat Generation — a collection of scenes, monologues, and readings by writers in their 20s — at Arts Fifth Avenue in November. McGaw and Irion ultimately hope to make LBG a mobile presentation, traveling the state and the country to promote young playwrights, performers, and directors.
Of the SceneShop experience, McGaw said: "We don't pretend that every scene will be an artistic high or will speak to everybody in the audience. It's OK if people say, 'I liked this one, but I didn't care for that one.' We're happy if you just engage the material." – Jimmy Fowler
Military History Museum Opens
A new museum has opened near the Cultural District, one focused on an under-publicized branch of Texas history. The Warren G. Alberts Military History Center is the brainchild of the Organization for Texas Military Education, a nonprofit group of volunteers whose mission, primarily, is to commemorate Texans' involvement in the American wars from the 20th century. The center, located inside a house on Dorothy Lane, was founded by filmmaker and Fort Worth native Tyler Alberts, whose interest in his grandfather's involvement in World War II prompted 12-plus years of research into other Texas soldiers' experiences. The MHC features displays such as uniforms worn in combat and personal souvenirs and relics brought back from the fronts. The public, Alberts said, "will walk away with a better idea of what service and sacrifice really mean and how it has been handled in the past." Admission to the MHC is free, though donations are appreciated.
– Susan Costa
Contact Kultur at kultur@fwweekly.com.