With 30 screens to fill each week, the folks at AMC Grapevine Mills occasionally fill out their bill with obscure entries from the ranks of independent and foreign films. Lately, though, the multiplex has found wholly unexpected success with a pair of Korean films that had no national distribution deals in this country, advance buzz from critics, or English-language web sites. Even more interestingly, the theater plans to show more of them in the future.
You might expect such films to be highbrow intellectual fare on the order of Im Kwon-taek's opera Chunhyang or Kim Ki-duk's Buddhist meditation Spring, Summer, Fall, Winter … and Spring. Instead, the movies shown at Grapevine have been generic pieces of entertainment made for a wide audience. Park Dae-min's Private Eye, a period detective thriller set in Japanese-occupied Seoul in 1910, opened on May 1. Then Shin Tae-ra's modern-day comic thriller My Girlfriend Is an Agent (with a romantic espionage plot strongly reminiscent of Mr. & Mrs. Smith's) opened on June 19. Both films played for two weeks to auditoriums at the Grapevine Mills that the theater reported as "half-full," not bad for foreign-language movies with no advance publicity and no stars recognizable to non-Asian audiences.
Andy DiOrio, manager of corporate communications for AMC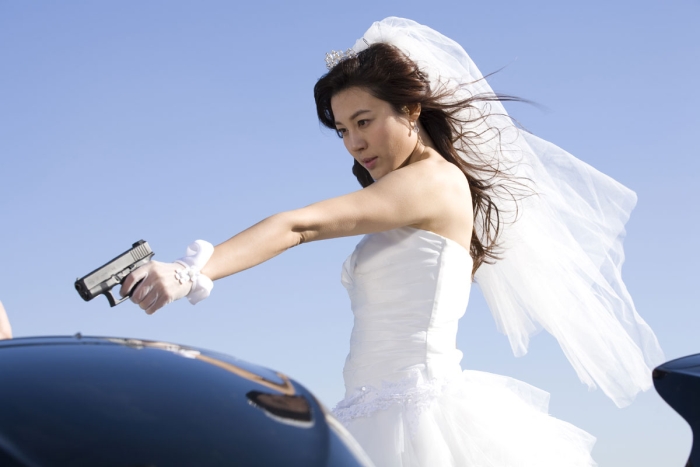 Theatres, characterized the showings as a "test run," though it hasn't yet been decided how long the test period will last or when audiences can expect to see the next Korean film. "We don't know which titles will have a print available until the last minute," he said. "We haven't been publicizing these because we don't want to let people down by saying that we'll have a particular title on a particular date only to have it fall through."
Describing the audiences for My Girlfriend Is an Agent as "very appreciative," DiOrio said the Kansas City-based chain would definitely look to bring more Korean films to Grapevine in the future.
South Korea has been producing some gnarly films in recent years, but the theater's influx of movies from that country was inspired more by demographics than aesthetics. The population of Korean immigrants in North Texas is growing. The 2000 census puts the number at 18,000, but the South Korean consulate now estimates between 50,000 and 70,000 in the Metroplex. This group constitutes a burgeoning fanbase for Korean movies. Chong Choe of the DFW Korean-American Coalition notes that satellite TV programming from South Korea is widely available here. "But it's important to each community to be able to go out and see movies in their own language that relate to their own culture," he said. "That will always be something they look forward to."
Oddly enough, no one seems to be taking credit for booking Private Eye or My Girlfriend Is an Agent at the theater. Local reviewer Steven Norwood talked to a theater manager, who claimed that the print of My Girlfriend simply showed up at the multiplex in June without anyone being informed of its arrival or even at first knowing what it was (the labels inside being entirely in Korean, a language none of the staffers on hand could read). His wife, Crystal Decker-Norwood, works with Asian Film Festival of Dallas, which helped publicize the run of My Girlfriend on Facebook and is now consulting with AMC Theatres on which Korean films to book in the future. "There's a huge audience for these movies," she said. "Now we have people saying they're going to camp out in line for tickets to a preview screening of [Park Chan-wook's vampire movie] Thirst, which opens in Dallas at the end of August. We're hoping to get it in Grapevine. The management says if there's this much interest in Korean movies, they definitely want more."