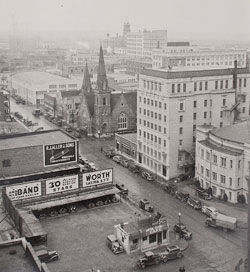 If a picture is worth a thousand words, as the cliché goes, then Fort Worth photographer Byrd Williams IV probably has about 10 million fascinating words in his collection. The boxes and files of photos and negatives at his downtown Dallas apartment fill up floor-to-ceiling racks, and he keeps more files in air-conditioned storage. The stories they tell are the history of Fort Worth and Texas, going back more than a century and continuing to this day.
Williams' family has been taking photographs for four generations. His great-grandfather came to Texas from Tennessee in the late 1870s and set up a hardware and dry goods store in Gainesville. Back then, hardware stores sold camera equipment, and Byrd IV's great-grandfather fooled around a bit taking pictures, using unwieldy but often high-quality photographic plates. Byrd IV has about 40 or 50 of his great-grandfather's plates and his photos of the store and family members and houses they lived in.
The first Byrd Williams' largest contribution to photography, however, wasn't his own pictures. It was the  wooden, large-format view camera he gave to his son, Byrd Jr. That started a familial love of photography – as art, profession, and means of expression – that has lasted through three namesake descendants. Byrd IV may be the last in that particular line, since his two adult sons have followed other careers.
"My grandfather, father, and I all started in photography at about age seven," Byrd IV said. "And because we all started so young, we were able to experiment quite a bit artistically."
Byrd Williams Jr. studied engineering at the University of Texas in Austin and made money on the side by shooting portraits. He graduated in 1907, and from his first engineering job on, he used his photographic skills to capture the workers, history, and surroundings of his projects. That first job was in El Paso, where he took historic photos of Mexican outlaw Pancho Villa. His next job was as an engineer for the City of Fort Worth, and he documented the spread of the city's network of roads and bridges, as well as the growth of downtown and neighborhoods during the early 20th century.
Byrd III studied at Texas Christian University in the early 1930s but never graduated. Instead he started working in photo labs. He also did freelance photojournalism and just satisfied his curiosity through pictures. He eventually started his own studio, shooting portraits and doing photo finishing. Like his father, Byrd III was intrigued by Cowtown but concentrated on everyday images: street scenes downtown, cars in the snow, neighbors, and iconic-looking folks from all walks of life.
Byrd IV, now 58, graduated from Texas Christian University in 1973 with a degree in business management. He continued the family tradition, working in his father's studio as well as shooting photographs for his own enjoyment. He has been a photography professor at the Collin County Community College District for 20 years now.
He has shot for televangelists and does investigative photo work for local attorneys. He travels to Europe two or three times a year to take pictures that chronicle the commonalities of life there. In addition, twice in the last decade he has been named artist-in-residence at a premier German art institute, spending a year based in the town of Bad Ems each time. An art museum in Trier, Germany – a sister city to Fort Worth – exhibits his work.
His interests are all over the map: streets scenes of cities in Europe and this country, local landmarks, strange-looking drinkers in Texas bars, guns and violence. Then there's his collection of photographs of bathrooms. "You can tell more about someone by going into their bathroom and looking around," he said.
The four generations of Byrds have all used the same kind of large-format cameras, heavy and clumsy, usually set on a tripod. They require long-term exposures – sometimes as long as 40 minutes. But the results are crisp, finely detailed prints that digital photography cannot even come close to. Byrd IV uses digital equipment at times but prefers the older models.
His first camera, a gift from his father for Christmas in 1958, was a Kodak Pony. But the cameras he has made his career with date from 1895 and 1936 and use very large negatives (the 1895 model uses negatives that are 12 x 20 inches). In this digital age, it's hard to find the film sometimes, but suppliers are still out there.
"I use the digital equipment at times, but what these old cameras pick up is truly amazing," he said. "After I make the print, I see things that my own eyes couldn't even see when I made the picture. There are textures in buildings that you wouldn't notice and expressions on faces that these modern cameras don't capture."
Byrd IV estimates he has about 10,000 negatives and prints from the four generations of his family. But that is only about 60 percent of the total. His mother has kept some of his dad's work (Byrd III died in 1985), and a cousin has family photographs in London, The Amon G. Carter Museum has about 30 prints, and Tarrant County acquired some years ago that hang in the first floor of the historic main courthouse. The Fort Worth Library has about 150 prints from Byrd IV's 1995 book, "Fort Worth's Legendary Landmarks.
One unique aspect of the Williams family's combined body of work is that it includes photos of the same people and places over time, giving a long perspective on the changes Fort Worth has gone through. "I've shot street scenes in Fort Worth that my grandfather shot almost 100 years ago," Byrd IV said. "But we also all have had an interest in everyday people, shooting cooks and waitresses, kids playing in every generation, portraits of neighbors."
For now, Byrd is overseeing the collection, but he's listening to some interested museum curators who would like to acquire a large part of it. He shows at local galleries occasionally (he presented some of the family work at the South Side's Arts Goggle show last spring), but his teaching and forays into Europe keep him very busy.
"Right now, we just want to keep as much of the collection intact as we can," he said. "But as I get older, I am going to want to take the necessary steps to make sure it is preserved. We'll see what happens."
The photographs in our print edition of necessity, only brush the surface of the Williams photographer's work. A larger selection is included below and there are more on Byrd IV's web site at www.byrdwilliams.com.
Those interested in obtaining prints or in the collection in general can contact Byrd IV at bwilliams@ccccd.edu.
{gallery}071209{/gallery}