In a run-down part of Fort Worth's Hospital District, a handful of men in torn pants and stained t-shirts hang out near the door of a convenience store. One man politely asks for spare change as patrons enter and exit and tells them to have "a blessed day," regardless of whether they give him money.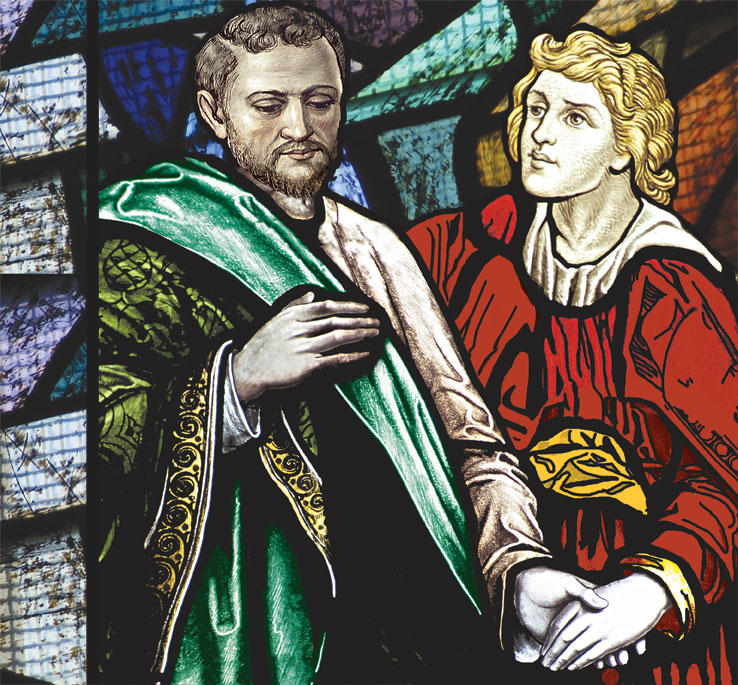 The area looks like the setting of a modern-day Dickens novel, its general shabby air shared by buildings and people. Some of the men who walk or wander along the street have their shirts slung over their shoulders, in an attempt to stay a little cooler in the sweltering August sun. But in the landscape of windowless, boxy buildings, a stunning Gothic beacon of brick and glass soars over its gritty surroundings.
Inside Broadway Baptist Church, biblical scenes are portrayed in vibrant stained-glass windows. Rows of light fixtures with crosses hang from the high ceilings over the pews, and massive organ pipes shoot up the arched walls like metal veins. On a recent Sunday, the blue-robed choir belted out powerful hymns, accompanied by piano, as the congregation stood and sang along. The youthful-looking, dark-haired pastor, Dr. Brent Beasley, delivered a sermon entitled "The Depths" and spoke of how people fall into despair and need to call out for God and the community to help deliver them.
"You read in the Bible story after story about people falling into a pit and getting up again," he said in a strong, deliberate baritone. "Each of us has a story, and all of our stories involve spending some time in the depths. One of the special appointments we have as a church is to be a safe place for people who find themselves in the depths and cry out honestly."
Beasley's message of hope in the midst of despair surely resonated with his flock. Over the past two years, the congregation has found itself the center of a national controversy involving the Southern Baptist Convention, the Southwestern Baptist Theological Seminary, and Baptists all around the country. Inside Broadway's broad doors, petitions, factional fighting, and external pressures produced a palpable air of tension.
The question at the heart of the turmoil was the role of homosexuals in the Baptist church. Officially, Baptists do not affirm, approve, or endorse homosexual behavior, according to the vague language of the convention's bylaws. Broadway, according to various people interviewed for this story, is the dictionary definition of a moderate Baptist church – the congregation and its leaders don't do any of those verboten "affirming" things regarding homosexuality. But the church does allow openly gay people to be members and, in rare cases, to hold leadership positions. So it surprised many in the flock when the SBC severed its 127-year ties with the church last February.
The trouble had started over a year earlier, when a few of the congregation's more conservative members decided that then-Pastor Brent Younger was too liberal and too gay-friendly. Then came the decision to include pictures of two same-sex couples in the church directory. That move eventually split the church into three groups: the more conservative elements, who wanted Younger gone so bad that some were even willing to pay him extra to leave; the more liberal people, who accept the gay members of their church, even if not affirming their sexuality; and those in the middle who just wanted to sweep it all under the rug.
There are Baptists inside and outside Broadway who believe that the SBC violated its own bylaws by disassociating with Broadway. But many Broadway members are also happy that their church is no longer associated with the SBC, an organization they see as increasingly conservative and borderline extremist in its social views. Most of those who were the unhappiest with Younger and with Broadway's direction left to join more conservative churches. And Broadway lost other members who, because they are full-time faculty at the Southwestern Seminary, are required to belong to SBC-affiliated churches. On the other side of the pew, the church has lost members in the past because it declined to extend a warmer welcome to gays.
The firestorm even affecte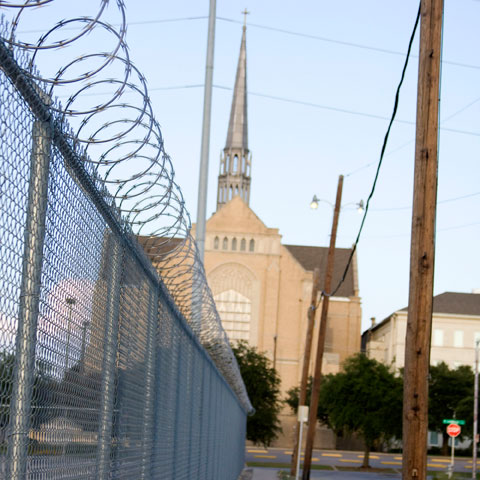 d the church's youth choir. Last June, the choir's planned mission trip to Kentucky had to be re-routed because a church-affiliated college in Kentucky un-invited the group, due to Broadway's acceptance of gays and lesbians.
Scott Green is one of the few openly gay members of Broadway, though he and his partner were not among those who wanted their picture in the directory as a couple. He, like almost all of the Broadway members interviewed for this story, emphasized that the congregation is ready to put the events of the past couple of years behind them.
This isn't the first time Broadway has hewed to its own course when others were going in different directions. In true Baptist spirit, in fact, the church was born in a split from another local congregation – in a fight over perceived sin of a very different kind.
The history of Broadway Baptist is closely linked with that of Fort Worth. In 1873, the city's First Baptist Church had a modest 27-member congregation and met in a building about a half-mile from the infamous Hell's Half Acre, where gambling and prostitution were rampant. A few church members wanted First Baptist to more aggressively pursue the salvation of the area's sinners. When they couldn't convince the others, those members joined with a group that split off from First Baptist in 1882 to found the church that would eventually be renamed Broadway Baptist. Some see it as ironic that the church that was started to fight sin more aggressively now finds itself in trouble for not doing enough to fight sexual "sin" of a very different sort. Others, however, see it as just the first step on Broadway's path of independent decisions.
Broadway has a history of being ahead of its time on social-justice issues. Representatives of three women's societies met at Broadway in 1896 to form the Women's Associational Union Auxiliary to the Tarrant County Baptist Association. The church has long enjoyed a reputation for allowing women to take leadership roles and says in its mission statement that it ordains women.
The church was also instrumental in bringing the Southwestern Baptist Theological Seminary to Fort Worth, following a campaign in 1907. Several other churches in the city owe their existence to help from Broadway and its members. By 1943, it was one of the largest congregations in the Baptist General Convention of Texas, the ninth-largest both in the size of its flock and in per-capita contributions to the collection plate.
In the late 1940s, when most churches were fleeing the inner city for the suburbs, Broadway's congregation made a conscious decision to stick it out in an urban setting, so as to be closer to those in need.
Charity and missionary work have long been the hallmark of the historic church, which is home to a dozen local ministries, including the Agape Meal that feeds more than 200 people every Thursday night, clothing drives for adults and children, a social ministry for people who are learning English, a free food pantry, an emergency shelter program for homeless people during inclement weather, an adopt-a-school program, and free sack lunches for the homeless. They also offer a mentoring program for families trying to get off welfare. The Lena Pope Home, founded by one of the church's Sunday school teachers, is another of Broadway's enduring legacies to the city.
Broadway doesn't require poor people to listen to a sermon before they get a sack lunch or new shirt. And, at least in recent years, they've never asked anyone to declare his or her sexual politics before joining the congregation. The congregation is active in AIDS outreach and has several openly gay members, but isn't exactly entering a float in any gay pride parades. They have stuck resolutely to what used to be the middle of the road, despite criticism from those in the outer lanes on either side.
---
The series of events that thrust Broadway into the national spotlight started innocuously in December 2007. According to several members, there was never a conscious decision to allow same-sex couples to be included in the church directory; the couples just showed up to get their picture taken like anyone else. An outraged member contacted the Southern Baptist Convention and asked if that was allowable, believing the action might indicate the church's affirmation of the couples' sexuality.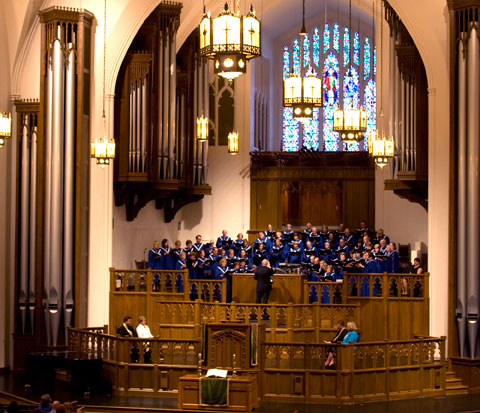 The incident added to some members' growing dissatisfaction with Younger's leadership. A group called Friends for the Future of Broadway emerged and tried to oust Younger.
Due to pressure from the Friends group, the SBC, and others, Broadway deacons agreed on a version of the directory that included photos of church groups, such as Sunday school classes and choirs, but no family photos. The congregation voted 294 to 182 to approve the compromise.
While the church was debating the directory issue, the Friends circulated a petition calling for Younger to be fired and started a web site with a lengthy list of their grievances. According to a letter the FBB sent to Broadway members, Younger and the deacons refused to meet with the Friends. A separate group even offered $50,000 to Younger, who had been minister at Broadway for seven years, to simply walk away from his job.
J. Coleman Baker, a blogger at the now defunct ProgressiveBaptist.net, obtained a copy of the letter. It said that the church was more divided than ever under Younger's leadership and that Sunday school attendance had dropped 26 percent since his arrival. They also listed his resistance to implementing a policy that would have identified, and limited the movement on church premises of, any registered sex offenders (Broadway members who spoke to Fort Worth Weekly knew of no such persons in the congregation). They criticized him for inviting as a guest speaker a controversial theologian  "whose views are well outside Broadway's historically moderate Baptist heritage," neglecting the church's relationship with several Baptist organizations, interfering with the church's self-governance, and generally not listening to opposing viewpoints.
"Many members are concerned about the general unrest and distrust that have been caused by having one issue after another during the last 18 months degenerate into polarization, turmoil, tension, discord, divisiveness, loss of membership, and – more importantly – the loss of trust and confidence in our pastor's spiritual and administrative leadership," the letter said.
Their goal was to have the church's members decide Younger's fate, and they got their wish. Broadway's bylaws require a petition signed by at least 100 members and a special meeting of the deacons before a minister can be asked to "vacate the pulpit."
The FBB petition was signed by 162 members, and the deacons decided to allow the vote. More than 200 people signed a statement supporting Younger.
Two weeks after approving the church directory compromise, Broadway members voted 439-237 to keep Younger as their pastor.
Nonetheless, Younger was soon gone. Less than two months after that vote, he stepped down to accept a teaching position at Mercer University in Georgia. Younger told the congregation during a sermon that his decision had nothing to do with the effort to remove him. He did not respond to the Weekly's attempts to contact him for this story, nor did members of the Friends group.
Green, the only openly gay member of the congregation willing to speak publicly on the issues at Broadway, said that he was a little upset at the timing of Younger's departure. But he doesn't  think that the church's problems could have been avoided had Younger left earlier.
"We were not really surprised at Brett's decision to leave, but at the timing," he said. "However, he was presented with an opportunity to have a far-reaching impact on future leaders of the church."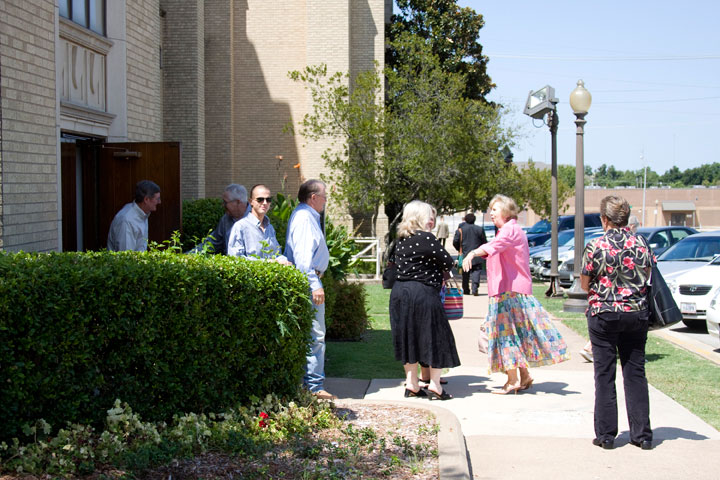 Though their internal upheaval seemed resolved with the vote backing Younger, Broadway's problems with the Southern Baptist Convention were just beginning. At the convention's 2008 annual meeting, Bill Sanderson, pastor of Hephzibah Baptist Church in Wendell, N.C., formally asked the SBC to disassociate with Broadway, over the issue of homosexuality. The question lingered, and a decision was postponed several times to allow further study by the denomination's executive committee.
Jorene Swift Taylor, minister of congregational care at Broadway, wrote a letter in response to the SBC inquiry. A copy landed on EthicsDaily.com, a division of the Baptist Center for Ethics.
"We are painfully aware of the media coverage given to the controversy over the publication of our church directory," she wrote. "One of the factors in choosing this style of directory was our belief that it does not make a statement to anyone to indicate that Broadway has in any way affirmed, approved, or endorsed homosexual behavior."
Leaders of the Fort Worth Baptist community, such as seminary president Paige Patterson, intervened on Broadway's behalf. Church leaders at the time said that the Broadway congregation, including gay members, were largely in favor of maintaining the church's relationship with the SBC. But the efforts were in vain. The SBC kicked Broadway out in February.
Five months later, Broadway's youth choir was treated to a rude aftershock that put a long-planned mission trip in jeopardy. The 12-day trip was to combine stops to sing at various Kentucky churches with a week spent helping build homes for desperately poor people in Appalachia. Months after the SBC decision, but less than a week before the choir was supposed to leave, the SBC-affiliated university in Kentucky that was to host the home-building project cancelled its invitation to the Broadway youngsters. Several Kentucky churches where the group had been booked to sing then followed suit, with no official reasons ever given.
A Broadway member who was close to the controversy said the cancellations initially saddened the young choir members – but further developments renewed their excitement in the trip. After the cancellations, invitations poured in from other churches, especially in Tennessee. The trip, which had been delayed, was rescheduled.
Green said that that many of the people who opposed Younger left the church after its members voted to keep him. Many of those who remain, he said, are happy to be out of the SBC. "Broadway Baptist Church has had a long and storied history in Fort Worth," he said. "The church has ministered to the community for 127 years. That history does not disappear just because of the Southern Baptist Convention's unfortunate decision to disfellowship us because of their perceived beliefs about our church."
---
David Reed is a gay Baptist man who received a Master's of Divinity from Southwestern in 1983 and spent six more years at the seminary pursing graduate studies. He had wanted to become a Baptist minister, hoping to change people's views on the roles of homosexuals in the church. He believes that the convention violated its own laws by kicking out Broadway and attributes it to the takeover of the convention by extremists in the last 20 years. That view of the SBC is widely shared; Reed said that the action against Broadway is the convention's first against a church based on gay issues that he is aware of.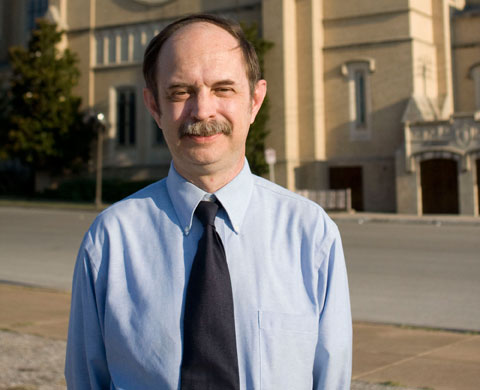 "The operative words [in the SBC's bylaws] are affirm, approve, and endorse," he said. "I have no idea what that means, and I'm not sure anyone does. The SBC asked Broadway to condemn homosexuality, and by extension its gay members, and Broadway refused to do that. But their refusal to speak was not a violation of the bylaws of the SBC."
Patterson disagreed. "To be fair, it's a little disingenuous to say, 'We haven't taken a stand on [homosexuality]. They have taken a stand," he said. "If you have known, practicing homosexual members, and you are not making a move on it, that's a stand. Let's take away the issue of homosexuality for a moment – let's take theft. If in my church, I know that there are people who are regularly stealing, and the official doctrine of the church says that 'Thou shall not steal,' then it's disingenuous of us to say that we haven't taken a stand on this.
"My feeling is that the whole situation is tragic," he said. "We have a great relationship with many of the members of Broadway Baptist Church; it's been a sadness to us. They are an autonomous church, so we can't tell them what to do and what to believe. And the convention is autonomous, and it has a right to determine who is and isn't in fellowship."
Because of its come-one, come-all attitude and extensive charity and missionary work, Broadway views itself as a moderate Baptist church. Outside observers find it painfully ironic that the church was kicked out of the SBC because of its attitude toward homosexuals. The church's official position is that it does not condone homosexuality, and some gays who have attended there in the past didn't see much courage in the church's actions.
The current senior pastor, Dr. Brent Beasley, who took over in May, said that Broadway will not change its stance with regard to homosexual members: accepting, but not affirming.
"Homosexuality is not something I'm preaching about on Sundays," he said. "I think we're pretty set where we are, which is, we are going to welcome all people into the church and allow them to participate and have a full life in the church. But we're not going to take any kind of official vote on affirming homosexuality."
Many throughout the country see Broadway as liberal and gay-friendly. Reed, the former seminarian, is not among them. He is president of the Tarrant County Lesbian & Gay Alliance and founded  Honesty Fort Worth, a religious group supporting homosexual Baptists.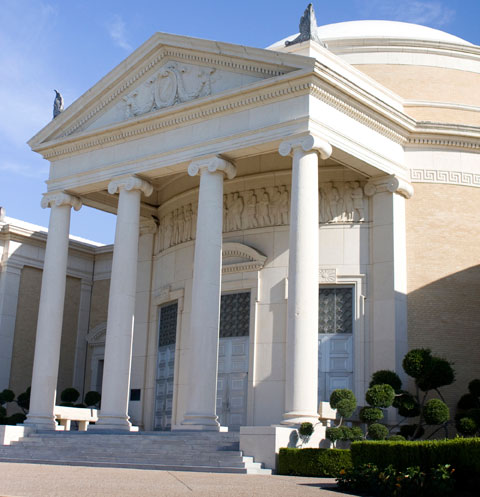 After attending Broadway for nine months as a visitor, he presented himself for membership in 1992. Reed said he was impressed with Broadway's reputation of good interaction with members of the gay community, due to the church's work with the AIDS Interfaith Network, an organization that helps people with HIV/AIDS meet their spiritual needs.
"Outside of Fort Worth, Broadway had a reputation for being a raging liberal congregation. But anyone who has spent time in the church knows that it is not a liberal church," he said. "Women have a place in the church and its leadership. But when it comes to gay issues, they'd just as soon not talk about it."
Membership in a Baptist church is confirmed by a vote of the congregation at a general church business meeting. Reed said that in a lifetime of involvement in the Baptist church, he has only seen two people vote "no" on a membership request. However, when he asked to join Broadway, he found that his request was to be discussed at a deacons' meeting before the general vote. After much discussion, they arrived at a resolution: Reed would instead present himself for "watch-care," meaning he would be officially associated with the church but not as a voting member.
Reed's association with the church was conditional. The deacons were to take up the matter of how the church would treat its gay members within the year and consult Reed every step of the way. That was never accomplished. Watch-care is in effect for only a year; after that period, he allowed the official association to lapse. Neither he nor they brought it up.
"I was not particularly quiet about the conditions not being met," he said. "The deacons were welshers, who cared more about their own comfort than the lives of their own children."
He said that his relationship with the church's leadership and members was rocky at best. Though he had allies, his opponents irreparably damaged his trust in the church. "When they're being polite, they say, 'We want to help liberate you from your sin. All of us have sinned and all of us have repented,' " he said.
After he had stopped attending the church, a committee was formed for the purpose of reviewing the bylaws with respect to membership. Reed's previous presence at the church had brought the issue of homosexuality to the forefront. The committee issued an invitation to members who had opinions on the matter. The vice-chair of the committee called Reed and invited him to share his perspectives. And though he had stopped attending the church and felt hurt by their inaction, he agreed to meet with them.
"I told them my history and my Damascus Road experience," he said, referring to a sudden conversion or life-changing experience – in Reed's case, the realization that it was OK with God for him to be gay. "I told them about my calling into the ministry. We talked about how the church had been relating to gay people and how it ought to, in my view.
"I gave them some words that were hard to hear and digest," he said. "Some were under the delusion that they didn't have any gay members."
After months of consideration, the committee concluded that the church should take no action on the bylaws. Reed's meeting with the committee was the last time he set foot in Broadway.
He considers the SBC's decision to kick Broadway out "a good thing," he said. "Because it allows the church to be about the business of Christ, without constraints from the convention."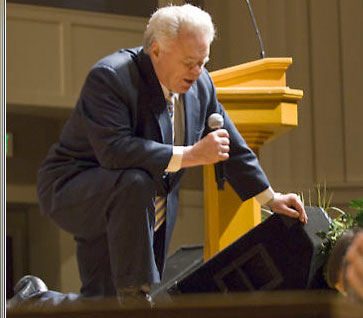 Scott Green said that there was a time that he thought about ending his 20-year association with Broadway because of the tension.
"During the struggle, there was certainly a time when my partner and I considered leaving Broadway," he said in an e-mail. "It was a dialogue that lasted for several months. A heavy spirit fell over the church, and many were discouraged; we were no exception. We questioned whether or not we wanted to be part of a church that did not view us and fully accept us as God's children."
But as time went on, he said, "It became clear that we could either focus on what was or what could be … . We were not going to be part of the past and the problem. We were going to be part of the solution and the future."
Broadway is now associated with the Cooperative Baptist Fellowship, an organization considered more liberal than the SBC. Beasley, the current senior pastor, said the congregation is ready to put the past couple of years behind them.
"There's not a lot of residual tension within the church now," he said. "There were people who did leave, but those who are still here are pretty unified and positive and ready to move forward."
Green said that the members of his church "have spent hours, days, weeks, and months in thoughtful prayer, seeking God's guidance for the church through this matter. We believe that God has heard and honored our prayers. Today, while there are still challenges, we have a new spirit and resolve.  Folks have sought and found ways to come together, to look for things that bind us, not divide us."