OPENING: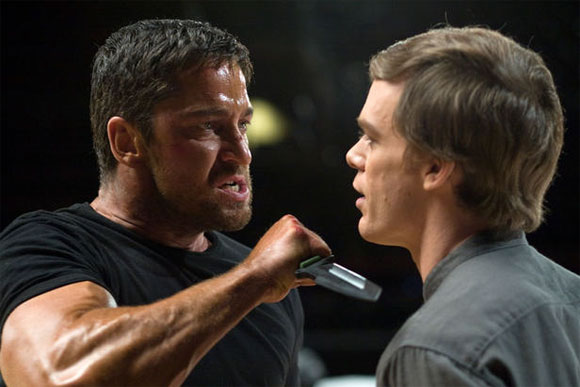 Gamer (R) The latest action film by Neveldine + Taylor (Crank) stars Gerard Butler as a man who's forced to kill other people as a manipulated player in a giant multiplayer video game. Also with Amber Valletta, Michael C. Hall, Alison Lohman, Terry Crews, Aaron Yoo, Ludacris, and Kyra Sedgwick. (Opens Friday)


It Might Get Loud (PG) Documentary by Davis Guggenheim (An Inconvenient Truth) about a musical summit between Jack White, The Edge, and Jimmy Page. (Opens Friday in Dallas)
My One and Only (PG-13) Based on the early life of George Hamilton, this film set in the 1950s stars Renée Zellweger as a cheated-on wife who takes her two teenage sons (Logan Lerman and Mark Rendall) on a cross-country trip to search for a new husband. Also with Kevin Bacon, Chris Noth, Eric McCormack, Steven Weber, David Koechner, Troy Garity, Phoebe Strole, Robin Weigert, and Nick Stahl. (Opens Friday in Dallas)
Old Partner (NR) Lee Chung-ryeol's documentary about an elderly Korean farmer and his bond with the ox that has plowed his field for 30 years. (Opens Friday at AMC Grapevine Mills)
Séraphine (NR) Yolande Moreau stars in this biographical drama about a middle-aged French cleaning lady and the German art dealer (Ulrich Tukur) who discovered her talent for painting. Also with Anne Bennent, Geneviève Mnich, Nico Rogner, Adélaïde Leroux, and Serge Larivière. (Opens Friday in Dallas)
Soul Power (PG-13) Jeffrey Levy-Hinte's documentary about Zaire 74, the R&B/soul concert held in Africa. Starring James Brown, Celia Cruz, Miriam Makeba, The Spinners, Bill Withers, and B.B. King. (Opens Friday in Dallas)
24 City (NR) This docudrama by Jia Zhangke (The World) is about a Chinese airplane parts factory that's being repurposed for condos. Starring Joan Chen, Lu Liping, Zhao Tao, and Chen Jianbin. (Opens Friday in Dallas)
World's Greatest Dad (R) Bobcat Goldthwait's dark satire stars Robin Williams as a man who inadvertently becomes famous while trying to cover up the circumstances of his son's death by autoerotic asphyxiation. Also with Daryl Sabara, Alexie Gilmore, Evan Martin, and Henry Simmons. (Opens Friday in Dallas)
NOW PLAYING:
Bandslam (PG) Much better than it should have been, this teen comedy stars newcomer Gaelan Connell as Will, a high-school music nerd who moves to a new school and becomes manager of a rock band. The headliners here are Aly Michalka (from Aly & AJ) as the band's lead singer and Vanessa Hudgens, cast way against type as the cool loser chick who becomes Will's girlfriend. The two girls don't become enemies, which is typical of the way director/co-writer Todd Graff (Camp) plays havoc with the conventions of both high-school movies and rock 'n' roll movies. The film's pitched at the post-High School Musical crowd that's ready for more sophisticated fare, and it's occasionally too eager to prove its indie-rock credentials. Even so, its intelligence and humor make it rewarding viewing for grown-ups as well as teens. Watch for a prominent cameo by Fort Worth band The Burning Hotels. Also with Lisa Kudrow, Ryan Donowho, Scott Porter, Charlie Saxton, Tim Jo, and David Bowie.
District 9 (R) Maybe not the best sci-fi movie of the year, but certainly the most remarkable. This South African film is built on the premise of a million space aliens being stranded and eventually ghettoized in the city of Johannesburg. Sharlto Copley stars as a bureaucrat who becomes a fugitive after an infection starts to change his body into an alien's. Director/co-writer Neill Blomkamp smoothly integrates human actors with computer-generated aliens and faux documentary techniques with straightforward narrative to tell this story, and the imaginative action sequences are Hollywood-quality. The apartheid allegory isn't terribly subtle, but the movie is still an impressive piece of work with a distinctive South African flavor. Also with Jason Cope, Vanessa Haywood, Mandla Gaduka, Louis Minnaar, Nathalie Boltt, Eugene Khumbanyiwa, and Kenneth Nkosi.
The Final Destination (R) Death grinds up cardboard characters in this boring and insulting fourquel. Nick O'Bannon's Main Character (because, let's face it, their names are inconsequential) foresees his and his friends' deaths in a racecar accident. After avoiding it, they are reclaimed one by one by the Grim Reaper. Calling the characters one-dimensional is an insult to physics, the kills are predictable, and the 3D will only help you notice the bad CGI. Gorehounds may appreciate the violence, but this movie blows so hard I feel like I owe it 50 bucks. Also with Shantel VanSanten and Mykelti Williamson. — Cole Williams
(500) Days of Summer (PG-13) The smartest, most original romantic comedy in the last five years stars Joseph Gordon-Levitt and Zooey Deschanel as co-workers who spend 16 months doing a dance in which he tries to pair them up and she keeps pulling away. The spiky Gordon-Levitt and the deadpan Deschanel are a terrific match, as she brings out a lightness and playfulness that we haven't seen from him in adult roles. First-time movie director Marc Webb injects the movie with all sorts of nonrealistic storytelling devices that bring out the angst and tension in the relationship and also make for jokes that frequently score – the dance number that erupts during the guy's triumphant walk to work is the most deliriously joyful thing in any movie this year. The comedy's distancing techniques help it peer deeply into the human heart. Also with Geoffrey Arend, Chloe Moretz, Matthew Gray Gubler, Clark Gregg, Patricia Belcher, Rachel Boston, and Minka Kelly.
G.I. Joe: The Rise of Cobra (PG-13) Not abysmal, just sloppy, stupid, and hyper like too many other Hollywood movies of this type. Channing Tatum and Marlon Wayans portray two U.S. soldiers who encounter and look to join a secret multinational anti-terrorism organization. There's too many plotlines and too much action going on in too many places for us to even get a chance to taste this thing, the wisecracks are limp, and the script's attempts to engage us in the characters' emotions go all wrong. The movie needed to be longer to at least gain some breathing space. If you're looking for whiz-bang action, check out District 9 instead. Also with Sienna Miller, Rachel Nichols, Dennis Quaid, Joseph Gordon-Levitt, Christopher Eccleston, Ray Park, Saïd Taghmaoui, Arnold Vosloo, Lee Byung-hun, Adewale Akinnuoye-Agbaje, Jonathan Pryce, and an uncredited Brendan Fraser.
The Goods: Live Hard, Sell Hard (R) Jeremy Piven stars in this effective low-rent comedy as the leader of a sales team (Ving Rhames, Kathryn Hahn, and David Koechner) who are hired by a failing auto dealership owner (James Brolin) to boost sales over the July 4th weekend. The actors ad-lib at will and at profane length here, and they hit home often enough to keep the laughs coming, though not quite enough to paper over what sad cases their characters are. The disjoint between the comedy and the dead-end environment doesn't work, but if all Hollywood comedies had this level of talent and gave them the freedom to improvise, our multiplexes would be better places. Also with Ed Helms, Jordana Spiro, Craig Robinson, Ken Jeong, Tony Hale, Rob Riggle, Charles Napier, Noureen DeWulf, Wendie Malick, Alan Thicke, and an uncredited Will Ferrell.
Haeundae (NR) For Korean audiences and Americans who think Hollywood disaster flicks are too subtly characterized, this film stars Seol Yeong-ju as a drunken ex-fisherman and Ha Ji-won as his girlfriend who are caught up in large-scale death when a tsunami wipes out the city of Busan. (The title is the name of a prosperous beachfront neighborhood in the city.) The movie establishes a tone of broad slapstick in the first half that jars with the rest of the film, though there is one nice montage of people enjoying a fireworks display. The tsunami takes up the last third of the film, and it is impressively rendered with the help of some Hollywood-provided CGI. The fine actors here can't redeem the maudlin stories, though. This is a technical achievement more than anything else. Also with Park Joong-hoon, Eom Jeong-hwa, Lee Min-gi, Kang Ye-won, and Song Jae-ho.
Halloween II (R) Rob Zombie's follow-up to his 2007 reboot of the series is overlong, self-indulgent, derivative, and, worst of all, dull. Scout Taylor-Compton plays Laurie Strode, who finds Michael Myers (Tyler Mane) back from the dead on the anniversary of his attacks. There's a few touches of actual beauty when Michael sees the spirit of his dead mother (Sheri Moon Zombie) as an angel on a white horse. The rest of it is so much rote slasher-flick business, a disappointing effort from a talented filmmaker. Also with Malcolm McDowell, Brad Dourif, Danielle Harris, Daniel Roebuck, Mary Birdsong, Brea Grant, Howard Hesseman, and Margot Kidder.
The Hurt Locker (R) Kathryn Bigelow's austere, nerve-jangling thriller is set in the thick of the Iraq war, but it's not about Iraq or even war in general so much as it is a character study of a U.S. Army bomb technician (Jeremy Renner) who likes the thrill of his job a bit too much. The occasional ridiculousness of Bigelow's earlier thrillers is absent from this muscular, stripped-down film, and the director gives individual character to each of the film's many action sequences. Renner fully inhabits his fundamentally unknowable character, evoking his mix of unflappable bravado and detail-orientation that makes him good at what he does. You walk out not knowing what makes the guy tick but feeling like you've gotten as much of an answer as you'll ever get. Also with Anthony Mackie, Brian Geraghty, David Morse, Christian Camargo, Guy Pearce, Ralph Fiennes, and Evangeline Lilly.
Inglourious Basterds (R) Quentin Tarantino's World War II flick is about a German movie star (Diane Kruger) who teams with an American lieutenant (Brad Pitt) and his band of corpse-scalping Jewish soldiers to kill Hitler at a movie premiere in Paris. Pitt chews on his accent with tremendous gusto, but the show is completely stolen by Christoph Waltz as a multilingual SS colonel who can break people down without raising his voice or dropping his genial, courteous demeanor. The presence of this great Tarantino villain redeems the unconvincing romantic subplot, and the movie boasts some stunning set pieces in an underground bar and in the theater at the end. Irresponsible and overlong, the movie nevertheless succeeds in scraping the thick coating of solemnity off the genre and making World War II movies fun again. Also with Mélanie Laurent, Eli Roth, Michael Fassbender, Til Schweiger, Daniel Brühl, Gedeon Burkhard, Jacky Ido, B.J. Novak, August Diehl, Martin Wuttke, Julie Dreyfus, and Mike Myers.
Julie & Julia (PG-13) Nora Ephron is the perfect choice to film this story that chronicles both Julia Child (Meryl Streep) as she lives in Paris after World War II and Julie Powell (Amy Adams) as she works through a personal crisis by cooking and blogging her way through Child's Mastering the Art of French Cooking. Adams is low-key and grounded, and looks fetching in a pixie haircut and baggy wardrobe. It's Streep, though, who gives the film its comic energy with her sweeping grande dame turn. The food is presented in glossy fashion, but the movie's emphasis on the process of food preparation helps it convey the satisfaction of manual labor that makes cooking such a rewarding experience. Also with Stanley Tucci, Chris Messina, Linda Emond, Mary Lynn Rajskub, Jane Lynch, Deborah Rush, and Frances Sternhagen.
A Perfect Getaway (R) Clever, clever. Steve Zahn and Milla Jovovich play a couple hiking in the far reaches of Hawaii on their honeymoon when they're stalked by two serial killers who prey on newlyweds. They spend much of the movie trying to figure out whether the killers are the couple they've met on the trail (Timothy Olyphant and Kiele Sanchez) or the hitchhikers whom they refused to pick up (Chris Hemsworth and Marley Shelton), but writer-director David Twohy (Pitch Black) packs an ingenious twist into this character-driven thriller, and though it requires a fair bit of backtracking to explain, it does work. This unheralded B picture is good entertainment value for money. Also with Anthony Ruivivar.
Ponyo (G) Take a dip in the surreal beauty and ineffable weirdness of Hayao Miyazaki's universe, with this eye-popping animated film about a magical goldfish (voiced by Noah Cyrus) who washes up near a Japanese coastal town and wants to become human after falling in love with a five-year-old boy (voiced by Frankie Jonas). As always with Miyazaki's films, the drawing and Joe Hisaishi's musical score are gorgeous and colorful, and the story has environmental concerns sprinkled throughout. Animated movies for girls tend to be Disneyfied stories about princesses. This is a refreshing alternative. Listen for a tremendous performance by Tina Fey as the boy's frazzled mother. Additional voices by Liam Neeson, Cloris Leachman, Lily Tomlin, Betty White, Matt Damon, and Cate Blanchett.
Shorts (PG) On a scale of Robert Rodriguez kids' movies, this isn't as good as Spy Kids, but it's definitely better than The Adventures of Shark Boy and Lava Girl. Jimmy Bennett stars as a 12-year-old kid who narrates a series of short films having to do with a space rock that grants people's wishes. The movie has its share of dead spots, and its cartoonish tone can wear on you when the jokes aren't firing. However, Rodriguez comes up with all sorts of ingenious ways for the rock's wish-granting to go awry, and the jokes come stuffed in the corners of the frame (nice running gag with two siblings engaged in a movie-long staring contest). It's enough to make this movie enjoyable in fits and starts. Also with Jake Short, Trevor Gagnon, Devon Gearhart, Jolie Vanier, Kat Dennings, William H. Macy, Jon Cryer, James Spader, and Leslie Mann.
Taking Woodstock (R) Ang Lee becomes the latest levelheaded artist to go all weak-kneed with nostalgia at the memory of the 1969 music festival. His comedy stars Demetri Martin as Elliot Tiber, the real-life gay Jewish man who persuaded the Woodstock promoters to hold their event in his town in upstate New York. Lee comes up with some impressive tracking shots to communicate the size of the festival, and there are tasty supporting performances everywhere (Liev Schreiber as a drag queen, Jonathan Groff as the head of the promoters, and Imelda Staunton as Elliot's greedy mother). Yet the whole experience is underwhelming and hazy, with Elliot's story frequently getting lost in the atmosphere. Much as it tries to find its grooviness, the movie remains as square as Elliot himself. Also with Emile Hirsch, Eugene Levy, Henry Goodman, Kelli Garner, Jeffrey Dean Morgan, Mamie Gummer, Dan Fogler, Skylar Astin, and Paul Dano.
The Time Traveler's Wife (PG-13) Not as good as The Lake House. This sleep-inducing weeper stars Rachel McAdams as a woman whose husband (Eric Bana) appears to her at odd times throughout her life because he travels through time without meaning to. Adapted from Audrey Niffenegger's novel, the film fails to make anything meaningful out of the time-travel conceit, and director Robert Schwentke adopts a wearisome tone that never varies from its tasteful placidity. Unless you can time travel, you'll never get the 105 minutes of your life back. Also with Ron Livingston, Arliss Howard, Jane McLean, Brooklyn Proulx, Hailey McCann, and Stephen Tobolowsky.