In the realm of Fort Worth's Mexican cuisine, you've got to figure that if your business didn't start on the North Side, it ought to get there as soon as it can.


Case in point: Chalio Birrieria, with a new location in a near-Stockyards space formerly occupied by Chuy's (not the Dallas-Austin chain but an indie establishment). Chalio's original incarnation, by La Gran Plaza Mall on Seminary Drive, has been in business for over a decade.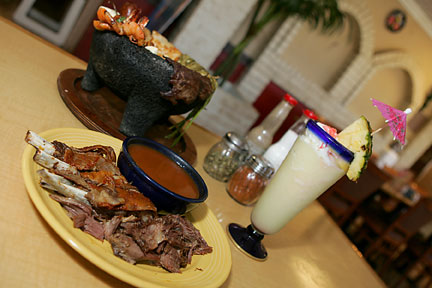 The new Chalio has a certain advantage: an endless parade of cars rolling up and down North Main Street between NE 28th Street and Northside Drive. But in an area replete with Tex-Mex and Mex-Mex eats, what sets Chalio apart from other favorite places?
It isn't the décor. The defunct Chuy's was nothing special to look at, and unfortunately Chalio carries on the tradition. Except for the pretty brick archways, the interior is mostly blah, with furniture that has to be from the mid-1970s and brown paint all around. By the bar area is a jukebox that, according to an employee, "sort of doesn't work." (Read: It's free). The selection includes Tejano, Nashville country, the Beatles, and, of course, '80s metal.
The food, despite the glossy multi-page menu that is all in English, leans more toward Mex than Tex. There are two special recipes on the menu, and they are indeed what sets Chalio apart. One is molcajete, a bubbling — seriously, bubbling — concoction of assorted meats and seafood, broth, cheese, and cactus pads, served in an actual molcajete (an old-fashioned black grinding bowl). The broth was full of peppers and salty stock. It tasted almost like an Asian fish sauce: salty but with hints of meat and garlic. The broth had a sneaky heat, which will likely have you muttering, "Damn, that's good" right before you scream, "Damn, that's hot!" After you take a drink, you'll go back for more of that saline-spicy goodness because it's tasty, bordering on addictive. Inexplicably, a diner could add more spice for a small additional charge.
The other secret-recipe dish: birria. Loosely translated, it's a stew. All you have to do to get started is choose your meat. We stayed on the safe side and selected the gringo-friendly shredded beef (as opposed to the buche or neck meat). The beef arrived with a bowl of mystery sauce and was rather plain looking. But dip the meat in that sauce, and — wow — you're eating a piece of art. The sauce had a dried-pepper base with just enough but not too much kick. Calling the entire offering a Mexican beef stew just doesn't do it justice. It's the kind of meal you'd crave on a wintry day, when the slightly spicy, smoldering broth would warm all your cold places. The dish came with giant, fluffy, handmade white-corn tortillas. Chalio's kitchen is up front, and you can watch a woman making the tortillas with a wooden tortilla press and a lot of elbow grease.
The refried beans were a satisfying blend of silky and chunky. Skip the unexceptional goldenrod-colored rice in favor of a double helping of the delicious beans.
The maple-colored flan was denser than I'm used to, with an off-putting, almost lumpy texture. However, Chalio's flan comes doused in chocolate sauce and whipped cream. Both proved to be surprisingly tasty.
The meal had some misses. The queso fundido was basically a dish of gloppy, melted, mild white cheese. Of course, "queso fundido" translates loosely as "gloppy, melted, mild white cheese," so I shouldn't have been as disappointed as I was. The breaded camarones had achieved a level of sogginess that can come only from frying the shrimp in grease that was not quite hot enough. At $11.95, the dish should have tasted better.
Chalio Birrieria Mexican Restaurant
2020 N Main, FW. 817-740-0465.
8am-9pm Mon-Thu, 7am-11pm Fri-Sat, 7am-10pm Sun.
MasterCard, Visa accepted.