What were you doing 25 years ago? Most people who listen to NOFX today were probably A.) sitting in the corner in preschool, B.) giving their moms stretchmarks, or C.) showing up as a + on their dad's girlfriend's pregnancy test. NOFX, however, was banging out shitty blasts of snot-nosed hardcore, influenced by venerable though little-known bands such as RKL and The Adolescents. In the '90s, about a decade after they formed, the Los Angeles quartet put out White Trash, Two Heebs and a Bean, a skatepunk classic and a less ragged, more focused collection of songs than anything previously attached to the NOFX brand.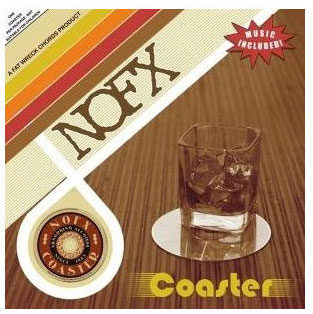 After White Trash, the band of slap-happy suburban fuckups could afford to open up things like coffee shops and start things like record labels. In the 16 years since that album, frontman Fat Mike and company have made their livings by marketing themselves as pill-popping, rail-huffing alkies, more interested in the after-party than the show. With huge houses and international tours that don't necessarily have to end up in the black, NOFX is probably the most successful crew of class clowns in the history of punk. To celebrate their success, they put out Coaster, paradoxically both their least and most interesting album since 1996's Heavy Petting Zoo.
First: why Coaster stinks. It's not because it follows the M.O. that NOFX has used since '83: political song, joke song, reggae song, song about drugs, song about being rich. After all, criticizing NOFX for making the same album over and over again is like yelling at a baby because it can't read the safety warnings on its crib. The problem with Coaster is that it just sounds phoned in. Fat Mike crams tons of lyrics into every song, but half the time there are more words than he can audibly spit out. El Hefe, the guitarist on board since 1992's Longest Line, sounds uninspired all over but especially on "Eddie, Bruce and Paul," a paean to the pre-Dickinson days of Iron Maiden. On the one track where he should be unleashing his wildest, silliest solos ever, it's as if he planned something really cool and then forgot what it was.
On the other hand, what gives Coaster more impact than its forerunners is that in everything from the wistful tone of the lyrics to the nostalgic '80s-era iconography in the CD liner (Atari joysticks, bulky car phones), it just seems sad. On "My Orphan Year," a song dealing with the deaths of his parents in 2006, Mike even goes so far to say, "For once I am sincere." And even amid the lounge-y gin-and-tonic jazz of "I Am an Alcoholic," you get the feeling that Fat Mike might be tired of the shtick, even when he's living it. Is the joke over for NOFX? Probably not, but it's nice to see a middle-aged punk rocker reflect on how it feels to be a middle-aged punk rocker.