Christmas is for children, even the grownup ones. A one-night program of live music, short theater pieces, and comic sketches, SceneShop's sixth annual revue A Fifth of Christmas promises to be irreverent, rude, and as tacky as the nauseating holiday vest worn by actor Jackie Pickard throughout most of the show. This sartorial horror also features teddy bears sent rolling across the stage hugging ribboned gift boxes to their bellies.


"If you look closely, the material [for the bears] looks like furniture upholstery," said SceneShop co-founder and writer-director Steven McGaw with a shudder. "We found it at Thrift Town and couldn't resist."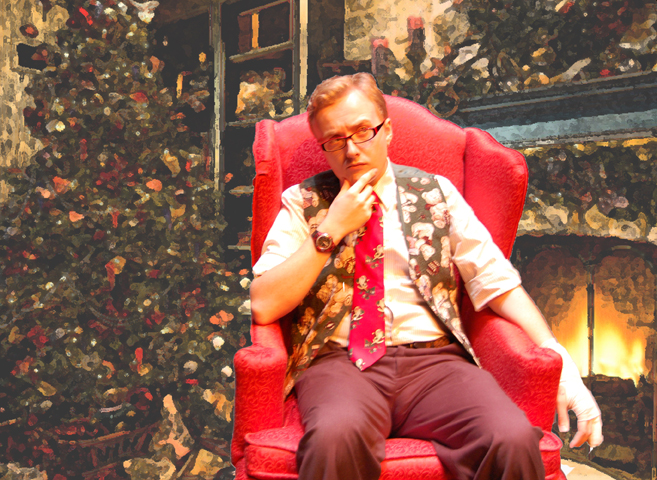 Pickard unwittingly became the star of last year's A Fifth of Christmas for his brief, outlandish segments called "Holiday Musings with Jackie Pickard." Modeled loosely after Saturday Night Live's absurdistly funny "Deep Thoughts with Jack Handey," Pickard's first-person ruminations recount fictional events from a deeply dysfunctional family enduring the season. One anecdote climaxes with an exchange of gunfire, another with a female stalker who offers up an engagement ring — with her severed finger attached. All are delivered by the pale, bespectacled, soft-spoken Pickard.
This year's edition also includes live music by The Lake Rats and choral contributions from The Fifth Avenue Hi-Notes. Two original theater works will be debuted: Kyle Irion's still-untitled comic piece about an atheist who finds himself narrating from memory (and mostly improvising) the baby Jesus story to a Sunday school class, and McGaw's decidedly serious "Christmas for Grownups," about a father and son trying to continue holiday traditions during the first Christmas after the wife and mother has died. The latter is one somber note in an evening of smart-ass adult merriment.
"So many holiday shows focus on children," said McGaw. "We wanted to create one night out especially for the grownups." — Jimmy Fowler
A Mile of Film
Husband and wife Carl and Betsy Crum, filmmakers and co-owners of Fort Worth's Brazos Film & Video production company, have won numerous awards for their short films produced for national parks and museums. But the work of documentarian heroes like Errol Morris and the Maysles brothers have long inspired the Crums to move toward more personal, socially aware films. Last year they launched a project that they're calling One Square Mile: a series of short documentaries dedicated to notable neighborhoods across America. (See "Local Films Shine," Nov. 4, 2009.)
"We wanted a replicable idea, one that could apply to places as different as Fort Worth, New York City, and Smith Center, Kansas," Carl said. "We originally thought of highlighting U.S. congressional districts, but that didn't seem very appealing. Finally, focusing on one square mile of a community seemed the best template for rural and urban areas alike."
The first in the series is One Square Mile: Fort Worth, and it focuses on the city's historic African-American neighborhood of Como. The Crums' 39-minute movie, completed in three nonconsecutive weeks of filming, is relaxed, anecdotal, and surprisingly intimate. The documentarians include important history about the impact of segregation here in the schools and throughout the city via an actor's voice-over, but for the most part, they let the residents tell quiet tales about their own lives. We watch a barbershop owner struggling to maintain a second business, a convenience store, in the face of neighborhood indifference; a young woman who returns to teach in the same grade school where her parents were students; a police patrolman and a Black Muslim street preacher, both working to earn the trust of Como residents for different reasons; and a single foster mother determined to steer her young charges in the right direction.
One creative choice by the Crums lends One Square Mile: Fort Worth a just-between-friends tone. "We decided not to identify our subjects [with subtitles that announce] their names and occupations," Carl said. "You hear their names in conversation, and you see what their jobs are. That was a reaction against all the talking heads we've shot in other projects. We didn't want this to look like a reality show."
Apparently other people did. The Crums screened the movie for a variety of focus groups, including African-American and Anglo audiences. Some of the white viewers suggested "grittier" footage — parents whipping kids, police invading homes — a la the TV show Cops. On the other hand, some black viewers complained that the film wasn't positive enough. They particularly didn't like the footage of the homeless drug addict or that of the young high school student who honors the memory of her late brother, a victim of gang violence, by wearing his clothes.
Reactions to One Square Mile: Fort Worth have been mostly enthusiastic, though, including those of the subjects themselves, who watched a screening at the Como Community Center. Pursuing a larger vision, the Crums have already shot 10 minutes of One Square Mile: Smith Center and are preparing to do the same next year in Manhattan. They hope to secure further grants for their proposed 10-part series and get their project picked up by a reputable venue like PBS.
Of the Como shoot, Betsy said, "Of course, some of the best stuff happened when the cameras were off. In that sense, I think we experienced a more complete version of Como than the movie even shows. But I still think we captured a pretty accurate view from the residents themselves." — J.F.




A Fifth of Christmas
8pm Sat at Arts Fifth Avenue, 1628 5th Av, FW. $10. 817-923-9500.
One Square Mile: Fort Worth
7pm Thu at Rose Marine Theatre, 1440 N Main St, FW. Free. 817-927-7808.