America's economy may still be in recovery, but our film industry is in good health financially and (more importantly) artistically. That seems to be the major conclusion that I've drawn from the more than 200 movies that I saw in 2009. Oh, I went out of my way to see foreign-language films, and in doing so I found more good movies from Chile and Turkey than I usually do. French-language cinema – which rebounded in a big way in 2008 after some fallow years – also continued its winning streak. Yet  I'm struck by how many of the entries on my top 10 list are from right here in the U.S.A. Maybe that will provide some encouragement for viewers who sat through Paul Blart: Mall Cop and figured American moviemaking was beyond saving.


In most years this list includes asterisks to denote films that haven't yet opened in the Dallas-Fort Worth area. This year, I don't need the asterisk, because none of those late arrivals were good enough to make the cut, which would seem to bode ill for the January reviews.
My list of favorites does include some films that never saw the inside of a movie theater in Dallas, let alone Fort Worth. Those are either now available on DVD (like No. 8 on the list, for example) or will be soon (like Bliss in the honorable mention section, the first Turkish film to address the subject of "honor killings"). They're not only well worth checking out, they're also worth an e-mail message to their distributors asking why we in North Texas weren't given a chance to see these gems on the big screen.
My subsidiary lists – including the best acting performances, horror films, documentaries, and a new feature on the year's best, movie dialogue, among others – will be available on Blotch in the days ahead, so log on.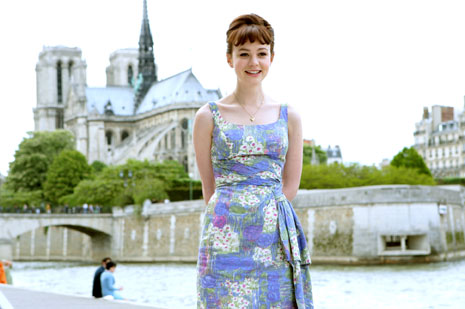 1) An Education. This isn't exactly a cool pick, but then this is my list, and when have I ever been about being cool? Carey Mulligan is revelatory as an English schoolgirl who falls for an older guy and gets her heart stomped on. She's so radiant that she almost overshadows the excellent supporting performances by Peter Sarsgaard, Alfred Molina, Rosamund Pike, and Olivia Williams. Factor in mold-breaking turns by Lone Scherfig (a hyperrealist director doing a lush Hollywood-style melodrama) and Nick Hornby (a male-oriented writer journeying successfully into female territory), and you've got a movie worthy of this spot.
2) (500) Days of Summer. "This is not a love story," says the narrator. This is not a musical either, except for a few glorious minutes when Joseph Gordon-Levitt dances jubilantly to Hall & Oates. Yet it still feels like a musical, so light and buoyant is the direction by first-timer Marc Webb. (The soundtrack full of whimsical indie songs helps give this impression, too.) The genuine pain and angst beneath the general bubbliness, plus the unforced chemistry between Gordon-Levitt and Zooey Deschanel, make this a romantic comedy for the ages.
3) Zombieland. I always make a point of including at least one movie for no reason except that it made me laugh and laugh. This year, that's Ruben Fleischer's horror/comedy about four people surviving in a world where everybody else is either dead, undead, or Bill Murray. (It's also a world that's running out of Twinkies.) You can have 9 and The Road; I much prefer the post-apocalyptic movie that has Woody Harrelson shooting zombies while dangling from a moving roller coaster. That kind of awesomeness deserves to be recognized.
4) Where the Wild Things Are. Spike Jonze's finest and most affecting achievement is this adaptation of Maurice Sendak's beloved children's book. The film's messy structure feels true to the unruliness of a kid's imagination, as do the quicksilver mood changes and easily hurt feelings of the wild beasts who populate the enchanted island. Faced by Hollywood pressure to make the movie more like Shrek, Jonze crafted something more delicate, beautiful, and truthful. Let the wild rumpus start!
5) Up in the Air. No surprise here that this movie gets a nod. Jason Reitman's sophisticated comedy captures something essential about life in this decade. George Clooney's main character keeps himself in a comfortable cocoon in the sky, with technology and his love of travel allowing him to make constant but only brief connections to others. That's where the movie gets its philosophical heft – the rest of us can just savor the great direction, writing, and acting in this delightful, wisecracking romp with a stinger in its tail.
6) Ponyo. In a tremendous year for animated films, I proudly go with an unfashionable pick for the best one: Hayao Miyazaki's luxurious, totally bizarre story of an enchanted goldfish who gradually turns herself into a girl when she falls in love with a boy in a Japanese coastal town. (That last sentence only begins to summarize the plot of this creation, by the way.) The hand-drawn animation glistens with beauty and turns awe-inspiring during a flood. The fecundity of Miyazaki's imagination is almost as vibrant and alive as the ocean itself.
7) The Hurt Locker. Yes, yes, everybody else has this movie on their Top 10 list, and some of my fellow film critics probably have it for the wrong reason, because it addresses an important Issue. That's fine, though. This is simply a great thriller that captures the terrifying randomness of war, and it's also an exquisite character study of a man who feels at peace only when he's fiddling with a bomb that might kill him. There are bad reasons to praise a movie but no bad reasons to see one that's this good.
8) Il Divo. Paolo Sorrentino takes the real-life shenanigans of his country's former prime minister, Giulio Andreotti, and turns them into a lurid, feverish, flamboyant Italian opera soaked in greed, corruption, venality, and murder. Toni Servillo is unforgettable as Andreotti, presiding over this whirling carnival of death as a joyless, migraine-ridden vampiric overlord. (No wonder the real Andreotti walked out on a screening.) Italian society may be in a malaise, but the country's filmmakers are using that to create some powerful movies.
9) Adventureland. If you had told me last year that the same actor would star in two of the 10 best movies of 2009, I wouldn't have guessed it would be Jesse Eisenberg. Yet he successfully carried both Zombieland and this wistful teen romance about a budding intellectual who finds love while working at a crappy amusement park. Filmmaker Greg Mottola carefully shades in some all-too-believable characters in this dead-end location, but it's the performances of Eisenberg and Kristen Stewart (check the climactic argument on the street) that are worth losing your head over.
10) The Maid. The country of Chile is suddenly turning out interesting movies like this darkly comic portrait of a physically and mentally fragile housemaid whose territorial impulses kick into gear when her employers try to hire some extra help. First-time filmmaker Sebastián Silva has a keen grasp of the ways domestic workers become psychologically dependent on the families they serve (and vice versa), and Catalina Saavedra is funny, unnerving, and finally moving as the maid who discovers a long-buried sense of self.
Honorable mention: Agnès Varda's humble, inventive memoir The Beaches of Agnès; Henry Selick's gorgeous, otherworldly Coraline; Anna Boden and Ryan Fleck's observant, sympathetic minor-league baseball saga Sugar; John Lasseter's exhilarating balloon ride Up; Ramin Bahrani's encounter between an upbeat taxi driver and his suicidal passenger Goodbye Solo; Lucrecia Martel's subtle Argentinian tale of amnesia, race, and vehicular manslaughter The Headless Woman; Tom Hooper's whip-smart real-life story of soccer coaching hubris The Damned United; Wes Anderson's enchanting, witty Fantastic Mr. Fox; Abdullah Oguz' taboo-confronting melodrama/thriller Bliss; Lynn Shelton's funny look at male friendship and gay porn Humpday; Havana Marking's extraordinary Middle Eastern music documentary Afghan Star; Olivier Assayas' French generational saga Summer Hours; and, finally, Quentin Tarantino's blazing historical fantasia Inglourious Basterds.