At this point, Pedro Almodóvar truly seems incapable of making a bad movie. I can't think of any other great filmmaker working today about whom I can say that. Who would have figured on that in the early 1990s, when Almodóvar was a Spanish wild man whose desire to shock people frequently outran his talent? His current film Broken Embraces doesn't rank with his best work, but it's a nice hunk of soap opera brimming with the craftsmanship and grace that have become hallmarks of this filmmaker's mature style.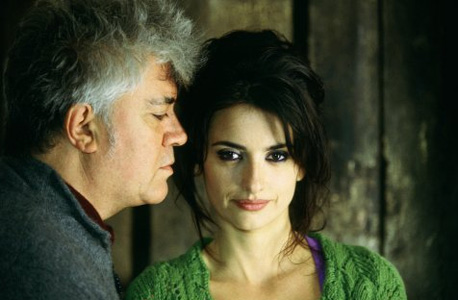 The film begins in Madrid in the present day with a blind writer (Lluís Homar) whose given name is Mateo Blanco but who prefers to be addressed as Harry Caine, the pseudonym under which he writes movie scripts. One day a wannabe filmmaker calling himself Ray X (Rubén Ochandiano) shows up at his office and pitches a highly autobiographical movie idea. Absent from the meeting is Harry's agent Judit (Blanca Portillo). She freaks out in front of her twentysomething son Diego (Tamar Novas) when she hears about it but won't explain why. Weary of his mother hiding things from him, Diego – who's also Harry's personal assistant and an aspiring screenwriter – asks Harry about it. After that, the film flashes back repeatedly to 1994, as Harry tells Diego the story of his former life as Mateo, when he had his eyesight and directed successful movies under his own name until he fell disastrously for Lena Rivero (Penélope Cruz), the lead actress on a comedy he was filming called Girls and Suitcases. Judit and Ray X both figure in the love triangle of Harry, Lena, and the movie's producer (José Luis Gómez), an abusive old financier whose possessiveness destroyed them all.
Like Almodóvar's other films, this is spectacularly photographed. Cinematographer Rodrigo Prieto (the fantastically gifted Mexican who did Frida and Brokeback Mountain but has never worked with Almodóvar before) gives us a breathtaking sequence late in the film when Mateo and Lena flee to a vacation spot in the Canary Islands. The story is skillfully crafted, though it's somewhat regrettable that Almodóvar resorts to the hoary device of critical information being captured by a creepy kid who videotapes everything he sees.
This might be a smooth piece of hack work were it not for the impassioned performances by the entire cast. The 52-year-old Homar (who played a pedophile priest in Almodóvar's Bad Education) holds the center well here, and Gómez creates a villain seething with insecurities and neediness. Cruz tends to shine brightest under Almodóvar's direction, and here she's not only moving as the doomed, beaten mistress but also gets to show off her talent for farce in the long excerpt from Girls and Suitcases at the end of this movie. (By the way, the resemblance that Girls and Suitcases bears to Almodóvar's own Women on the Verge of a Nervous Breakdown is surely no accident.)
I'd be remiss without mentioning Broken Embraces' biggest laugh, a piquant comic interlude when Harry and Diego start brainstorming an idea for a vampire movie. Diego suggests that the vampires be "like the Chinese in Spanish society — they're everywhere, but they don't draw attention to themselves." I traveled in Spain recently. He's so right.