Many people probably don't know that The Aardvark — the live music venue and bar near TCU — opened a kitchen and has been serving lunch, dinner, and late-night comfort snacks for more than a year now. Judging by a recent afternoon visit, the 'Vark's quality grub is several steps above the beer-sponge/hangover relief that you might expect from what is predominantly a live music club.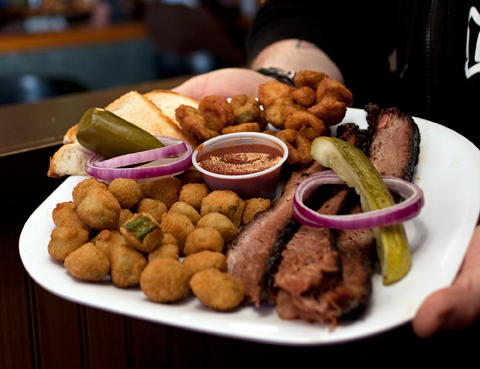 The menu boasts almost a dozen deep-fried items, including hand-cut potato chips, beer-battered onion rings, mini-corn dogs, and mozzarella sticks. The Jam Session combo gets you three for $12, so my guest and I ordered a generous, artery-clogging basket of fried green beans, sweet corn nuggets, and fried pickles. All were better than what you'd get at any one of those "home-style" chain restaurants. The green beans were fresh and actually retained their snap and green-bean yumminess despite the crunchy coating. Ditto the pickles, which were hand-battered especially thickly so the dilled slices didn't slide out of the coating. The corn nuggets — puffy, quarter-sized battered pieces that contained steaming deposits of sweet creamed corn — were delish. Best of all: None of the deep-fried items we tried was excessively greasy.
Two kinds of burgers were available at the time of our visit: the Aardvark and the Chili. We went with the potentially less messy Aardvark, and it proved to be a solid choice. The chef had cooked a third-pound all-beef patty medium rare, as ordered, and topped it with a slice of provolone (the kitchen was out of American cheese). The mellow white cheese fused with the juicy patty to great effect. Fresh iceberg lettuce leaves, bright red roma tomato slices, and thin, tangy hoops of white onion accompanied the beef inside a lightly grilled sesame-seed bun. Though simple, the Aardvark Burger was fresher and tastier than any mashed-up corporate burger that you might grab on the run. A generous mound of hot, slightly oily waffle fries came as a delightful sidecar.
The brisket plate was similarly unfussy and appealing. We ordered the beef brisket sliced. Laid between warm toasted bun halves, the meat was medium thick, lean, and started to break apart the instant we picked up the sandwich. On a list of Groupies, or side items were the ever-present waffle fries, plus coleslaw and fried jalapeño caps. We stuck with the traditional barbecue selections of potato salad and baked beans. The salad was mustard-based and fridge-cool, with large chunks of taters and vinegary bits of dill pickle. The baked beans were, thankfully, still firm in a red-brown sauce that was only slightly sweet, which allowed the rich legume taste to register. Both items would've been a success at the nearest Fort Worth barbecue institution.
We didn't try The Aardvark's all-you-can-eat Sunday brunch. From 11:30 a.m. 'til 3 p.m. every Sunday, the chef will cook up eggs, omelets, waffles, pancakes, bacon, sausage, and pretty much any other breakfast victual that you can name, all for $10. If The Aardvark's Sunday brunch is anything like the standout burger and barbecue menu, survivors of late Saturday nights could do a lot worse than soothe their hangovers here.
The Aardvark
2905 W Berry St, FW. 817-926-7814. 6pm-2am Mon, 11am-2am Tue-Fri, 11:30am-close Sat-Sun. All major credit cards accepted.