Put yourself in Telegraph Canyon's shoes. Seven band- members drove a thousand miles from Fort Worth to Chicago to play a gig at the historic Park West Theater not long ago. The show went great. Made new fans. Earned money. Moved some merch. Had some laughs.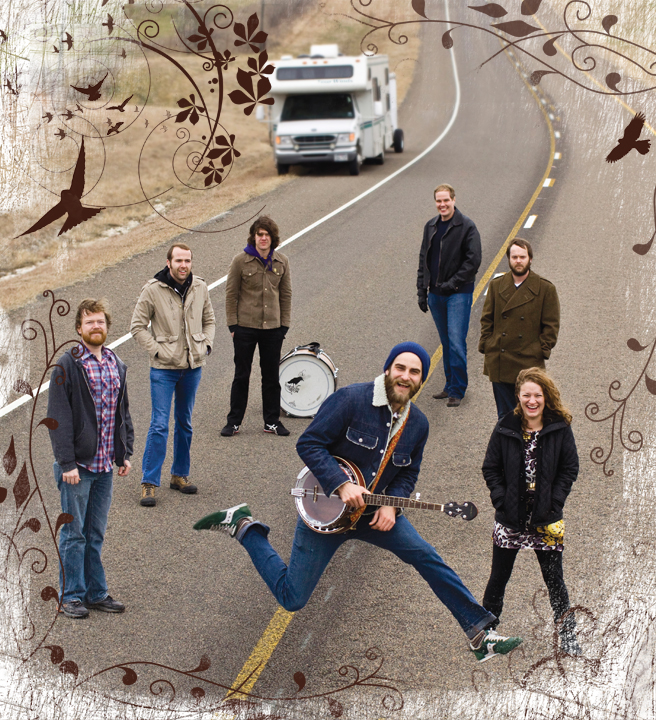 So, at the end of the night do you: (a) load everybody back in the RV and head home, or (b) call around, find another gig, and try to make another payday on the way back to Fort Worth?
Choosing (b) sounds like good business.
But what if the only gig offered was several hundred miles out of the way, in Hot Springs, Ark.? In a former brothel called Maxine's? And what if the gig paid $50 – barely enough to cover the cost of gasoline to get there?
Most bands – hell, most people with a brain in their heads – would punch "Fort Worth" into the GPS, hit cruise control, and head for the casa.
Telegraph Canyon took the gig. They played for peanuts even though their massive array of sound equipment takes hours to set up and tear down. Add in the extra distance traveled and wear and tear on the RV, and they lost money that night. Right?
Lead visionary and frontman Chris Johnson doesn't see it that way.
"Anybody that's ever formed a band with a calculator never got very far," he said.
The band members' eclectic musical abilities and Johnson's distinctive vocals and lyrics have made them the darling of mid-level music critics. Seattle Weekly, Fort Worth Weekly, Dallas Observer, San Diego Reader, The Dallas Morning News and various other publications have raved about the band's recent album The Tide and The Current. Bigger fish are catching on as well. Rolling Stone described Telegraph Canyon's sound as "sprawling" with "alarming small songs, ornamented with accordion and violin – quiet little alt-country numbers that work their way toward irresistible choruses."
Throw in the band's willingness – eagerness even – to drive long distances and work twice as hard as the average Cowtown group, and it's clear they are propelling themselves to wider acclaim through sheer will as much as talent.
Most people outside the Metroplex wouldn't know Telegraph Canyon from Theodore Roethke if band members weren't willing to shuck commitments at a moment's notice and hit the highway. Rambling tours that barely pay for themselves but spread music to the masses is called Paying Dues with a capital P and D.
At the same time, it's rollicking sweet toil.
"The harder you work, the luckier you get" is Johnson's credo.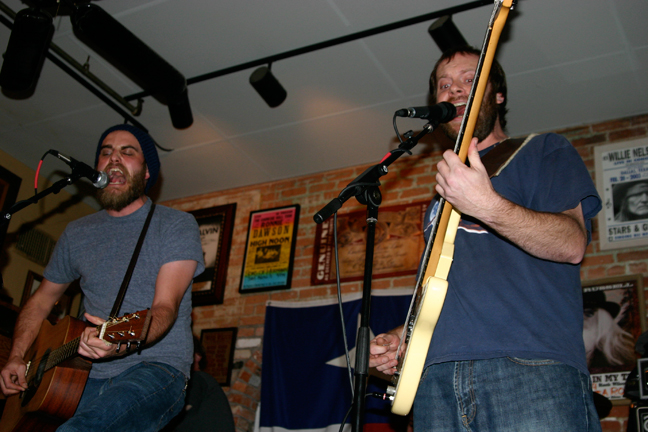 So it was a no-brainer to veer east on the way home from Chicago and make their way to Maxine's. As luck would have it, the Hot Springs Documentary Film Festival was under way, and a large crowd of filmmakers and movie fans were in town, ready to party. Many ended up at Maxine's. The band killed. Afterward, a film director with a European accent schmoozed with band members, bought a CD, and carried it back home to The Netherlands.
"He gave it to this radio station [KINK-FM in The Netherlands] and they started playing the fuck out of it," Johnson said.
That led to an invitation to play at a Netherlands music festival, and now the band is booking a multi-date European tour.
"It's hard not to believe in Chris, because I've never seen anybody work as hard as him," guitarist Erik Wolfe said.
The three-ring circus that is a Telegraph Canyon load-in began at about 8 p.m. on a recent Friday night at the Allgood Café in Deep Ellum. Band members shuffled in and out, hauling numerous amplifiers, a dozen instrument cases, a drum set, and various boxes and suitcases filled with gear. At first it seemed impossible that all that stuff and all those bodies could be accommodated by such a small stage.
Working rock bands seldom employ seven members. The money splits up much better among four or fewer people. Coordinating seven lives and schedules, transporting seven people on tour, and doubling the usual amount of equipment needed for gigs takes lots of extra energy and planning. And since everybody in Telegraph Canyon is multi-talented, the number of instruments they haul is staggering – literally. Andrew Skates' Hammond B2 organ weighs 400 pounds and takes three people to lift it onto a stage.
The resulting load of cargo and flesh that's toted around in the band's RV and trailer approaches two tons. And that's how Johnson likes it.
"This band wouldn't be what it is without all of this," he said.
If a song sounds like it needs a certain instrument, they buy one. Somebody learns to play it. (Skates is particularly adept at tackling new instruments.) From then on, it's part of the traveling show – keyboards, steel guitar, violin, bass, organ, two bass drums, electric guitar, banjo, mandolin, xylophone, and so on.
After his stint with a four-piece rock 'n' roll band, Johnson wanted something different, something big and borderline unrealistic. He wanted to combine a wall of sound with an embrace of melodic silence. He wanted talented musicians to play within themselves or to stop playing altogether for stretches during songs.
Finding that mindset isn't easy. Rock 'n' roll and self-control are contradictory terms.
"There's a restraint that comes with playing in this band," Wolfe said. "It's more like a symphony."
Holding back musically means sacrificing ego for a bigger cause.
---
"Sometimes the most beautiful thing about a song is the space," violinist Tamara Cauble said.
She sat on the Allgood stage, reading a beat-up copy of Lonesome Dove while the others finished setting up their gear. Cauble, like the others, is easygoing and sans any rock-star swagger. Still, a distinct focus permeates these musicians. They appear comfortable being part of a musical entourage without clamoring for individual recognition.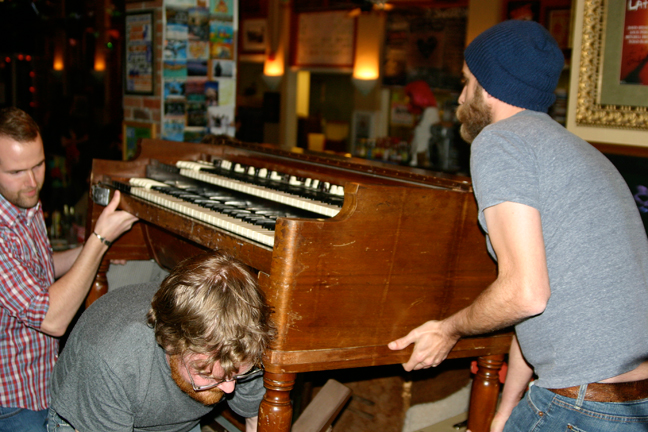 During a rehearsal a few days later, Johnson credited band members with creating the Telegraph Canyon sound. Brown, plucking notes on an electric bass, looked at a visitor, smiled, and said, "Believe me, this was Chris' vision."
After about an hour at Allgood's, the equipment was in place, and the musicians kicked off their set. But the house P.A. system crackled and popped under the strain of the music's sheer force. The band stopped to work out the problem. Johnson, always searching for new sounds to add to the mix, admitted an affinity for the intrusive noise. "We would've added that shit on purpose if we'd thought of it," he joked to the crowd of about 100, while the soundman tracked down the problem.
Johnson's toboggan cap and thick beard, combined with his scowls, grimaces, and wild-eyed passion during songs, prompted a bar patron to marvel at the "Unibomber intensity of his performance." But the same person expressed concern about the over-abundance of sound in such a small venue with an overwhelmed P.A. system.
"It's hard to hear the detail in the arrangements and the nuances of it all," the listener said. "But he's a very intriguing frontman."
The hour-long performance was enjoyable and exciting but also rough around the edges. The band members were exhausted. They were off the road, settling back into home life after a long tour, but it was their third performance in three nights. They all hold day jobs as waiters, couriers, or whatever, and none of them had slept much in the past 72 hours.
Sometimes you show up at a low-paying gig and finagle a European tour. Other times you get a decent paycheck but can't quite summon the muses. Such is the life.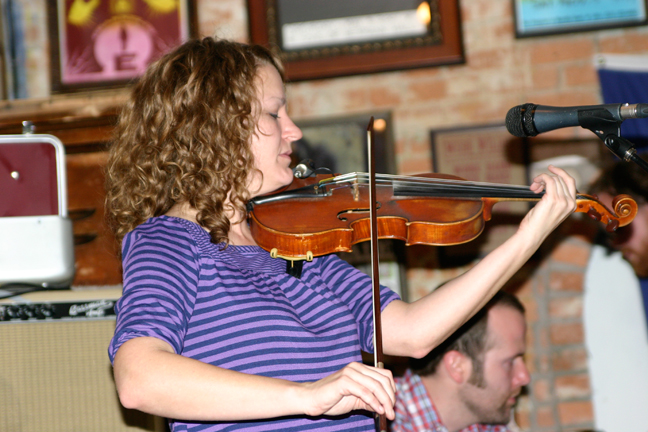 A few nights later, the band gathered at drummer Austin Green's south Fort Worth house for their regular Tuesday night rehearsal. They spent the first hour going over "Shake Your Fist" and other songs from The Tide and The Current – stuff they've played extensively for months and should know inside and out.
"The last couple of shows, we've had some brain farts, so we need to work on some things," Cauble said.
Learning new songs involves coming up with musical parts, discussing them, and then slowly whittling everything down to bare essentials. Then again, some songs are created on the spot, in the studio. Still, one gets the feeling that everything heard in a Telegraph Canyon show or album was put there with deliberate purpose.
"You have to support everybody, and then you get to speak [musically] when it's your turn," Brown said.
Brown didn't sing much when he joined the group, but over time he developed astounding harmonies. Johnson's vocal range runs high up the scale. Brown climbs even higher. "He taught himself to do that," Johnson marveled. The effect is mesmerizing, particularly when Cauble adds a third harmony.
After polishing a few tunes, they worked on a song from their 2007 debut album All the Good News. The band shoots for dynamics. When it's loud, it's loud, especially when the sound is bouncing off hardwood floors and penetrating the thin walls of Green's modest frame house.
Before long an outsider began banging on the front door, but the band didn't notice. They were engrossed in the music. Suddenly, steel guitarist Brian McCorquodale, who was facing the door, noticed a flashlight beam shining through a curtain.
He waved his arms frantically to quiet the band.
Green opened the door and found himself facing a Fort Worth police officer, who was surprised to find a room filled with musicians. She thought somebody had been blasting a stereo.
"That's pretty good music," she said, "but we've had some complaints."
Green, as usual, was a gentleman. The longhaired, beatific drummer thanked her and promised to keep the noise down. Only after the police were gone did Green reveal his displeasure that a neighbor would sic the cops on them for excessive noise when it wasn't even late. They practice in a South Side neighborhood known for its youthful, artistic tenants holed up in rental properties.
Green's mellow way of shaking off obstacles is typical of this group. Even the intense, poetic Johnson seems firmly grounded. It's a big reason why they are able to stay cooped up together in a small RV for weeks at a time without killing one another.
Of course, they're human. The gypsy life isn't all "Kumbaya." They keep battery-powered BB pistols around for target practice, and those who annoy their fellow musicians might become the new favorite target. Wolfe sometimes lags during the strenuous load-ins and loud-outs. As a result, he's taken a couple BB shots to the body while curled asleep in his bunk. But the band generally accepts one another's strengths and weaknesses without being too judgmental.
After the police visit, Green ended rehearsal rather than risk a noise citation. Finding a place to practice is a challenge, and he didn't want to exacerbate the problem until he could figure out who was complaining and strike some sort of truce. Until then, rehearsals would wait.
---
Telegraph Canyon has always moved in a deliberate, unhurried manner.
Original drummer Lucas White started playing with Johnson about five years ago in the band Delphi. They drove to San Diego to pick up a van and found themselves on Telegraph Canyon Road.
"I remember Chris taking a picture of it and saying it would be a great name for a band," he said.
Johnson's musical concept finally had a tag.
"The reason I like it is it's simple and on the surface – 'telegraph' means communication, and 'canyon' means space," he said.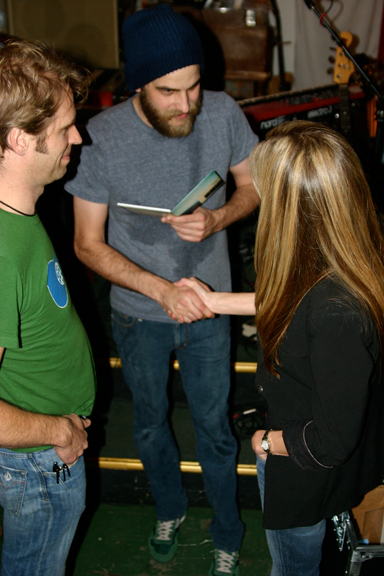 Back then Johnson began writing original music for a band he envisioned as expansive, bombastic, and instrumentally diverse. Several musicians came and went during the task of honing the sound. During that time, Johnson's lyrics and vocal abilities improved noticeably.
"Chris' songs kept getting better and better," White said. "As far as the orchestration and instrumentation, that was his brainchild, finding all the parts. It was never a super-lucrative band, it was more about a group of good friends playing music together."
White joined the exodus in 2006 when he saw how determined Johnson was to take the circus on far-flung tours that are expensive and time-consuming. "He was looking to get on the road more, and at the time I couldn't do that, so he found [Green], who is a super drummer, super-tasty," White said.
Guitarist Wolfe responded that same year to Johnson's classified ad seeking a multi-instrumentalist influenced by bands such as The Flaming Lips and Wilco. Wolfe listened to Johnson's three-song demo and liked what he heard. What startled him most was the vocal style. Johnson comes from the school of high-pitched wailers who reach down to their guts to sprinkle blood and tears all over the lyrics, a la Neil Young, Steve Forbert, and The Band's Rick Danko.
"The voice took me by surprise, but I liked it," Wolfe said. "It's different."
After about a year, Johnson had compiled a sterling lineup of Brown, Green, Cauble, McCorquodale, Skates, and Wolfe. They're all close in age – late 20s to early 30s. They understood Johnson's dream, embraced it, and helped him lasso the sound he was seeking.
The band gigged around Fort Worth to small crowds. In 2007 they made their first album, really just a fancy demo. All The Good News holds up well three years later. But it was last summer's The Tide and The Current that led to cult status.
Three years of touring sharpened the band's sound to a shimmering edge. Fort Worth music fans began catching on after the band had already spread its wings and flown. Telegraph Canyon came home in August to open for the Old 97's at Bass Hall and ended up stealing thunder from the legendary headliners.
Fort Worth Star-Telegram music writer Preston Jones, an early advocate, described Telegraph Canyon's set as "stormy and stunning" and dubbed them "stars on the rise."
By December, music writers were putting The Tide and The Current atop "album of the year" lists.
The homecoming gig at Lola's Saloon-Sixth on Jan. 15 was triumphant. The club was packed, standing room only. A line of people stood at the door waiting to get inside. The long wooden bar was stacked three-deep with customers. The crowd was electrified yet almost silent during the set.
White saw his old friends play that night and was blown away by their tightness and their elevated status.
"They were spot-on, they were dialed in," he said.
A work ethic not found in many artists is what separates Johnson from the usual bandleaders, White said.
"He has always focused on how important it is to make the connections and promote yourself," White said. "A lot of bands don't get a bus and actually go out and put their proverbial nuts on the chopping block and see what the rest of the country thinks of their music."
Putting one's nuts on the chopping block is, naturally, a gamble with possibly painful consequences. As The Band's Robbie Robertson said in the classic rock documentary The Last Waltz, life on the road is "goddamned impossible."
Showing up dead tired or hung over at a gig, setting up equipment, reaching deep down to find the magic and put heart and soul into yet another performance, hassling a venue owner to get paid, tearing down and re-loading all the heavy gear, piling into a small vehicle with the same old faces you've been staring at for weeks, and then driving 12 hours to the next gig to do it all over again, is harder even than it sounds.
Rock bands are like sand castles, rarely built to last. Burnout leads to quarrels; groups fizzle amid resentment and backstabbing.
Johnson doesn't think it has to be that way. He sees touring as a way to travel, spend time with friends, and play music – the basic elements of a great vacation.
---
The band did its share of touring in small vans, sitting elbow to elbow. A bit of backhanded luck smiled on them last year – a drunken driver struck and totaled their van while it was parked. Insurance paid $3,000, and Johnson kicked in a little extra and came up with a down payment on a 2005 Four Winds recreational vehicle with six bunks, a V-10 engine, shower, two sinks, stove, microwave, refrigerator, TV, and toilet.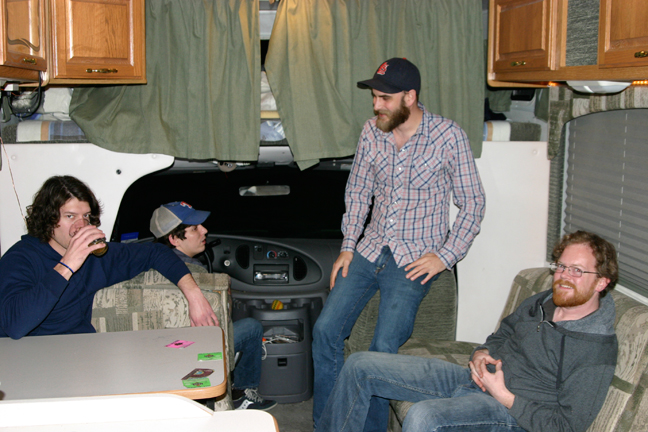 Suddenly, the band was traveling in relative comfort. The bunks meant they could avoid motel expenses that eat up potential profits. They stocked up on toys such as remote helicopters to fool around with during rest stops. They even plan tour routes around disc golf courses scattered around the country, often driving miles out of their way to play. They're all skilled players, but Brown is the guy to beat.
Touring at this stage of their career means that gig money barely covers travel costs. The musicians take leaves of absence from their day jobs to play for short pay. Last year, they logged 30,000 miles to play 100 gigs in a dozen different states, mostly on the West Coast. Fort Worth saw only a handful of those shows.
Most local bands stick to the Fort Worth-Denton-Dallas circuit with occasional forays to Austin, Ardmore, or maybe Houston. Even those short trips can be money-losers when considering motel costs, fuel prices, and other expenses. Buying an RV, leaving day jobs, and living the road life are sacrifices that casual musicians won't make. Instead, they hit the same local spots over and over again, quickly becoming overexposed.
"Good luck sustaining that," Johnson said.
Telegraph Canyon prefers infrequent hometown gigs to keep them special. The next Fort Worth appearance is March 21 at Lola's Saloon on 6th Street. The band plays in March at South by Southwest in Austin, followed by gigs in Dallas, Denton, Oklahoma City, Tulsa, and Houston. Then it'll be time to embrace the romance of the road yet again.
"When we get out there, we all just look out for each other," Johnson said. "It's awesome."
There's always an element of danger when playing venues where people drink. A fist clinching a bolt of electricity is Telegraph Canyon's logo, but the musicians keep their own fists to themselves.
"Half of us have never even been in a fight before, but we've decided if one of us gets in a fight, we're all going to jump in," Green said.
They're grateful that, so far, that philosophy hasn't been called into action.
Gigs provide food and booze, and so even flat-broke bandmembers can survive a trip with a little help from their mates. That life suits the band fine for now, particularly the resilient and adventurous Johnson. Still, even he admits bad days are unavoidable. Some venues have narrow stairways or other obstacles that make loading equipment difficult. Occasionally gigs get double-booked or canceled without notice. And tasks taken for granted aren't always possible, such as doing laundry.
"Honestly, on tour you don't change clothes every day," Johnson said, recalling he once went six months without washing his bath towel.
But the biggest headaches are usually mechanical glitches.
Every one of the RV's six tires and the equipment trailer's two tires blew out at least once last year. "Every time we're in a rush it seems like a tire blows," Green said.
The first road trip in their new RV was barely under way when the generator petered out. Replacement cost: $5,000. For the next couple of weeks, income at gigs was measured in generator percentages.
"How much did we make tonight?"
"A fourth of a generator."
"Cool."
Three West Coast tours in 2009 were covered in an RV that gets 8 to 10 miles a gallon. During gas stops, everybody has a job: fill gas, air up tires, wash windows, check fluids, etc.
"We're like a NASCAR team," Johnson said.
Every few hours, they pull over and do it all again.
Even skilled pit crews can't avoid the inevitable. Brown was at the wheel and speeding from Portland to San Francisco to play at the renowned Café Du Nord when he noticed cars honking and motorists waving. He looked in the side mirror and saw the trailer's fender well flapping. A trailer tire had blown up and taken out the fender well, and he'd driven on the flat tire so long there was nothing left but the steel rim.
On a trip to Utah, the band arrived at a hippie commune to perform, but the head hippie had canceled the show. Based on his appearance and manner, the bandmembers guessed the guy had taken too many psychedelic drugs to cope. He promised to pay the band, though, and offered to let them stay at the resort for free and enjoy homemade burritos for dinner. The next morning, the band was ready to get back on the road, but the promoter still hadn't shelled out any cash. Johnson had to rouse him from his sleep and use some persuasion to collect. He got enough to fill up the RV with gas and head to the next uncertain stop.
Johnson relishes the challenge of planning a gig and then reacting when it all goes wrong.
"I'm kind of anal," he said. "You can't just be out there floating in the wind. You have to have a plan for everything."
This calculated and courageous approach has Telegraph Canyon inching ever closer to the ultimate goal – bigger venues and more records, money, and fame. Reaching cult status took several years. More years might pass before they become "overnight sensations." Or the whole rolling revue might blow up like so many trailer tires.
Regardless, Telegraph Canyon is doing everything it can to be the master of its fate.
"A lot of people wait for something to happen. We make it happen," Green said.