In December 2008, live-theater producer and filmmaker Josh Fox (his 2008 film, Memorial Day, was based on the Abu Ghraib prison scandal) was approached by several landmen who wanted him to sign a deal to lease mineral rights for the natural gas under his property. Fox lives in Milanville, Pa., on about 20 acres that has been in his family for generations. His property is in the middle of the Delaware River Basin, on the edge of the Pocono Mountains.
The landmen offered about $100,000 in bonus money, plus a good royalty rate. But being a proactive environmentalist, Fox had a bunch of questions, mainly about how the drilling would affect water and air quality. His neighbors in the Marcellus Shale formation also had questions for the landmen, but the answers never came.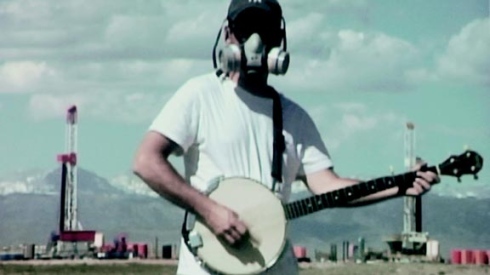 "So I called people in Fort Worth, as they had been dealing with Barnett Shale drilling for many years," Fox said. "I heard about people who spent their whole lives saving money for their houses, then having to move away because the air pollution made it impossible to live there any more. These were real horror stories."
Fox, 37, decided to kill two birds with one stone. He traveled to 33 states researching the environmental costs of the gas-drilling boom. And he documented his travels for a film.
The result is GasLand, which has been getting rave reviews in film festivals around the country. At the recent Sundance Film Festival, Fox's effort won the Special Jury Prize for documentaries. The film makes its Texas debut this week at the Thin Line Film Fest in Denton, and Fox will attend the screening.
Fort Worth Weekly was unable to get a DVD preview for this story, but we did get to see some scenes from trailers. Fox finds people whose water wells have become so contaminated with methane that flames come out of their kitchen water taps. "When fire is coming out of your plumbing, it turns your whole world upside down," Fox told the Weekly.
But the film is not a totally serious and depressing look at the environmental consequences of gas drilling. In one scene, Fox wears a gas mask and dances around while he plays Woody Guthrie's "This Land is Your Land" on the banjo.
The North Texas connection comes near the film's end. Fox concentrates on the air quality issues here and interviews DISH Mayor Calvin Tillman, new EPA regional director Al Armedariz, and respected chemist Wilma Subra, who all warn of the impending local air quality issues. Recent air quality studies have confirmed pollution problems from the drilling, but Fox, who made the film in the first half of 2009, was way ahead of the game.
Fox said he is getting attention from distributors and mainstream media outlets because of the Sundance prize, and he hopes for a wider release before the end of the year.
"What I learned most is that the gas-drilling people do a lot of lying, and conversations with insiders in the industry have confirmed this to me off the record," he said. "They would never acknowledge to me what the consequences of all this drilling might be. My big hope is that this film will get people more in the know about what will happen to their water and air quality once the drillers move in."
Fox never signed his drilling deal. "After all I've learned, I wouldn't do that for a million dollars," he said.