With a string of first-class dancers on hand last weekend in Bass Performance Hall, Texas Ballet Theater presented four performances of Romeo and Juliet that included four different Romeos, three Juliets, and multiple dancers in many other roles. Just about every company dancer got the chance to shine in TBT director Ben Stevenson's dramatic take on the familiar Shakespeare play. For some it proved a triumph; for others, a learning experience.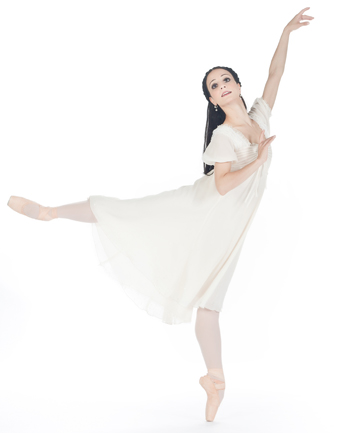 As the opening-night Romeo, Lucas Priolo was a particular success. A dancer/actor of polished technique and dramatic skills, he faced the unrelenting challenges thrown at him and his love with strength and nobility. His Juliet was Carolyn Judson, who brought youthful innocence, if limited emotional depth, to the role. The extended duets for the pair, during the balcony and the bedroom scenes, were rapturously danced. Judson opened up with some of the most heartfelt dancing I've seen from her, and the two gave us some magic moments.
Alexander Kotelenets was a sinister-faced Tybalt, the town bully and scion of a powerful family who looked as if he'd stick a shiv in you as soon as look at you. Thomas Kilps, as Romeo's friend Mercutio, was heedless of the danger, an irrepressible imp who eventually went a fatal step too far.
Saturday night's performance featured Leticia Oliveira as Juliet, a role ideally suited to her gifts. The ballerina traveled the emotional range of Juliet from innocent adolescence to first love to confused, rebellious young woman with sensitive insight, and the detail in her dancing was remarkable. She appeared weightless in simple lifts across the stage, descending in gentle, flowing lines that bordered on the ethereal, and her pointe work was exquisite.
I hoped for extra sizzle in her dancing with Carl Coomer, her offstage romantic interest and the evening's Romeo, but it was not to be. Coomer is not a demonstrative performer; little animation showed in his face, and few sparks flew. The dancer also was hampered in other ways. In the company of Priolo as Mercutio and Kotelenets as Benvolio, two taller men, Coomer tended to disappear.
Prokofiev composed his powerful Romeo and Juliet score for the Bolshoi Ballet back in the 1930s, with a young Galina Ulanova dancing the title role. She reprised it when the company debuted in New York City in the 1950s, which I was lucky to see. She was 50 then and with no stretch of the imagination looked like a 15-year-old onstage, breaking your heart with her tender portrayal. Margot Fonteyn danced another choreographic version well into her 50s, creating a tragic, youthful-looking Juliet. Stevenson's choreography is also in an intense, dramatic style and showed Oliveira heading in much the same direction.
There were some other performers of note, including Peter Zweibel as the gruff Tybalt on Saturday and Anna Donovan as Juliet's nurse and confidante — Donovan is a veteran character actor and ballet mistress who is a joy to watch. Paris, the suitor pushed by Juliet's parents, was elegantly danced by company newcomer Eddie Tovar.
Special mention also should be made of the sword-fighting scenes, coached by Brian Byrnes in the best tradition of 1930s and '40s Hollywood swashbuckling. They provided high-voltage entertainment that would have made Errol Flynn feel right at home.
The weather took its toll on attendance on Friday night, but the hall looked almost sold out on Saturday.
The one sour note was the fleet of vehicles parked across the street and covered in placards from the local musicians' union, the organization whose members are protesting TBT's use of canned music. The union is offering no constructive suggestions as to what might be done to enable TBT to afford a live orchestra right now, only complaints. And there was no mention of the fact that the musicians are not out of work or losing money. They're under contract to the Fort Worth Symphony Orchestra and getting regular paychecks.