While solo saxophone recitals are a time-honored tradition in the avant-jazz field (think Anthony Braxton, Roscoe Mitchell), the addition of looping technology — long beloved of rock guitarists — is a relatively new wrinkle. Tenorman Johnny Butler is a New York-based Seattle expat and Oberlin grad who leads the King Crimson-oid prog-rock unit Scurvy, whose debut disc, Fracture, drops this spring on the British label Hi4Head.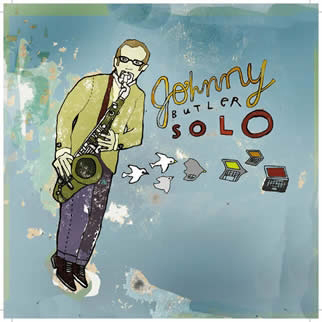 Butler also donates his time to perform for hospital patients under the auspices of the nonprofit Musicians On Call. He started out using a Boss looper, graduated to an Echoplex, and now uses a laptop loaded with looping software to power his performances. On Solo, he uses the technology to create a compelling sonic environment.
The 24-minute disc consists of four pieces, each with some programmatic content. On the appropriately named "Cathedral," waves of architectonic beauty wash over the listener, creating a stately and majestic structure. On "Katrina," Butler harmonizes layers of contrapuntal backing, then overlays a lovely, lyrical lament with the same somber, elegiac feel that Coltrane brought to the similarly themed "Alabama." The live-recorded "Glitch" is the most visceral and rhythmic part of the set. Butler interacts with his virtual self as though he were an army of Pharaoh Sanderses. "Eulogy," dedicated to a soldier killed in Iraq, unfolds slowly, like a thicker-textured cousin of Miles Davis' "In A Silent Way." Spend some time with Solo, and you'll find yourself hitting "Repeat" often enough to create another kind of loop. Cop via www.johnnybutler.com.